Epoch Estate Wines: winery information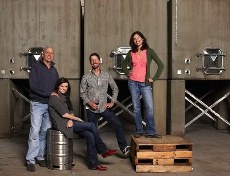 Winemaker: Jordan Fiornetini
Within a few years at Epoch, it became apparent that we needed a full time winemaker who would work with Justin Smith overseeing all wine and vine decisions, but who could take on the day-to-day needs of a growing winery. With the help of a really good headhunter and after an extensive international search, we found Jordan Fiorentini, the perfect complement to our team. Jordan is enthusiastic, energetic, experienced, approachable, fun, friendly, and most importantly, she has an awesome palate. She also happens to be wicked smart with an engineering undergraduate degree from Dartmouth College and a masters degree in viticulture from UC Davis. Jordan earned her spurs working in her family's winery in Georgia (They really make wine in Georgia?), at Araujo Estate in Napa, Antinori Winery in Italy (where she met her husband), and most recently as head winemaker at Chalk Hill in Sonoma. Passionate, dedicated, not afraid to push the envelope, and a blast to work with, Jordan is a wonderful addition to our Epoch Team.
Annual Production: 4,500 cases
Estate Vineyard Acreage
Through carefully managed, non-invasive farming, we aim to bring the complex character of our vineyards and their terroir into each bottle of Epoch Estate Wine. All of our fruit comes from two specific and unique sites which we bought and planted: Paderewski Vineyard and Catapult Vineyard. In 2010, we were extremely fortunate to purchase the historic 150 acre York Mountain Winery property off York Mountain Road and Highway 46 West. This beloved and enchanting landmark (almost all San Luis Obispo residents over the age of thirty have visited York Mountain at one time or another) was established in 1882 by Andrew York, and it is the oldest winery in the Central Coast region. We are honored to serve as patrons of this gorgeous property and its iconic wine history. Currently, the vineyards are fallow, but we look forward to replanting vines at this "cool climate" site (colder than Burgundy). Located just seven miles from the Pacific Ocean at an elevation of 1,500 feet, this property falls in the small 6,400 acre York Mountain AVA. Stay tuned for updates as we breathe life back into York Mountain!
Grape Varieties Planted