Galante Vineyards: winery information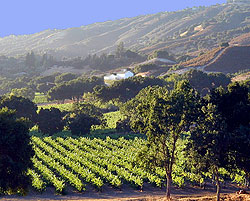 Winemaker: Greg Vita / Jack Galante
Greg is a fifth generation Californian and has been making (and drinking) wine professionally since 1980. Prior to joining Galante Vineyards, Greg was the General Manager and Winemaker for Spring Mountain Vineyards for 10 years. He also made wine for Frogs Leap, Dunn Vineyards, Spottswood, Philip Tongi and Chimney Rock.

Greg has been making wine for Galante Vineyards since we began in 1994 and his dedication to excellence is reflected in the ultra-premium wine that he produces. With a background in Science from UC Davis and years of experience in winemaking Greg has perfected the process that it takes to bring you the wonderful Galante wines that you enjoy year after year!
Annual Production: 5,000 cases
Futures
We offer a limited Futures program for our wines. Please visit our website for more details.
Estate Vineyard Acreage
100% Estate Grown Wines on 45 acres. The ranch itself is 700 acres.
Grape Varieties Planted