Gloria Ferrer: winery information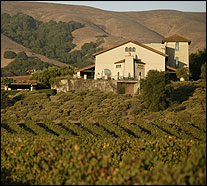 Winemaker: Bob Iantosca
Bob Iantosca is living the winemaker's dream life. Renowned for the sparkling wines he's developed at Gloria Ferrer since the mid-1980s, in more recent years he's been indulging the artists' passion for experimentation and diversity with limited quantities of estate-grown still wines. This dual role as both sparkling and still winemaker makes Bob a rarity in the wine industry.

But his true love is bubbly. Since joining Gloria Ferrer in 1984, Bob has overseen the expansion of production from 40,000 to 100,000 cases and of vineyard plantings in Sonoma's Carneros district from 40 to 340 acres, including new acreage at Circle Bar Ranch. Bob has also created five distinct cuvées and gained a rare depth of knowledge of Chardonnay and Pinot Noir, from grape to champagne. The Carneros Cuvée, his tête de cuvée, leads a full range of sparkling wine styles. Bob finds the blend of Chardonnay and Pinot Noir complex and captivating. "They are a magical combination," he says. Even his Blanc de Noirs has a small percentage of Chardonnay.

Bob spent 1999 directing a major expansion of the winery caves, bringing all of his still wine production in-house and creating ideal aging conditions. This added barrel storage capacity, along with a new red wine production facility completed in 2000, will allow Bob to keep a close eye on his varietal Chardonnays and Pinot Noirs while developing his two new red varietals. "The terroir of our newest vineyards at Circle Bar Ranch made Merlot and Syrah an appropriate choice," says Bob. "There's a new wave of red wines now that are fruitier and softer, and we're very fortunate to be growing grapes in Carneros, which is known for producing grapes with loads of fruit characteristics."

As the winery's production increases and new varietals are released, Bob's goal will remain the same — to craft wines that are consistent in expressing the Gloria Ferrer style and quality, while always reflecting the distinctive characteristics of Carneros. Attaining that goal has meant expanding the winery's vineyards to include a broad variety of clones. This effort began in the late-1980s when Bob and Vineyard Manager Mike Crumly spearheaded an intensive clonal research program. Over the years they have painstakingly worked to determine which clones are best suited to each of the many microclimates in Gloria Ferrer's Carneros vineyards. "Now we have a majority of estate-grown grapes, with great diversity in clones and vineyard lots, enabling us to blend our wines for consistency from year to year," he says. "And we use a light touch throughout the production process to nurture the characteristics born in the vineyards."

Bob's earliest exposure to wine was as a young boy watching his Italian immigrant grandfather make wine at home, and being offered watered down samples at special-occasion meals with his grandparents. While studying fine arts at the University of Arizona, Bob began to frequent the local wine shops and made a practice of tasting a wide range of wines. Spring break trips to the wine country made him realize that Northern California was where he wanted to live. His career in the wine industry has included positions at Buena Vista, Dry Creek, Dehlinger, Stevenot and Mark West Vineyard.

Bob, his wife, Julia — also a winemaker — and their daughters, Catherine and Elizabeth, make their home in Santa Rosa, where they grow six and a half acres of Pinot Noir grapes. When not making wine, Bob enjoys mountain biking, steelhead fishing from his driftboat in Northern California and Southern Oregon and outdoor cooking.
Annual Production: 150,000 cases
Estate Vineyard Acreage
Gloria Ferrer Estate Vineyard & Champagne Caves
The wines of Gloria Ferrer are borne of the climate, soil and people that define the Carneros appellation. Each wine reflects our love of the land that surrounds the winery. Each is a testament to our pride in the Gloria Ferrer estate vineyard and the winemaking team that has worked together since 1986.

CIRCLE BAR RANCH
Planted in 1997 and 1998, the 128-acre Circle Bar Ranch is home to our most dynamic red wine plantings. The vineyard elevation ranges from 50 to 280 feet and is comprised of 13 different blocks. The steep southern section of the ranch is devoted to Pinot Noir, Merlot and Chardonnay. The northern section is a rolling area planted to Pinot Noir, Syrah and Chardonnay. Here, a volcanic ridgeline provides optimal conditions for Pinot Noir.

The Circle Bar Ranch encompasses seven different soil types and 12 clonal selections, offering our winemaking team numerous blending options in any given vintage.

CLONES
Since 1987, we've been working with a wide range of clones, with the goal of achieving greater quality and complexity in the sparkling and still wines. A Pinot Noir clone trial planted in 1988 utilized 13 clones in order to study the viticultural differences between the vines. Of the 13 clones in the trial, a handful emerged as superior to the rest, prompting us to propagate them in the larger blocks that now provide the fruit for our wines. The results are manifested in many ways, from vine yields to cluster weights and flavor profiles, providing a range of options to our winemaking team. A second clone trial was planted in 1992 and is comprised of 20 clones of Pinot Noir and 13 of Chardonnay.

KEY CLONES
The Pinot Noir clones that have shown the greatest promise in our estate vineyards: Colmar 538, Martini (UCD 13), Wente, Wadenswil (2A0, Dijon (115) and Pommard (4)).

HOME RANCH
Originally planted in 1984 and under continuous redevelopment, the 207 acre original estate vineyard is planted to Chardonnay and Pinot Noir for both sparkling and still wine. The vineyard elevation ranges from 50 to 325 feet and is comprised of nine distinct blocks. Four different soil types are found on the estate, providing myriad possibilities for the 15 different clones. Two Pinot Noir clone trials and a similar Chardonnay trial round out this extensive vineyard estate.
Grape Varieties Planted