Long Meadow Ranch Winery: winery information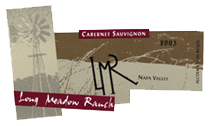 Winemaker: Ashley Heisey
Accomplished winemaker, Ashley Heisey, joined the Long Meadow Ranch winemaking team as Associate Winemaker in August 2003 and became our principal Winemaker in time for the 2004 vintage. Ashley joins long-standing winemaker, Cathy Corison, in making the distinctive wines from Long Meadow Ranch's organically farmed estate vineyards located high in the Mayacamas Mountains above Rutherford.

Heisey was winemaker for the Napa Valley wineries, Far Niente, and the affiliated Dolce, from 1997 to 2001 and she previously served as enologist from 1993 to 1997 for the same properties. A graduate of University of California at Davis (MS in Enology) and the University of North Carolina at Chapel Hill, Ashley has enjoyed a wide range of winemaking experiences. She has worked in various capacities at several of Napa Valley's finest wineries, including Opus One, Robert Mondavi Winery, and Schramsberg Vineyards.

Ashley has worked as an intern in Germany's Rheingau and France's Bordeaux regions. And, recognizing that one only has a finite number of opportunities to make wine in a lifetime, she participated in two harvests a year by traveling to the Southern Hemisphere in each year from 1997 to 2000 with stints in Argentina, South Africa, New Zealand, and Chile.

While guiding the Long Meadow Ranch production, Ashley will also make wines under her own label in the winery's facility. With husband, Alan Tenscher, who is also in the wine business, and her own brand, Ashley is "immersed" in wine. Her very limited production Syrah was released under the Heisey brand, Marelle, in 2004. Proving that she is not all business, Ashley can often be found with three year-old son, Seth, exploring in the barns and at the hen house on the ranch.
Annual Production: 5,000 cases
Estate Vineyard Acreage
15 Acres Planted
Grape Varieties Planted