Monticello Vineyards/Corley Family Napa Valley: winery information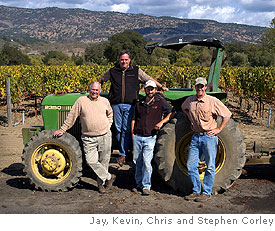 Winemaker: Chris Corley
THE CORLEY FAMILY APPOINTS CHRIS CORLEY WINEMAKER FOR THEIR MONTICELLO VINEYARDS AND CORLEY RESERVE WINES Napa, California - The Corley Family, who founded Monticello Vineyards in Napa Valley, CA in 1970 and is widely known for its Monticello Vineyards wines and highly acclaimed Corley Reserve wines, announced today the appointment of Chris Corley as Winemaker. Chris will also be named a Vice President of the company. Chris, who joined the Company full-time in 1990 and has worked at the winery in wine production for twelve years, most recently as Assistant Winemaker, will be responsible for all aspects of wine production and wine quality.

Chris joins the management team led by Kevin Corley, Winegrower, Director of Vineyard Operations and President and Stephen Corley, Director of Wine Sales and Vice President of Sales & Marketing and Administration.

"As Founder, Chairman of the Board, and Father, I could not be more proud than to have Chris appointed as our winemaker. He brings more passion and enthusiasm and certainly as much talent to the top job as any that has come before him." says, Jay Corley.

"Chris joins his brothers Kevin and Stephen on the management team so I am delighted to see that the next generation is firmly in place over each aspect of our business: winegrowing, winemaking, and wine sales" added Jay.

Small winery; Big reputation. The Corley Family and their partners grow Cabernet Sauvignon, Cabernet Franc, Merlot, Chardonnay and Pinot Noir on five small vineyard sites in the Oak Knoll, Yountville, Rutherford and St Helena appellations of Napa Valley. In order to produce quality grapes that yield wines consistent with our style, great care is taken in selecting the varieties, the clone, the vineyard spacing and the trellis system to match the soil and microclimate of our vineyards and in managing our vineyards for low yields. These estate grown grapes are used to produce approximately 15,000 cases of wine, exclusively from the Napa Valley.

"Chris not only understands our wines intimately, but he understands our vineyards; and there can be no better winemaker than one that brings a true understanding of the vines and wines to the process" says Kevin Corley.

"We are in the quality wine business and there is no substitute for passion in the relentless pursuit of excellence. Chris has brought passion to work with him everyday for twelve years and now that passion will be able to run freely into all aspects of our Monticello Vineyards and Corley Reserve wines" says Stephen Corley.

Chris Corley, born in Los Angeles, CA in 1971, grew up and attended High School in Napa Valley and attended Santa Rosa Junior College and Napa Valley College before joining the Company full time in 1990 as a cellar worker. Chris was promoted to Cellar Master and then Assistant Winemaker before being appointed Winemaker. He and his wife Julianna, who married in 2000, live in Napa.
Annual Production: 15,000 cases
Estate Vineyard Acreage
Total Acreage: 100 acres
By Varietal:

17 acres Cabernet Sauvignon (Yountville, Rutherford, St. Helena)
18 acres Cabernet Franc (Oak Knoll District)
18 acres Chardonnay (Oak Knoll District)
20 acres Merlot (Oak Knoll District)
9 acres Pinot Noir (Oak Knoll District)
5 acres Syrah (Oak Knoll District)
13 acres in Redevelopment
Grape Varieties Planted