Owl Ridge Wines: winery information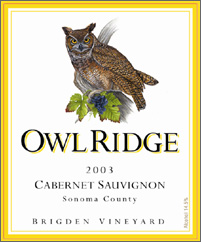 Winemaker: Joe Otos
Joe Otos didn't want to make ordinary wine from ordinary grapes. So he sought out a partnership with John Tracy and together they created Willowbrook Cellars. Joe honed his wine making skills with Tracy's exceptional, small-vineyard lots of Chardonnay and Pinot Noir.

Not long after, John confessed his preference for big Cabs. After securing fruit from the Brigden Vineyard at the northern end of the Sonoma Valley, and the Passalacqua Vineyard in Dry Creek, Joe started making Cabernet Sauvignon and Owl Ridge Wines was formed.

Since then, Joe has strived to perfect the wines coming from a few select vineyards. His success is evident: in just a year or so, every one of his Owl Ridge Cabernet Sauvignons and Chardonnays earned gold-medals, with a numerous double-golds and "Best of Class" awards thrown in.
Annual Production: 1,400 cases
Grape Varieties Planted