Paraiso Vineyards: winery information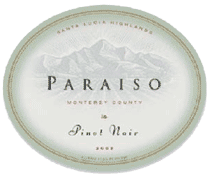 Winemaker: David Fleming
Paraiso vintner David Fleming arrived at his career by a tried-and-true method: he married the owner's daughter. David met Kacy Smith at U.C. Davis while pursuing a degree in psychology. After their marriage, father-in-law and Monterey winegrower Rich Smith convinced David to join the family business. The career change worked brilliantly as David Fleming happily found his true calling as a winemaker.

Mr. Fleming's winemaking philosophy is to let the vineyard speak for itself through minimal intervention in the cellar: "the wonderful Santa Lucia Highlands fruit I work with makes my job easy – I try not to get in the way of that special 'sense of place' being expressed in the bottle." His "never satisfied, always something more to learn" approach has resulted in widespread acclaim for the Paraiso brand and tabbed him as one of the country's top up-and-coming boutique winemakers.
Annual Production: 12,000 cases
Futures
Paraiso's Angels' Share club is the best way to secure your share of our limited releases. Call 831.678.0300 to enroll...
Estate Vineyard Acreage
220 acres under cultivation, including the Santa Lucia Highlands' oldest plantings of Pinot Noir, Syrah, and Chardonnay.
Grape Varieties Planted