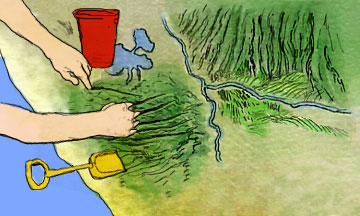 Paso Robles: A Linguistic Geography of Wine
''...a topographic map reveals many parallel east-west canyons, like a child's fingers digging in sand, running crosswise from the ocean through the hills...''
by Mary Baker
March 16, 2006
---
Is there a
Paso Robles
personality? If so, what is it? Does Paso Robles have a cohesive, omnipresent character, or do the different regions within Paso each have their own flavor dialect?
Paso Robles is geographically the third largest single appellation in
California
. It has never separated into smaller appellations, due mainly to collegial loyalty among local wineries and growers. <!> But residents, winemakers -- and visitors who know the region intimately -- are aware of distinct areas that merit discussion due to their varying soils and meteorological influences; areas such as Estrella Bench, Adelaida Hills, Willow Creek, Templeton Gap, and San Miguel.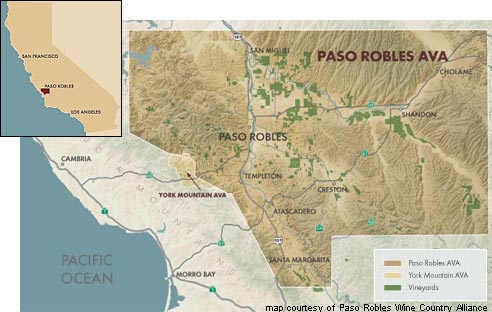 Do these smaller regions deserve sub-appellation status? That question is currently under debate among local winemakers and growers. It's a question that won't be comfortably answered, as the geography of Paso Robles is more complex than most people realize. Driving from San Francisco to Los Angeles on US Highway 101, Paso Robles is a boring blip near the sandy, subterranean Estrella, and is most remarkable for the fairgrounds located next to the road. One needs to veer offroad to discover that Paso Robles is characterized by steep, wooded hills with abundant wildlife in the west, stretching east to looser, loamy river bench soils with mistral temperaments. The northern part of Paso Robles includes the consistently warm San Miguel region; the central region includes the cool Templeton Gap wind tunnel; and the south features warmer high plateaus where orchards have flourished for centuries.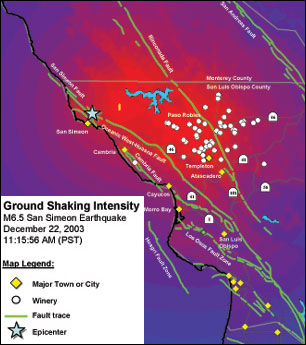 If you look at an earthquake map of the region you will see a series of minor parallel faults running north and south, like desperate fingernail scratches in the earth. But a topographic map also reveals many parallel east-west canyons, like a child's fingers digging in sand, running crosswise from the ocean through the hills, crossing Estrella River, and flattening out near the Carissa Plains, creating in the west a cross-hatch of steep, upturned ridges of limestone and calcareous soils swept by stiff ocean winds; and in the east a series of rolling wave-like hills crossed by cool night time breezes.
Estero Bay cuts deeply inland and gives birth to the long gash that is Templeton Gap -- a high-walled wind channel that is also the route of Highway 46 West. Templeton Gap winds reach far into the east side of Paso Robles, bringing cool oceanic influence and moisture into areas that would otherwise be sheltered by a madman's maze of stone.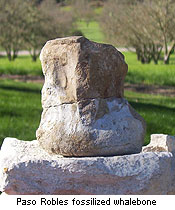 Fossils dot the landscape, and 2 million year old whalebones are frequently unearthed. The soils of Paso Robles are rich in calcium and limestone -- hilltop ridges are so eroded that vines struggle for every breath, while the lower slopes have collected centuries of rich topsoil and forest humus.
So after all this blather about soil, is that all that defines 'terroir'? Does terroir include more than measurable soil statistics and heat hours? Does it include intangibles like the bright azure quality of light one finds in the central coast, so different from the gentle golds and blues of Tuscany or
Walla Walla
? Does terroir include our expression of the soil, in the same way Renaissance artists used their own region's pigments and themes?
Until now the principality of Paso Robles has not formally declared microclimates, or considered them important to its identity. But now a cabal of Paso Robles winemakers, known as the
Paso Robles West Side Grand Crew
has applied for secession from the union with the formation of a
West Paso Robles
appellation, a change that is being hotly contested by growers and winemakers, including some within the proposed appellation.
Add to that a cacophony of winemaking styles, the independent rancho spirit of the local winemakers, and an alliance of growers and winemakers who have proudly and stubbornly chosen to celebrate the region's diversity rather than hang their hats on the peg of a single varietal, and we have an identity challenge worthy of Hercule Poirot.
In this same space, over the coming weeks and months we will hear from soil scientist Dr. Tom Rice, who is just completing a book on the soils of Paso Robles. We'll be interviewing the youngest winemakers in our region, the most experienced, and the French contingent. We'll discuss the differences and similarities between the east side and west side regions. We'll talk to women winemakers, explore old vine zinfandel vineyards, look at early Swiss and Italian influences, and discuss various winemaking styles and trends. Is Paso Robles a 'hot' growing region? We'll compare actual and average temperatures, heat hours, and diurnal swings in Paso Robles to statistics from other regions for some surprising and myth-busting revelations.
At the very least, we will build together a linguistic geography of wine -- a multi-dimensional tesseract of wine and terroir.
~ Mary Baker, Paso Robles Editor
To comment on Mary Baker's writings and thoughts, contact her at
m.baker@appellationamerica.com