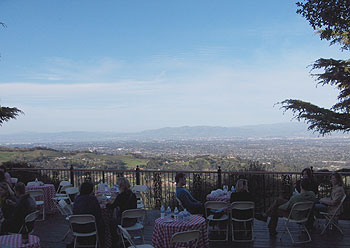 Pinotphiles enjoy a taste of Paradise
Pinot Noir Lovers Throng to 2nd Annual Pinot Paradise in the Santa Cruz Mountains
by Laura Ness
April 3, 2006
---
There are far worse things to endure than a weekend immersion in
Pinot Noir
, and that's just what hundreds of Pinotphiles from all over the state did in the
Santa Cruz Mountains
the last weekend of March 2006. In fact, over 900 of them converged on
The Mountain Winery
in Saratoga to savor the unique personalities of Santa Cruz Mountains pinot during the 2nd annual
Pinot Paradise
celebration.
Considered the birthplace of Pinot Noir in North America, The Mountain Winery is the former Paul Masson facility, and the site where pinot was initially planted on this continent, presumably from cuttings of the Louis Latour vineyards in Burgundy, France. With commanding views of the entire
Santa Clara Valley
, The Mountain Winery provided an idyllic venue for enjoying some of the region's best food and wine, listening to music, or simply soaking up the rare sunshine. Ahhh, this truly can be paradise.
Paradise Revisited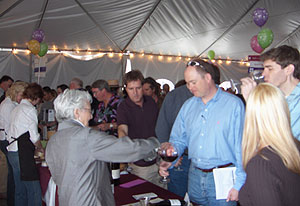 The weather gods were truly smiling with approval: for two years running, the sun has shone on Pinot Paradise in the midst of torrential wetness. March 2006 is looking to set a record for the most days of rain ever received in March in the Bay Area. Regardless, nothing could dampen the spirits of the 30 plus wineries in the appellation who were pouring strictly Santa Cruz Mountains pinots, some of the finest in the state. Guests were able to enjoy Gold and Silver medal-winning pinots accompanied by an enormous selection of fine food from 20 of the best local restaurants, cheese shops and artisan food purveyors. They were also treated to 200 exciting auction items, including individual double magnums of each winery's finest pinot, and a Grand Cuvee that blended everyone's efforts into a single bottle.
Pleasing the Multitudes
"Upwards of 900 pinot lovers enjoyed this special piece of paradise today," said Dave Moulton, Chairman of Pinot Paradise, and winemaker/owner at
Burrell School Vineyards
and Winery. "Without doubt, we poured more Santa Cruz Mountains pinot in one day, in one place, than ever before in history. We mountain pinot growers are especially attuned to the weather, particularly in an area where we can expect between 40 and 60 inches of precipitation per year, so we were blessed to have a beautiful day in which to share the fruits of our labors. For us, making pinot is the ultimate expression of what our unique terroir has to offer. Having so many wineries pouring their best expressions of this storied winegrowing region, for such an enthusiastic fan base is testament to the ever-increasing quality of the pinots being made here in the Santa Cruz Mountains."
In a recent article, the
LA Times
ranked Pinot Paradise as one of the top Pinot events worldwide. And judging by the reaction from attendees, its ranking is well deserved.
Highlights of Paradise
New this year was a Saturday event called "Pathway to Paradise." It featured barrel samples at over a dozen participating wineries throughout the appellation. This is a great way to explore pinot in its youth, often barely in the barrel for a few months. Burrell School Winery had barrel samples from 04 and 05, plus the not yet released 03s, which made for interesting comparison. Winemaker Dave Moulton has made three consecutive vintages from both his estate fruit up on Summit Road and with fruit from the Veranda vineyard in Corralitos. To see the distinctive personalities of both sites reflected consistently year over year was greatly encouraging. The Burrell School Estate fruit is brassy and bold: French horns, trumpets and trombones. The Verdana is all strings: violins and more violins, with a viola thrown in for depth.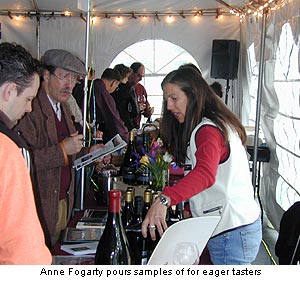 It's also fun to see what oak really does to a wine. The 05s are so young and exuberant and practically unruly, while the 04s are softer, more concentrated and developing a certain polish, as if they've just returned from boarding school with their socks no longer inside out. The 03s are almost ready for release and so silky with all the charm of a debutante: they still haven't let their hair down, but some restraint can be charming. They will both age beautifully, but one should have no fear of cradle-robbing: if they taste good young, have at it.
The Technical sessions, also new this year, featured a seasoned lineup of viticulture and winemaking experts, and drew mostly growers and winemakers from the region. A panel discussion entitled "The Impact of Terroir – Pinot Noir in the Santa Cruz Mountains," included panelists with decades of experience here in the mountains. They included
Michael Martella
,
Thomas Fogarty
, Jeff Emery of
Santa Cruz Mountain Vineyard
, Prudy Foxx of the
Viticulture Association of the Santa Cruz Mountains
, and Jim Schultze of
Windy Oaks Estate
.
This was followed by a session entitled "The parallels (or not) between Burgundy and the Santa Cruz Mountains," featuring tastings from both regions, led by Joe Miller, widely known expert on Burgundy and UCSC Professor. This session explored some beauties from Burgundy, including a 2003 Gevrey-Chambertin, matched up with the lovely 2002
Mount Eden
Estate Pinot Noir, as well as offerings from Windy Oaks Estate.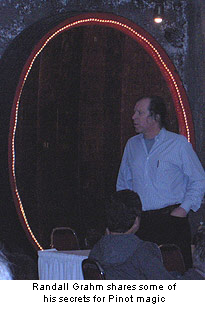 Grahm Holds the Keys
Bonny Doon
's ubiquitous and often quirky Randall Grahm, kicked off the session with a keynote entitled "Why is Pinot Noir called the fickle grape?" He was engaging, erudite, and very Santa Cruz. Here are a few Randallisms for those of you who collect them.
On the whole, creating a great Pinot Noir in the new world is essentially impossible. We are entirely too rational here. You must let rationality take a back seat. Sometimes you must jettison it from the back of the truck.


~ Randall Grahm
Randall's advice on farming seemed to be:
Dry Farm or Die; Don't water (except when establishing the vines, and then only if really needed).
Go self-rootstock with tap roots of 18" or longer.