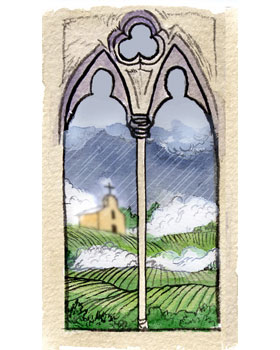 Spring Mountain District ~ Napa Valley (AVA)
Cain Vineyard's Chris Howell Puzzles over Terroir
Winemaker Chris Howell knows that honoring the terroir of sacred places can be an almost religious pursuit that doesn't always make sense commercially.
by Alan Goldfarb
May 9, 2006
---
Chris Howell puzzles about terroir, which shouldn't be a surprise to anyone who's known him as long as I have. The fact is Howell, as soft-spoken and contemplative as most anyone in the
California
wine industry, puzzles over most things. Which to my mind, due to his considerably filled brain pan, is a good thing.