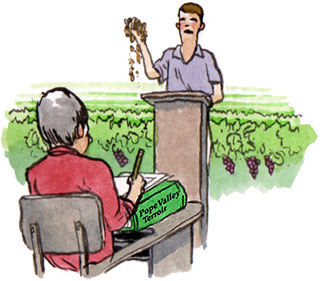 Discovering Pope Valley with Flora Springs' Pat Garvey
"Pope Valley is probably the last viable place remaining in the greater Napa Valley American Viticulture Area."
by Alan Goldfarb
September 26, 2006
---
<!>
Alan Goldfarb (AG):
Why did Flora Springs invest in Pope Valley so long ago when it was hardly a blip on the radar?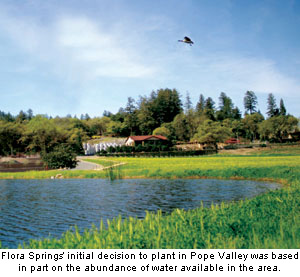 Pat Garvey (PG):
In 1981, everybody was price conscious. And it was a good opportunity to make some reds. There was a huge amount of water which is a scarcity up there. There was more (water) than we'd ever need, so it was too hard to turn down.
AG:
How far along is the AVA proposal to the TTB?
PG:
We've sent out a survey at the suggestion of Rob Mondavi (Michael's son) asking such questions as: Have you ever heard of Pope Valley? Do you know where it's located? Do you believe it will be an important area? Even if the responses are negative, we've overcome it by providing education about Pope Valley.
AG:
And once you get the survey back?
PG:
We're sold on the name Pope Valley District. Within the next 60 days - most likely in November - we'll send to the TTB.
AG:
But Pope used to be considered where you go to get inexpensive grapes in the Napa Valley. In some ways, it still has the connotation.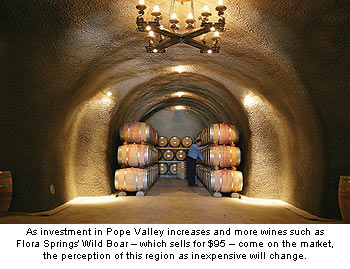 PG:
Sure it does. But we're working with newer clones and newer rootstocks and working with people who have made wine. There will be some growing pains there (though).
AG:
What do you think is the quality of the grapes from Pope? And what do you think they can be?
PG:
Whenever you plant older rootstocks, you have to ask: What did you have in the field, and what are you bringing now?
I'm looking at soils that are equivalent to St. Helena, Rutherford, and
Oakville
. I can't see any reason why the quality can't be similar. The soils are pretty uniform.
AG:
What are the soil types?
PG:
Bressa Dibble, Aiken and Butte series, which are found in bedrock or soft sediments at slight depths, and midland soils that are found in well-drained silt loams.
AG:
What about the growing season up there?
PG: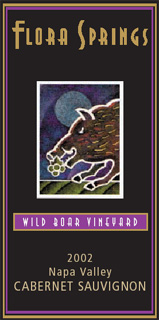 Because of the distance from the ocean (about 60 miles), there is less influence from the marine layer. Fog is rare during the summer months. But cool air from San Pablo Bay comes up 20 miles through Chiles Valley.
The growing season starts later than on the valley floor. But the season is shorter and harvest tends to be ahead of the floor by 7 to 10 days.
AG:
Is there a distinction about Pope?
PG:
We're bettin' on it. We know we've got temperatures that are more extreme than in the center of the Napa Valley, Rutherford. We run from the high 90s to the high 40s. We also get colder. We think that will benefit acids, pHs, Cabernet and Bordeaux blends and other reds. We also know that terrific
Sauvignon Blancs
are being introduced there. Many of us are experimenting with
Syrah
and
Sangiovese
.
It's a kind of a last frontier that's still alive there. For me, that's the real draw. When you talk to a grower there, you're talking to someone who farms the property himself and lives on it.
AG:
What do you think the future holds for Pope?
PG:
We're (Flora Springs) making a wine -- Wild Boar -- that sells for $95. So when you talk to me about Pope Valley being an inexpensive area with low-quality grapes, I don't hear you. It may be a hard sell, but I don't see it. But it's definitely going to be an education process.
~ Alan Goldfarb, Regional Correspondent – Napa Valley
To comment on Alan Goldfarb's writings and thoughts, contact him at
a.goldfarb@appellationamerica.com