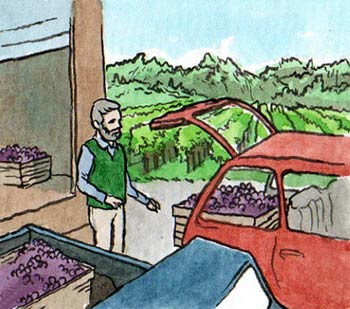 Understanding the Napa Valley -- one AVA at a time: An Interview with Jeff McBride
"I'm learning to make better wines for our main program by focusing more on the grapes from each of the vineyards in the single-AVA project."
by Alan Goldfarb
October 5, 2006
---
<!>
Alan Goldfarb (AG):
When I spoke to you at the end of 2004, you told me that the reason you're doing this was to "put it to the test. Let's face it: some of these boundaries are political divisions. Now let's see if it's political, marketing or if it's real...Let's take the politics out of sub-appellations; let's be scientists, let's be winemakers, and let's investigate terroir and see what it's all about."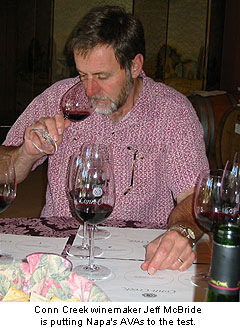 Does that still hold?
Jeff McBride (JM):
It's still the formulation and reason for doing this. I want to minimize the winemaker and the winemaking process.
AG:
How about Ste. Michelle? It's a big corporation. Is it still behind this?
JM:
Headquarters is all over this project. They understand it; they get that it's about AVA. It's a gift. But they tell me, "You still have to sell the wine, Jeff."
AG:
Did you meet resistance when you tried to sell the project to management?
JM:
No, I didn't. When I signed on, innovation was a priority. They were intrigued by this. I found it refreshing.
AG:
It's a gift to you as a winemaker.
JM:
Yes, but I want to eliminate as many of the (winemaking) variables as possible. I don't want the winemaker to be the showcase.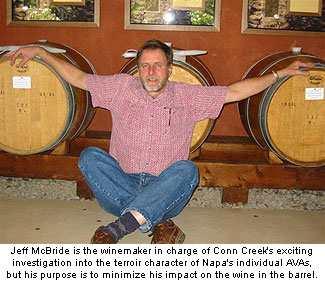 AG:
You said you pick at around 24.5 Brix, but I'm guessing that every vineyard's grapes are not mature at that level. It must be tempting to wait and pick at a higher degree of sugar.
JM:
With five-ton lots, it's not much of a sacrifice. It's easy to use the tools in your toolbox and to manipulate large, jammy, fruity wine, but I wanted the appellation to be the showcase.
But what gives me the freedom to do this is that our main purpose is to produce 14,000 cases of Napa Valley (designated) wine. That is the engine that drives the train. We use some of the same vineyards in the (sub-AVA) program, so I'm not sacrificing the overall. I'm learning to make better wines for our main program by focusing more on the grapes from each of the vineyards in the single-AVA project.
AG:
This isn't a new project per se. Others have attempted it. For instance, the brand called Thirteen is doing it.
JM:
But they're blending different vineyards.
AG:
And that mitigates terroir, right?
JM:
Exactly. I'd like to see others doing this. That's what it will take to separate AVAs. I'd like to see
Martini
do it. They've got the wherewithal.
AG:
And if others begin trying in earnest to really put a face to each AVA?
JM:
Let's play "What if?" What if we do this? In 150 years, will it be like Bordeaux? I think so.
AG:
That's what it's going to take? 150 years?
JM:
I sincerely hope not, but the more people that get involved -- and we're the messenger here -- the more we'll have the opportunity to move forward.
AG:
So, almost five years into the project, what have you learned thus far?
JM:
What I've learned is that there are certain aspects of AVA that turn up time and time again. Those chosen wines (commercial wines) that rise to the top, show how the climate was in that particular year.
AG:
You don't have full control of the vineyards you use so you can't control all the variables such as clones, rootstock, facings, etc. This is not exactly as you would like, I'm sure. Do you think that it could be the weak link in the project?
JM:
Possibly. I am certainly trying to drive this forward in a free enterprise economy, which is more difficult than in France. But you've got to start somewhere. If I hadn't started the journey now, I wouldn't have learned that there are any differences.
AG:
How do you respond to some of the criticism that what you're doing is merely a marketing ploy?
JM:
There is potential for criticism. "Is it a flash in the pan?" They don't have a leg to stand on because we're putting 56 cases away each year for educational purposes.
I'm a winemaker number one. I'm not a salesman or a professional marketer. But success breeds its own problems.
AG:
What kinds of problems?
JM:
Like making the mistake of using a different type of French barrel the second year...But I haven't had 20 years (working in the Napa Valley) to know the subtle differences and nuances of the various areas and it takes a long time (to understand that).
AG:
Especially because you're so new to the Napa Valley.
JM:
Yes. My first impression is that it's a big valley. It's Napa Cabernet. It's like Kleenex. But when you get into it, you realize there's a whole intricate world...I'm not as naïve as before, but I'm still as objective.
~ Alan Goldfarb, Regional Correspondent – Napa Valley
To comment on Alan Goldfarb's writings and thoughts, contact him at
a.goldfarb@appellationamerica.com