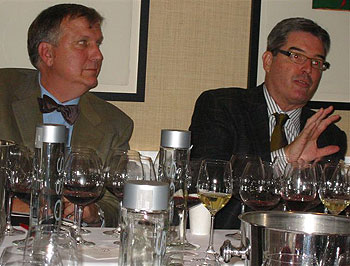 Making Pinot the Saintsburyian Way
"Over a lot of years, Carneros has been driven by people who were somewhat backward in their winemaking philosophies and therefore, the region has not lived up to its potential. Some people think it's a Pinot backwater and it's clearly not."
~ David Graves, Saintsbury founder
by Alan Goldfarb
October 3, 2006
---
David Graves and Dick Ward are like a married couple who have been together a very long while. They finish each other's sentences and correct each other's faux pas. In a discussion of when they started getting fruit from the Lee Vineyard in the
Carneros AVA
, Graves says he thinks it was 1982. Ward is quick to interrupt, "No, it was '81." Graves, standing corrected, retorts "Oh yes, we made one barrel."<!>
Or, when speaking about a particular clone Graves begins, "Not to throw 113 under the bus …" His partner admonishes, "but if planted in the right places, it can make a wonderful wine."
And, "I hate to be a devil's advocate here …" says Ward while discussing another subject. Immediately Graves intones, "We're used to it, Dick."
So it goes for Graves and Ward, who founded
Saintsbury
, the
Pinot Noir
and
Chardonnay
producer in the Carneros appellation of the
Napa Valley
. They knew implicitly that Los Carneros would be a great place for Pinot, having taken their lessons well from early pioneers such as André Techelistcheff and Louis Martini. That was back in 1981 and this very bright, prescient and affable duo are still at it. And they maintain their optimism, despite the fact that Carneros -- the once pre-eminent California region for growing Pinot Noir -- has been struggling to re-gain its stature for some time now.
In recent years, such places as the
Russian River Valley
and the
Anderson Valley
in the north, and
Santa Lucia Highlands (SLH)
and
Sta. Rita Hills (SRH)
on the
Central Coast
have been kicking Carneros' butt.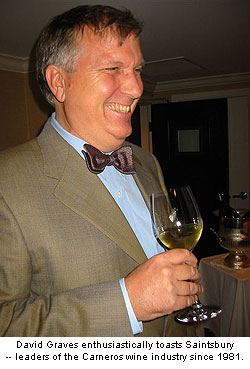 So, Ward and Graves took their case to a downtown San Francisco hotel recently to face a group of wine writers, and try to prove without rancor, that Carneros -- and more specifically Saintsbury -- is still and always has been viable Pinot country.
"We've proven over the years that we can make great Pinot Noir," Ward tells me unabashedly before pouring 21 examples dating to 1986.
Then this bold statement: "We've probably, over the years, been more important to Carneros than anyone else."
Later Graves, sporting a dress-up-for-the-city bowtie, tells me that he isn't the slightest bit defensive about standing up for Saintsbury's territory.
"The question on everyone's lips is, 'Are Carneros' days done?' 'It's so '80s.' The answer is no, and you haven't seen anything yet."
But he does concede that folks in the Carneros are not without their foibles.
"Over a lot of years, Carneros has been driven by people who were somewhat backward in their winemaking philosophies and therefore, the region has not lived up to its potential. Some people think it's a Pinot backwater and it's clearly not."
Still, Graves admits later that, "If you like
Brewer-Clifton
(SRH producers of California's hottest Pinots) wines, you'd think our wines are wimpy."
Or, as Ward announces to the throng, "Some other producers have leapt out in front and said, 'I'm going to make 16-plus (alcohol) wines, damn it!' So, maybe I should learn how to break dance, too."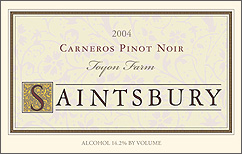 Well, after tasting Saintsbury's long-line of Pinots, I'm pleased to report that almost without exception -- save for the '86 (from magnum) and '91 Carneros (estate), the '95 blowsy and showy reserve (magnum), and the '04 Stanly Ranch -- the wines show a consistency of style and a definitive place-of-origin.
(In January, 2006, Saintsbury's 2003 Pinot Noir was recognized by a panel of Carneros winemakers as an "Appellation Signature" wine.)
This consistency is particularly noteworthy since there have been four winemakers in the 25 years of Saintsbury's existence. I'm also pleased to confirm that the style is anything but wimpy. It's one of the best examples of balanced California Pinot, particularly in the magnificent and long-gone '95 estate (not to be confused with the reserve) and the just-on-the-market '04 Toyon Farm Vineyard (at $45, is a bargain).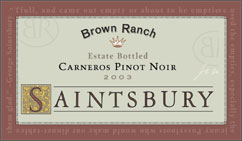 They both show a silky, warm texture with substantial body capable of long term aging. The '95, for instance, still has a ways to go. The Toyon Farm -- from a ranch that's 500 meters east of Saintsbury's Brown Ranch, just next door to the famed Hyde Vineyard -- is big and elegant at the same time and is in for the long haul. After tasting it, I thought, "Who needs SRHs or SLHs?" Certainly not I. What are they?
The Toyon has an east-to-west orientation, which means it takes the full-on winds and cool air and fog from nearby San Pablo Bay. That's why the wine, like all of Saintsbury's Pinots, has such balance of sweet, dark cherries and a crisp, cleansing wash of acidity. Generally, the Pinots from SRH and SLH are huge, higher in alcohol, and more resemble
Syrahs
than Pinots.
But Saintsbury's Pinot Noirs could not be taken for anything else.
"Part of what we're about is that we're trying, in a very Saintsburyian way, to push the limits and yet maintain that balance," said Ward. "We're trying to go there (to making wines of power), but not over-go there."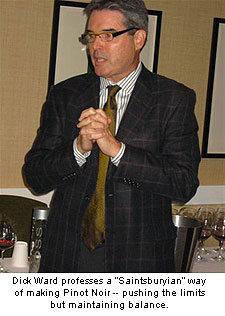 Saintsbury's wines are more in the Burgundian manner in the best years from that region. Of course, by definition, this style does not trump the much bigger bruisers favored in the current market. That is to say, the mostly young American Pinot drinkers, who are partial these days to the wines from the aforementioned other two appellations. More's the pity, because to overlook Carneros, and especially Saintsbury's wines, is to miss out on something terrific.
A fact that doesn't seem to trouble Graves and Ward. They knew what they were aiming for, back in the early '80s, despite the fact that they had some great Cabernet at their disposal from Nathan Fay's vineyard on the Silverado Trail south of Yountville.
Fay's vineyard was the one that gave the world Warren Winiarski's great Cabernets for his Stag's Leap Wine Cellars. But apparently that wasn't good enough for Ward and Graves.
"It was s