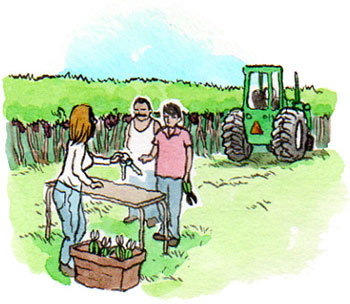 Preserving the Quality of Napa's Prized Grapes
"To get the best quality, there's no better machine than the eye"

~ Julie Nord, Nord Estate Wines
by Alan Goldfarb
November 8, 2006
---
To those of us who study the winemaking process, it is an accepted fact that mechanical harvesting -- picking grapes by machine -- diminishes the quality of the grapes. But we soon may have to toss that conventional wisdom on the compost heap because hand-picking may go the way of the old-world practice of foot-stomping.<!>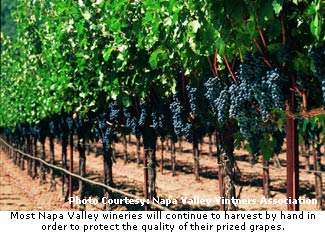 That is because with the increasing tightening of the border between Mexico and the U.S., the
California
wine industry has already experienced a shortage of vineyard workers during the harvest. With coming vintages, the situation could become dire enough that many in the wine industry will have to forego hand-harvesting in favor of picking by machine.
Before we sound the alarm too vociferously that grape and thus wine quality will begin to fall off, rest assured that the folks whom we spoke to in the
Napa Valley
have no intention of ever using machines to pick their grapes. The stakes are too high they say, to ever resort to such measures. With the quality of fruit being as high as it is in the Napa Valley, along with the commensurate prices which the grapes command, machine harvesting will never become part of the crush regimen in that region.
However, it must be said that in
Sonoma County
, more than 100 interested parties attended a recent demonstration that included a myriad of picking machines in different price ranges and levels of effectiveness.
And one small producer in the prestigious
Dry Creek AVA
in Sonoma has already begun to use machines to pick his
Syrah
, eschewing the use of farm workers to pick his grapes. By using mechanical devices, he explained, "You get more free-run (juice)." Additionally he said, "Now you can do night picking, so that the fruit is cool and holds its sugars."
Pity the poor neighbors.
Back in the Napa Valley, we spoke to three principals from some of the area's most important vineyard management companies. The trio lists among its clients some of the most visible and respected producers in the valley. Altogether, the three companies farm nearly 2,600 of the valley's 44,000 vineyard acres. That's a small percentage to be sure. Nonetheless, it is representative of the way Napa Valley's vintners and growers are approaching the real possibility of a significantly reduced workforce for their ensuing vintages.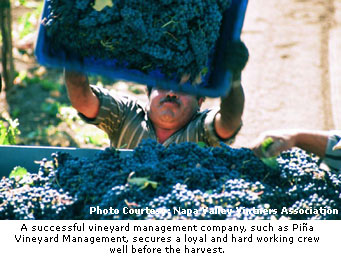 Davie Piña, of Piña Vineyard Management based in
St. Helena
, has anticipated the situation and he's also taken measures to circumvent it.
"We haven't had a problem yet, but we're anticipating it. We started earlier (well before the 2006 harvest) and got big crews and kept them all summer long, so that we were well-staffed by the time we got to harvest," said Piña, who currently has 290 workers in his employ. "We had problems in the middle of last summer when there was no help to be found and I think it's going to get progressively worse. So, I'm going to start earlier (next year)."
Piña's company farms 950 acres and boasts 57 clients such as
Bryant
,
Pahlmeyer
,
Gemstone
,
Sawyer
,
O'Shaughnessy
, and
Outpost
, across a half-dozen Napa AVAs. To augment his crews, he also hired some independent contractors, adding an additional 35-40 people who are under labor contract.
Piña
dismissed the idea of mechanical harvesting, saying that he doesn't employ machines, nor will his clients tolerate them. He conceded that he has considered the practice, partly due to the immigration laws, but methods in the vineyards and hillside harvesting -- of which he does a lot -- preclude the use of machinery.
"When you're farming for super-premium wines, you do every step of the process," he said, and machines -- albeit becoming more sophisticated -- can't possibly sense the nuances of picking the very best grapes in a cluster.
Jim Barbour, who is a superstar vineyard manager to many of the Napa Valley's superstar wineries, wants nothing to do with mechanical harvesters. He said he doesn't have labor shortage problems because his company -- Barbour Vineyard Enterprises, also in St. Helena -- pays a premium of about $15 an hour, to its vineyard workers. And his high-end clients such as
D.R. Stephens
,
Pillar Rock
,
Revana
,
Hundred Acre
,
La Serina
, and
Amuse Bouche
, won't hear of using machines to pick their precious commodity.
"I've never used mechanical harvesting," said Barbour, who farms 600 acres for his 30 clients across most of the valley. "I don't think the quality is there. It breaks a lot of the berries up. It gets like a soup. It's slop. I don't think it should be done."
Barbour thinks that the "bigger people," -- those giant corporate entities now infiltrating the Napa Valley -- might opt to use mechanical harvesters, mainly on the valley floor.
Discover for yourself the value

of wine made from hand harvested grapes.
Buy distinctive Chiles Valley wines direct from
Volker Eisele.
Volker Eisele
, a small
Chiles Valley
producer, said machines can't possibly work in his hillside vineyard.
"We can't use them, and not just for financial reasons. We have trellis systems that are impossible to pick mechanically," said Eisele, who employs an open lyre system. "A vertical shoot system can be handled, but on the hillsides, that's a particular problem. There are no machines yet that can handle hillsides."
Financially, mechanical harvesting has it all over hand-