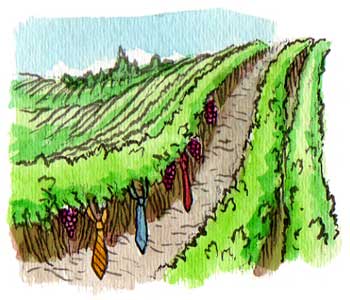 Fit to be Tied: An Interview with winegrower Robert Talbott
A talk with tie company-executive, winery owner Robert Talbott reveals how his diverse Monterey AVA vineyards are reflected in his esteemed wines.
by Laurie Daniel
December 19, 2006
---
<!>
Laurie Daniel (LD):
You label your wines with the Monterey AVA even though the wines from Sleepy Hollow and River Road vineyards could use the Santa Lucia Highlands designation. Why?
Robb Talbott (RT):
Two primary reasons: One, our "Talbott Cru System" is based on the most specific source of fruit possible for each bottling. The Talbott, Logan and even Kali Hart wines are all single vineyard and in many cases single block sourcing. We feel it is more meaningful to focus on the vineyard designation rather than AVA. Two, I planned to source fruit from north Monterey County before the inception of Talbott Vineyards. This fruit, I believed and still do believe, is superior because of the acid, structure, character and balance that it offers.
After two vintages, I began to source from Sleepy Hollow Vineyard, which pre-dates the establishment of the Santa Lucia Highlands AVA by 22 years. Again, it is a more meaningful designation than the large AVA that, while prestigious, has significant differences in microclimate and soil profile as well as fruit character from south to north.
(LD):
Diamond T Vineyard is in the Monterey AVA. How does that site differ from other parts of the Monterey appellation?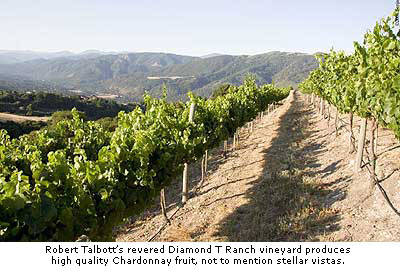 (RT):
Diamond T Vineyard is one of the most distinctive sites in California. It is a calcareous chalk soil, essentially limestone, planted to Corton Charlemagne on SO4 rootstock. The vineyard is 900-1,200 feet above sea level and within line of sight of the Pacific Ocean at the top of the hill. All in all, a very marginal site that stresses the vines tremendously and results in fruit of incredible distinction and intensity as well as balance. We typically get 1 ton an acre off closely spaced plantings (1 meter by 2 meters). We are so proud of our Diamond T Chardonnay and Cuvee Audrey (an unfined, unfiltered selection of the best Diamond T Chardonnay lots) bottlings from this vineyard.
(LD):
Your best known wines are Chardonnays from Sleepy Hollow and Diamond T. How do the wines differ? What does each vineyard's terroir impart to the wines?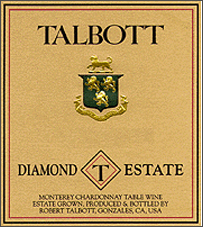 (RT):
These wines are a great contrast in clonal selection and site influence because we make them using the same winemaking practices: same barrel program, yeast strains and so forth. Sleepy Hollow is much more ripe and lush up front and in its youth. While it does offer structure and ageing ability, the lush fruit Sleepy Hollow offers is much more expressive upon release than Diamond T, which tends to be more austere. The soil at Sleepy Hollow imparts spice, a wet stone minerality and, we have always believed, citrus notes. Diamond T has a hard-edged flinty mineral character and more apple/melon notes. Also, Diamond T is located on what used to be the sea bottom, and we believe this imparts more of a brine-based minerality that some describe as gunflint. This is all due to terroir.
(LD):
Are the Chardonnay clones different in the two vineyards? If so, what impact does that have on the wine?
(RT):
Sleepy Hollow is Wente, while Diamond T is Corton Charlemagne. Wente is easier to ripen and, in our very cool north Santa Lucia Highlands climate, provides great acid and structure. Wente produces lush ripeness and a textural element that we are quite fond of. The Corton clone produces tight clusters with a much higher skin-to-juice ratio and typically lower brix at physiological ripeness and harvest. The Corton wine in barrel is hard-edged and tight. It often needs up to eight months longer in bottle to soften and integrate. The winemaking is the same between both (within reason), as I mentioned earlier. The site (terroir) combined with these clonal selections makes the Sleepy Hollow wines incredibly distinct from those at Diamond T.
(LD):
You also have Pinot Noir at Sleepy Hollow. Are there some typical characteristics found in a Sleepy Hollow Pinot Noir? Or is the style more influenced by the various winemakers who work with the fruit?
(RT):
We had a huge project when we took over Sleepy Hollow in 1995. The area we had farmed up until that point was in good shape, but most of the vineyard was far less than optimal in terms of trellising, vine training and general condition. We worked very hard to reconfigure trellising and in many cases training to maximize quality in these Pinot Noir plantings that at that time in 1995 were already 25 years old.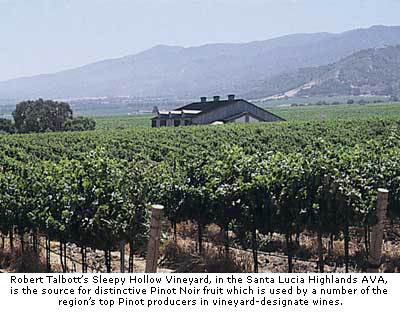 Your question is difficult to answer because we have some buyers who like the old Martini clone plantings, as we do, especially in a few coveted blocks. We also have a number of blocks planted to new elite Pommard and Dijon clones. My analogy is that the Martini plantings express the uniqueness of this site with spice, mineral intensity, ripe stone fruit and cola notes while the new clones express more their clonal character (i.e. 115 for structure and 667 for ripeness). It is also important to remember that most of the vintners to whom we sell are buying on a by-the-acre basis. This allows them to control green harvest, canopy management, harvest time and so forth. From block to block, this viticultural influence results in distinctive fruit.
Of course, winemaker style and philosophy comes into play with barrel programs, yeast selections and, most importantly, bottle age and release dates. We feel really fortunate to work with the elite group of vintners who use our fruit. We enjoy the different expression and style of each.
(LD):
I know you've planted a little Pinot Noir at Diamond T, and the first vintage will be released in 2007. How does Pinot from that site differ from the Pinot you grow in the Santa Lucia Highlands?
(RT):
Diamond T could be another continent it is so distinct from Sleepy Hollow. It is more intense, concentrated and structured. We have made Pinot Noir now since the 2003 vintage from Diamond T, and the results are promising. We hope to release the 2004 vintage in 2007 but no promises!
(LD):
Monterey County has twice as many acres under vine as Santa Barbara County. But arguably, Monterey wines don't have nearly the reputation or visibility that Santa Barbara wines do. Why is that?
(RT):
Very simple - the two regions have vastly different lineages. Monterey was a grower's county, while Santa Barbara was a winemaker's county. I'm not sure of the numbers, but I'd be willing to bet there are four times the number of vintners in Santa Barbara as in Monterey County. As the areas evolved, Montere