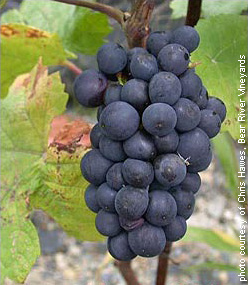 The Well-Known Grape of the Little-Known AVA: A Chat with Gary Franscioni
"There is no question that Pinot Noir is the varietal that has put Santa Lucia Highlands on the map. I don't think there is a single vineyard or producer making the signature Santa Lucia Highlands wine, but Pinot Noir would have to be the signature varietal."
~ Gary Franscioni, Garys' Vineyard
by Laurie Daniel
December 18, 2006
---
<!>
Laurel Daniel (LD):
What grape variety do you think is most successful in the Santa Lucia Highlands? Is there a signature wine from the region?


Gary Franscioni (GF):
It depends on what you mean by successful.
Chardonnay
is certainly the grape that has been planted here the longest, dating back to the early '70s, with a track record which has stood the test of time. That said, there is no question that
Pinot Noir
is the varietal that has put Santa Lucia Highlands on the map. I don't think there is a single vineyard or producer making the signature Santa Lucia Highlands wine, but Pinot Noir would have to be the signature varietal.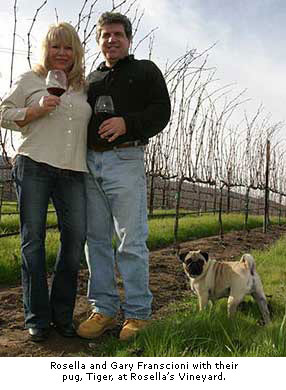 LD:
When you planted Syrah at Rosella's and at Garys', I think a lot of people thought the climate was too cool for that grape. Very little of it was planted in the AVA. Why did you think Syrah would be successful? Has it surprised you in any way?
GF:
I really enjoy cool-climate Syrahs, specifically those from Cote Rotie, and I thought that given our terroir, Syrah could do very well here. It is a constant learning curve. Syrah, to me, is one of the most difficult varietals because it tends toward high vigor. But because of our long, cool growing season, it's difficult to ripen more than 3 tons per acre. With every vintage, we look to refine our growing techniques, including the timing of pruning and the management of vine balance through veraison.
LD:
Is there a regional style for Santa Lucia Highlands Pinot Noir? What about Chardonnay? Is that style terroir-driven or driven more by winemaking decisions?
GF:
To varying degrees, depending on the individual site, Santa Lucia Highlands typically produces Pinot that shows upfront fruit, black cherry, blueberry, spice and earth notes. I don't make Chardonnay, but, in general Santa Lucia Highlands Chardonnay shows clean, crisp tropical fruits, higher acids and good structure. Both are very terroir-driven, but I think you see more variety in the Chardonnay – from clean, crisp, varietally-driven styles to rich, round, oaky styles – depending on winemaking preferences.
LD:
Rosella's is about a mile north of Garys' Vineyard. How do the two sites differ?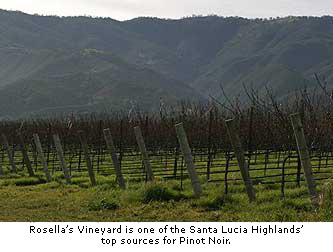 GF:
Well, I'll start by talking about how they are similar. They share the same farming philosophy as well as similar elevation, slope and sun exposure. Garys' tends to be a bit rockier and has better drainage, while Rosella's harvests four to five days later than Garys' because of its location, which is just slightly closer to Monterey Bay. The biggest distinction is in the way they are planted. Garys' is planted primarily to Pinot Noir with some Syrah, and specifically the Pisoni clone of Pinot. Rosella's is planted to Pinot Noir, Syrah and Chardonnay, all of which are planted to a variety of clones. The Pinot alone is planted to seven clones, including the Pisoni clone.
LD:
Which clones have been most successful? How does the Pisoni selection differ from the others?
GF:
They all do well. I picked each clone for the individual character which it contributes – some for color, some for particular fruit character, some for mouthfeel – to the final wine. The additional benefit is that they mature at different times, which helps at harvest. We planted the Pisoni clone at both Garys' and Rosella's, which allows us to better see the differences in the vineyard. In general, the Dijon clones planted at Rosella's harvest earlier than the Pisoni clone, probably because they produce smaller clusters that don't set quite as well.
LD:
How has the appellation changed since you planted Rosella's in 1996?
GF:
The biggest difference is the amount of land under vine, from somewhere between one-half and two-thirds of plantable acreage in 1996 to every nook and cranny today. In addition to the larger number of local farming families planting vineyards for the first time, big wine companies including Constellation, Kendall-Jackson and Gallo have planted vineyards in the Santa Lucia Highlands which range in size from 500 to 1,000 acres.
LD:
The Santa Lucia Highlands AVA is hardly unknown. Still, tourism can help to build an appellation's identity, yet your AVA has little infrastructure for visitors and only a handful of tasting rooms. How has that hampered efforts to build an identity for the appellation? What have vintners in the AVA done to overcome that?
GF:
You're right. It is very difficult, and we are a relatively young appellation. The focus here is almost entirely on farming, and we are in an area where there is virtually no tourist traffic, so there are very few tasting rooms. However, we've begun taking steps to build awareness. We've formed an appellation association called
Wine Artisans of Santa Lucia Highlands
, a 20-member group of property owners who are working together to raise awareness through the Web site, press outreach and future events aimed at showcasing the region and the wines.
LD:
Some well-known wineries from outside the area, such as Siduri and Testarossa, make vineyard-designated wines from the AVA, including wines from your vineyards. What impact has that had on the reputation of the appellation?
GF:
They've had a huge impact. The exposure we've gained from these wineries has been phenomenal. As sure as we are that Santa Lucia Highlands fruit rivals the best in the world, we know that in order to promote the integrity of our region, we have to be very selective in selling our grapes. In addition to making our own wines, we've chosen to work with wineries like Siduri because of the quality of their winemaking.
LD:
Are the current boundaries of the appellation appropriate, or should they be revised?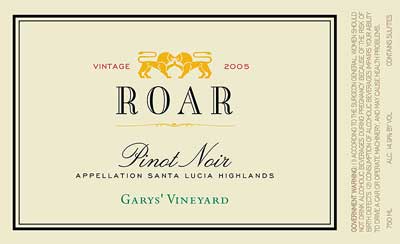 GF:
For now, I think the current boundaries are appropriate and should not be revised. However, once the vineyards have matured and the region has a more established reputation, I think it would be appropriate to make a distinction between north and south Santa Lucia Highlands. At 18 miles long and only one mile wide, there are real differences both in climate and soil between northern and southern parts of the region. There are other sub-area characteristics that we are able to see by virtue of having the Pisoni clone