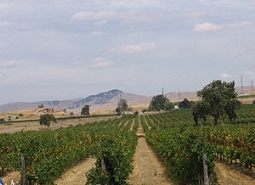 Zin in Livermore Valley
Livermore Valley has all the right stuff to make kick-ass Zin, and at least one winery makes Zin with ample references to this part of the human anatomy. What is it about Zin that encourages people to adorn it with labels featuring well-endowed cheeks?
by Laura Ness
January 19, 2007
---
Livermore Valley Cellars
considers
Zinfandel
their signature wine, and has created a "Derriere Series," with names like "Sweet Cheeks," "Left Behind" and "Right Behind." It's not hard to imagine that these labels kick butt off the shelf faster than winemaker Tim Sauer can bottle the stuff. While Zin can make big-assed wines, the real problem in this appellation is there's simply not enough of it. Tim told me he decided to hang his hat on Zin because when they were looking around for grapes back in the late 90s, the only grape that was going begging for buyers was Zin. So they decided to ride this dark horse and they've been wildly pleased with the results. Tim buys Zin from four sources: Sblendorio, Kestrel Ridge, DeMayo and Arroyo Farms. He's ardently hoping that more growers will get a clue and plant Zin – or graft over, please!