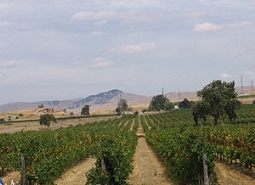 Zin in Livermore Valley
Livermore Valley has all the right stuff to make kick-ass Zin, and at least one winery makes Zin with ample references to this part of the human anatomy. What is it about Zin that encourages people to adorn it with labels featuring well-endowed cheeks?
by Laura Ness
January 19, 2007
---
Livermore Valley Cellars
considers
Zinfandel
their signature wine, and has created a "Derriere Series," with names like "Sweet Cheeks," "Left Behind" and "Right Behind." It's not hard to imagine that these labels kick butt off the shelf faster than winemaker Tim Sauer can bottle the stuff. While Zin can make big-assed wines, the real problem in this appellation is there's simply not enough of it. Tim told me he decided to hang his hat on Zin because when they were looking around for grapes back in the late 90s, the only grape that was going begging for buyers was Zin. So they decided to ride this dark horse and they've been wildly pleased with the results. Tim buys Zin from four sources: Sblendorio, Kestrel Ridge, DeMayo and Arroyo Farms. He's ardently hoping that more growers will get a clue and plant Zin – or graft over, please!
He chuckles, "The growers carefully bring me the separated bins of Zin and Petite, and as soon as they leave, I throw them into the fermenting bins together. I want them to co-ferment and intermingle. This makes a wine that is so much more complex and interesting. You get reactions and interactions with the heat of fermentation that you can't achieve by blending. Yeast is also a very critical component, and I typically will use four different yeasts per fermentation cycle. If I have 8 barrels, two will have the same yeasts. This enhances bouquet, texture, fruit flavor and mouthfeel. We also press off each barrel at different times to create additional complexity." He might have added: "and augmented anatomy."
Mitchell Katz
likes Zins, the bigger the better. He's made Zin for his self-named winery from the old Beyer Ranch, which he regrets was torn out, from estate Ruby Hill fruit and from the Sblendorio vineyard. His current Zin releases are two 2004 vintages made from the Ruby Hill estate. He aged the Napa clone in French oak and the Sonoma clone in American. Customers seem to prefer the peppery spice that the American oak adds, although the Napa clone is softer, smoother and nuanced by vanilla.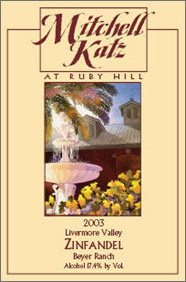 Last year, he decided not to buy any Zin from out of the appellation, and began to look for additional Valley sources. Since he's a fan of Kent
Rosenblum
's immensely diverse and successful Zinfandel program, Mitch was thrilled to discover a vineyard in Livermore that is managed by the Wente's for Rosenblum Cellars. Turns out the vineyard has Rockpile, Monte Rosso and Richard Seuret clones. Katz managed to secure a few tons of Rockpile clone and is pretty enthusiastic about the results so far. The vineyard is only 7 years old, so it doesn't have that peppery characteristic that Zin vines tend to pick up with a dozen years of age. Katz likes the charcoal on the finish and hopes that it will translate into a smoky character. The wine is aging in 25 percent French and 75 percent American oak and will be released in 08.
(
Note: Mitch will be the only Livermore winery pouring at ZAP.
)
Nick Nardolillo of
White Crane Winery
thinks Livermore is an ideal place to grow Zin. His first Livermore Zin, a 2005 vintage called SurfZin, will be released in February, and he says it's jammy, rich and about 15 percent alcohol. The fruit comes from Ric Hansen's fairly new vineyard near the old Cresta Blanca Winery on Arroyo Road.
Dale Vaughn-Bowen, winemaker at
Crooked Vine
and
Stony Ridge
wineries, makes Zinfandel primarily because her father loves it. And so do her wine club members. Livermore is a great place to grow Zin, she says. "We get the fog in the mornings, and warm summer days, with rocky well drained soil. We have many micro-climates which bring flavors from wild strawberry to blackberry.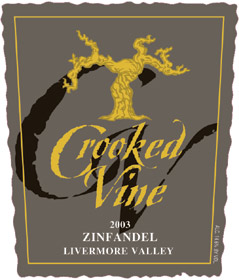 The 2003 Crooked Vine Livermore Valley Zinfandel captures the essence of the Valley. It's an elegant, well-rounded Zinfandel revealing vibrant flavors of raspberry and pepper folded over hints of cocoa, cardamom and cedar. The grapes are from three Valley vineyards: Wente Ruby Hill 66 percent, Sblendorio 32.6 percent, Blue Oak 1.4 percent. A touch of Petite Sirah gives it a color and structure boost.
Hal Liske of El Sol, who makes a tiny amount of Zin from his estate vineyard, says he doesn't know why there aren't more vineyards planted to Zin in the Valley. "Livermore Zins from the good vineyards compete favorably with Zins from notable regions like Amador, Lodi and Paso Robles. The climate of the Valley results in Zins which mature later, have good color, nice aromas and the pepper side is well integrated with the fruit." He noted that Sblendorio and Beyer were vineyard sources for some of his favorite Zins in the past. Like others, he pointed to Livermore Valley Cellars as an example of well-made Zins with good complexity and many layers.
Sblend Sblendorio
grows what is, by all accounts, stellar Zin. He has 5 acres of Century Clone, plus some Gallo clone, planted in gravelly loam. Planted between 1996 and 1998, the vineyard is a 90 percent Zin, 10 percent Petite Sirah field blend, a combination which Sblend believes to be ideal. The notable characteristics of his fruit are a nice white pepper, balanced with ripe fruit flavors. He notes that the trend lately among winemakers is to demand riper and riper fruit, which results in higher alcohol wines that are in high demand with consumers. He's not one of them. However, he's happy with the wines that Livermore Valley Cellars, Tenuta, Fenestra and Bodegas Aguirre are making from his fruit. His objective is to grow fruit which will produce medal-winning wines..
Mike Eckert of
Eckert Estate
has two vintages of Zin in barrels from fruit harvested off brand new estate vines planted by Ric Hansen. (At least someone is planting new acreage!) The vines are very young, so it's a little early for judging, but of the three clones he is working with, he's quite pleased with the Mendocino and Hambrecht clone fruit. The
Primitivo
is a little lightweight for Mike's taste, but the full-bodied flavors and pepperiness of the other two are encouraging. Vinified and barrel-aged separately, they are all coming in below 13.5 percent alcohol, which Mike thinks will make very table-friendly wines when they are released in a year or two.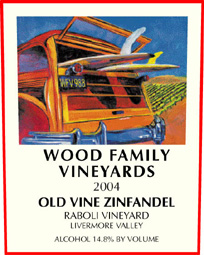 Rhonda Wood of
Wood Family Vineyards
is a big fan of Zin, so much so that she decided to take a beaten vineyard under her wing and try and restore it back to health. Originally planted in the early 20th century in very gravelly soil, the low-yielding, head-trained Raboli vineyar