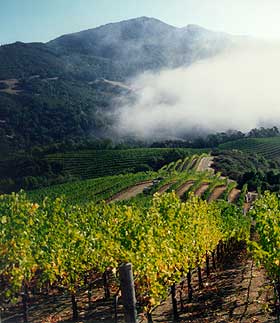 Howell Mountain ~ Napa Valley (AVA)
The Wonders of Mountain Terroir:
Let Robert Craig Explain
Wine should have a sense of place. I like to taste where the grapes come from. They have their own personality. The winemaking procedures are the same for all the wines. It's just where the grapes come from.
~Robert Craig
by Alan Goldfarb
February 7, 2007
---
ALAN GOLDFARB (AG):
You started your career on Mount Veeder. What was it about that area which first attracted you?
ROBERT CRAIG (RC):
The more I tasted wines from Mount Veeder vineyards, the more I liked the wines. So, we focused on mountain vineyards. I really love Mount Veeder.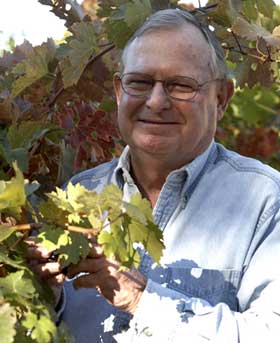 AG:
What is it about Mount Veeder you love?
RC:
The mountain feeling of it and the fact that it's steep and rugged and you see the patterns.
AG:
Patterns?
RC:
On the (valley) floor, all row directions are the same. Up on the mountain, you have so many different exposures and different aspects.
AG:
After all these years, has Mount Veeder lived up to your expectations?
RC:
It has, in spades. The one thing you get from mountain vineyards which I love is that you have such great depth of concentration and great structure in the wine. I don't think you can duplicate that from valley-floor vineyards.
If I were contrasting valley-floor and mountain vineyards, valley-floor vineyards are very uniform in terms of all soil types, soil depths, moisture availability to the plant, sunlight exposure, wind exposure, and the slope will be gentle. It's easy to farm. If you're going to pick valley-floor fruit, all those grapes will ripen pretty much at the same time, depending on the rootstock and varietal. So you'll pick that vineyard in a short period of time.
There is tremendous variability in mountain vineyards. There are different soil types, definitely different soil depths, different wind exposure, and sunlight exposure. Even if you have irrigation, which we do in all of our mountain vineyards, the vine will never get enough water. That's the primary reason for the concentration of mountain wines: because all the water runs off. So the juice is very, very concentrated.
AG:
Is that why some believe that mountain fruit is better?
RC:
You can't have wines as good (as ones made with mountain fruit), and you'll have a different style of wine. Different ripening patterns give you much more complexity.
AG:
Why did you also go to Howell Mountain, then to Tulocay and now Spring Mountain?
[Note: An AVA or American Viticultural Area petition has been filed to allow the Coombsville area to be renamed Tulocay and have its own designation.]
First, why Howell?
RC:
I got some grapes from Dennis Johns. (Johns owns White Cottage Ranch vineyard on Howell from where Craig originally sourced his fruit for his Howell Mountain-designated Cab.) My idea was to use them to add concentration and character and to elevate the quality for a "Napa Valley" Cab.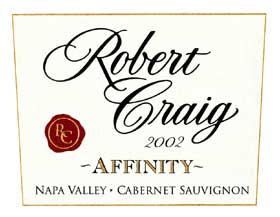 But in the final decision, I just couldn't do it because I would lose the distinction of Howell Mountain. (That's) when I discovered how outstanding and how different the character was from Howell Mountain.
AG:
What made it different and outstanding?
RC:
What I find different about Howell Mountain that is different from anywhere else is a white pepper aspect. From Mount Veeder, you have black fruit – cassis, black cherry. From Howell, that's real blackberry, very concentrated. Also there's something almost like clove.
The vineyards are 30 miles apart but there's also a similarity -- the concentration you get from both.
AG:
Why buy in Tulocay?
RC:
We didn't know much about Tulocay at that time. I had the notion that a lot of people had. My feeling was that it was probably too far south and too cool to ripen Cabernet Sauvignon on a consistent basis. So I did as much research as I could. The most important thing which I discovered was that the fruit was going to Joseph Phelps, which was used for their Insignia.
It's the basis of Affinity (which comes) from two small 8-acre properties we call La Londe because it's on a street called La Londe Lane. We also use Merlot from the Ghisletta Vineyard (Carneros), and other Cabernet next to Phelps (Temple Vineyard). We get Cab Franc from Mt. Veeder from the vineyard (which) my Mount Veeder Cab comes from.
AG:
Explain further the differences, similarities and peculiarities of each of the appellations from which you make wine.
RC:
Tulocay (from which he primarily makes 3,500 to 5,000 cases of Affinity) was planted in 1990 and is on Clone 7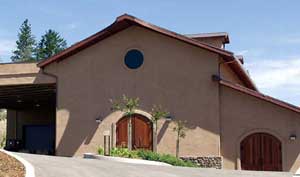 and 5C rootstock, which is difficult to manage because it's shallow-rooting so water management is really critical. The other vineyard is on 337 and 7 and 3309 rootstock. The wines have extremely dark red-colored fruit, but I can't come up with a descriptor. It's kind of its own animal.
It's in the foothills with just over 100-foot elevation. Exposure is toward the north. The soils are rock content, with some tufa. In the bottle, (the rocks) help with concentration. I'm not sure what tufa does.
AG:
Why an AVA from that area?
RC:
It's very distinctive. It deserves to be an AVA. The climate is its own little area. It doesn't open directly to the bay, so that gives it more warmth and a long growing season. That's why you get well developed wines.
AG:
How about Howell Mountain?
RC:
The Howell vineyard (planted to Cabernet at 2,280-foot elevation) was planted in '90 to 92. We make 1,200 to 1,400 cases. It has westerly exposure. What that means is that you don't have a lot of morning sunlight; (it's) mostly in the late afternoon. What makes Howell Mountain so distinctive is the soil – it's of the volcanic red Aiken series and very mineral rich with a lot of iron. That's what gives it the white pepper and clove. It's on clone 7 and 3307 rootstock.
AG:
Tell me about the Mount Veeder vineyard.

Robert Craig Winery's wines are now available in the Appellation America online wine store.
Buy it here
RC:
It was planted in '98 and '99 to Cabernet at 1,800-foot elevation. We make 1,800 to 2,000 cases. The soils (Felton Series) are decomposed