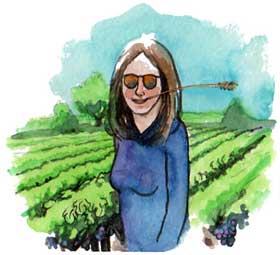 Merryvale's Vineyard Guru Remi Cohen – She's Young and Good*
*But don't call her a farmer girl.
by Alan Goldfarb
February 12, 2007
---
ALAN GOLDFARB (AG):
Why all these changes?
REMI COHEN (RC):
Merryvale wanted to be two wineries. We wanted to make our tiers (the higher end Merryvale and the moderately priced Starmont) distinct. Our growth is in Starmont. Our higher tier is shrinking in quantities. Small lots of high-end wines – "anal" winemaking – will be made in St. Helena.
[Note: Under the Starmont brand, Merryvale will produce 100,000 cases of Sauvignon Blanc, Chardonnay, Merlot, and Cabernet Sauvignon priced from $18 to $27. Most of the fruit will come from the Carneros, with the emphasis on
Chardonnay
from the ranch's 50-acre vineyard that was planted in 2001. It is hard by the Highway 29 southern crossing bridge which runs over the Napa River. The Merryvale brand lists wines from $20 to $100.]
AG:
Why is the emphasis here on Chardonnay and not Pinot Noir?
RC:
It's perfect Chardonnay country and it's what we do best.
AG:
How does this differ from Bouchaine, which is only about 1.5 miles to the west and produces about 30,000 cases?
RC:
Bouchaine's vineyard was terraced and a little more windy. (But) it's been an adjustment. It's almost the same job but on a slightly different scale.
It's just a little bit more serious here. To be a competitive business on this scale, you have to be more serious. Bouchaine is a little campy, which I loved. I have a little more responsibility (at Merryvale), but it's similar. I have communication with the winemaking team and the sustainability program.
AG:
You're so young and passionate but relatively inexperienced. There aren't too many women and, especially women your age who are vineyard managers (Remi estimates 20-30 percent of Napa Valley's vineyard managers are women). And this seems like such a big job.
RC:
I get passionate about whatever I do…but I don't set my goals to out-compete myself. I don't want to be too specific about my goals as to where I want to be in life. For me, it's not the size of the winery.
AG:
What about the Conn Valley vineyard (at about 800 feet above the valley floor)? Isn't this is the first time you've worked a vineyard outside of the Carneros? What have you learned?


RC:
I like a uniform vineyard. This place is majestic. It's a winemaker's dream (planted to 21 ½ acres of
Cabernet Sauvignon
, with the remainder Petit Verdot and Cab Franc). It's well-drained (on volcanic Forward-Kidd series soil) with low vigor. It has different contours and the aspect is like an artist's palette. It's a site that you dream about when you want to make high-end Napa Valley Cabernet.
AG:
Tell me about working with David Abreu.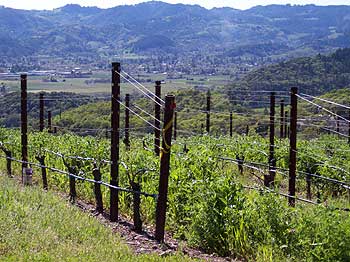 RC:
He planted this vineyard in 1997. I like uniformity in a vineyard and he does too, because his vineyards are beautiful and pristine. Each vine gets touched at least 12 times during the season.
I think Abreu does one of the best jobs I've ever seen in terms of managing irrigation. He has shorter, more frequent (watering) sets. His vineyards are very fine-tuned. It goes to the health and balance that you want to achieve. Healthy vines make balanced wines.
I'm impressed with his irrigation. Everything does count. It does matter. They take every vine as if it's its own being. That level of detail is what I've learned. It's farming. It's not magic and there's some art and there's some science.
AG:
How can you not have allowed your ego to enter the equation when you learned that the great Dave Abreu was managing this vineyard? Didn't you think for a minute that you were capable of doing it yourself?
RC:
I'm not a farmer girl. I don't have the equipment, but I work with vineyard management companies. My job is to observe and communicate and fine-tune what goes on here.
Abreu farms tough sites and this one is challenging because of all the different slopes. But the challenging ones make the best wines.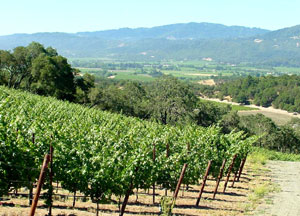 .
AG:
What have you added to this project?
RC:
I've put in "X-arms" over the rows. It's a kind of trellis which better protects the fruit during the hottest time of the day and it changes up the vertical shoot positioning. (An x-arm is an extra extension placed in the middle of a VSP trellis.)
Also, have you heard of "double poly?" It's a double drip tube (poly is for polyurethane), which is a second line that irrigates the drier sections of the block. It's fine-tuning.
AG:
And finally, let me ask you how does the Conn Valley vineyard differ from your Starmont site in the Carneros, aside from the usual weather differences?


RC:
Carneros has to be the most challenging area in the Napa Valley. It's so susceptible to microbes, and Chardonnay is susceptible to everything. … Farming Chardonnay in Carneros is as tough as it gets. Pinot is, too.
~ Alan Goldfarb, Regional Correspondent
To comment on Alan's writings and thoughts, contact him at
a.goldfarb@appellationamerica.com