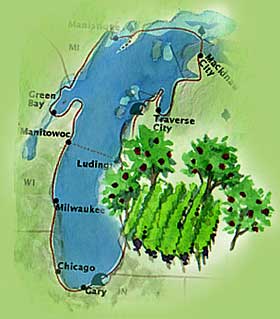 Wyncroft Wines:
Estate-grown, single-vineyard, appellation wine
"We have one of the warmest sites in Michigan, but our fruit retains its natural acidity even while achieving the maturity and sugar levels for the rich, full-bodied wines we are accustomed to producing. All of Wyncroft's Avonlea wines have a mineral note which helps balance their typically ripe fruit character.
~Jim Lester, Wyncroft owner/winemaker
by Eleanor & Ray Heald
February 26, 2007
---
Eleanor & Ray Heald (ERH):
What are the specific characteristics of Wyncroft's Avonlea Vineyard in the Lake Michigan Shore AVA?
Jim Lester (JL):
Avonlea, an approximately 10-acre vineyard, was acquired in 1989 and planted in 1990 to half Chardonnay, a half-acre of Riesling, an acre of Pinot Noir and the balance to
Cabernet Sauvignon
,
Merlot
and
Cabernet Franc
for our Bordeaux-style blend. Soils are nutrient-rich glacial clay with rocky-mineral deposits on moraine hills, located five miles west of Niles, Mich., and nine miles east of the Lake Michigan shore.
ERH:
What clones and rootstocks did you select and how did you match them to Avonlea's soil profile?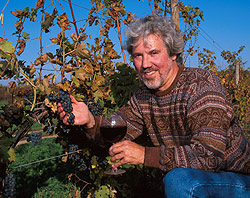 JL:
We favor low vigor rootstocks like
Riparia gloire
and 101-14. The three soil types on the Avonlea Vineyard are principally clay based with abundant zinc and iron compounds. Chardonnay and Pinot Noir are planted in an area where the soil is more friable with shale pieces throughout, making it lighter and better drained. We also have heavy gray-blue clay where we planted
Reisling
. Bordeaux varieties are planted in an area which is totally rock and gravel.
ERH:
What canopy management did you choose to control site vigor and ensure live buds after harsh winters?
JL:
We use vertical shoot positioning (VSP) and prune severely so that we do not over crop. We shoot thin, leaf pull and cluster thin. Most of our vineyard work is done by hand.
ERH:
How would you describe the growing season for Avonlea?
JL:
Bud break is the first week of May and our first frost is late November. On average, we have 3,000 heat units with cooling lake breezes whereas Bordeaux has 2,700 heat units. The growing season is almost exactly the same number of days as the great wine regions of France and Germany. The average number of heat units accumulated during the season is also comparable to Europe.
We have one of the warmest sites in Michigan, but our fruit retains its natural acidity even while achieving the maturity and sugar levels for the rich, full-bodied wines we are accustomed to producing. All of Wyncroft's Avonlea wines have a mineral note which helps balance their typically ripe fruit character.
ERH:
Is the minerally character attributed to moraine deposits at Avonlea or is it a characteristic found broadly throughout the Lake Michigan Shore AVA?
JL:
Because our vines grow on clay rather than sand, the subsoil remains damp during the growing season. The presence of water around the vine roots allows for mineral uptake which we believe creates minerality in the wines.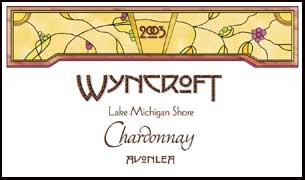 ERH:
You indicate that Avonlea Chardonnay is produced by a classic Burgundian method. What does this mean?
JL:
Avonlea Chardonnay is barrel fermented in 1/3 new French oak, principally François Frères and Damy. It undergoes full malolactic fermentation with lees stirring for two months, then remains on the lees until two months before bottling for a total of 24 to 30 months in cooperage.
ERH:
What are the characteristics of Avonlea Pinot Noir and how do they relate to both site and cellar regimes?
JL:
We also make our Pinot Noir by a traditional Burgundian method, harvesting only one ton per acre at 23 to 24 degrees Brix and 3.3 pH with a total acid of 0.90 percent. Prior to fermentation, we do a three-day cold soak adding 50ppm SO2, then inoculate for fermentation with RC212 yeast.
Rae Lee Lester (RL):
The wine ages for 20 to 24 months in 1/3 new French barrels, primarily François Frères and Cadus. I'd like to emphasize that our extended barrel aging is not just to encourage oak character in the wine. Too many producers are in a big hurry to get wine out of barrel.
It's that extended time in barrel which provides texture, secondary flavors and wonderful nuances in the wine that cannot be achieved by any other method. We want the secondary flavors and textures to make an appearance before bottling.
ERH:
Discuss the wine you've named Shou (pronounced show). Why was this name chosen?
RL:
Shou is a Chinese symbol for longevity that also implies quality.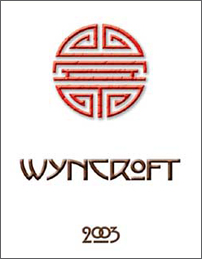 ERH:
What is the Bordeaux blend you've chosen for Shou?
JL:
We are a "Left Bank" house, so Shou is a blend of Cabernet Sauvignon, Merlot and Cabernet Franc. We had some vines grafted to 3309 and we realized that they did not produce the characteristics we wanted. We have since planted all Bordeaux varieties on
riparia gloire
or 101-14 rootstocks with VSP canopy management. Our effort is to control vine vigor and avoid weedy flavors.
ERH:
What is the current Wyncroft annual production?
JL:
Because we are limited by the size of Avonlea Vineyard, our current annual production is only 600 cases. We are negotiating to purchase an additional five acres which we intend to plant in Spring 2007.
ERH:
And finally, how has direct wine shipping helped you to sell your wines?
RL:
Generally, we hand deliver our wine to customers. We combine sales and delivery as one operation. When we visit restaurants on a sales trip, we load up the van and deliver wine. We also include staff training on our trips. We want our customers to purchase our wine from us, the people who made it. It's a rare experience in this day and age for people to meet face to face with the artisan producer.
Direct shipping will definitely be our route to expansion. We have been getting requests for wine from Nova Scotia, France, and all across the U.S.
Get a taste of Wyncroft Wines. Read the Heald's review of Wyncroft's 2005 Chardonnay and

Print this article  |  Email this article  |  More about Lake Michigan Shore  |  More from Eleanor & Ray Heald