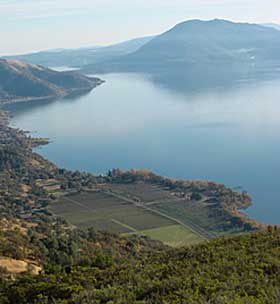 Lake County (County Appellation)
Lake County:
The White Wine Appellation Sees Red
Preconceived notions can lead to misleading conclusions, and there may be no better viticultural example of that than Lake County, that lightly regarded region just north of mighty (imagewise) Napa.
by Dan Berger
March 6, 2007
---
Lake County
has long been known as a white wine region, specifically
Sauvignon Blanc
. Ever since the first SBs were made from Lake grapes in the early 1980s, the area's hillside regions have yielded goodly amounts of lovely Sauvignon fruit and the acclaim of many of its wines has preceded Lake County's image as a wine-growing district.
Among wineries which have used its fruit, Lake has long been well regarded as one of the four growing regions that comprise the North Coast appellation. Lake County sells its grapes to a wide array of non-Lake clients who use the fruit relatively anonymously.
A classic example is
Kendall-Jackson
, which actually got its start in Lake County, and which today uses a huge amount of Sauvignon Blanc from there for its excellent Vintner's Reserve SB. Inside the industry, it is well-known that the fruit providing the base for this wine is from Lake County, but the consumer sees only "California" on the front label.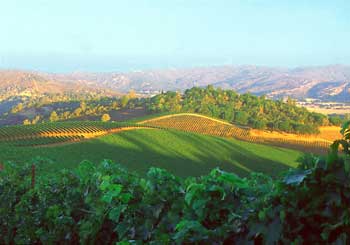 Buena Vista made a decade's worth of top-rate Lake SB in the 1980s, and more recently, a number of excellent Lake-designated SBs have been seen from Brassfield Estate, Fortress, Goosecross, Guenoc, Grove Street, Wildhurst, Jed Steele and a dozen more. But the excitement over Sauvignon Blanc here is little more than blather compared with the underground chat about red wine.
Yes, you read correctly, and we are talking about great
Cabernet Sauvignon
as well as other red varieties from here. The problems with Lake County's reputation as a red wine region start with some years of misunderstanding about how to best grow the grapes to deliver the intensity so necessary for a world-class wine.
A Sauvignon of a Different Color
It has been known that Lake County soils, notably on hillsides, are ideal for red wine grapes. Louis Martini's experiments with
Barbera
in the 1970s proved the area's suitability for reds. And its success with Cabernet is now evident—although it took more than a decade to find the right growing regime. (The Martini property has since been sold to Snows Lake; see below.)
Lake is by far the smallest of the four counties in the North Coast with only 8,000 acres of fruit-bearing vines. Sonoma (63,000 acres), Napa (42,000), and Mendocino (18,000) are far larger, but the quality here is about equal to the others, says Glenn McGourty, UC Davis' farm advisor for Lake and Mendocino counties.
Lake County is basically a mountain region that ranges from 1,300 feet above sea level at its lowest point to some spots that rise to more than 2,500 feet. Viticulture experts see Lake as an attractive wine-farming region because of dirt-cheap land prices, good access to water and ideal growing conditions for wine, notably red wines.
Drawbacks aren't as apparent. The handsome red soils, indicative of high levels of iron oxide, are home to massive boulders that exasperate growers trying to plant vines without wrecking expensive earth-moving equipment. Also, some areas are prone to flooding when the lake level rises.
Then there are the cultural aspects of Lake. Though views can be dramatic, many small lakeside towns are throwbacks to the 1950s when the area became a blue-collar resort area with few tourist services. "It's probably the last remaining place in the country where people living in trailers have a lake view," said McGourty.
The best of what Lake County offers is the ability to make distinctively varietal red wines. On the negative side, few have the weight and power to score in the 90s with those who care about such fluff, but terroir-istas should be thrilled with the lovely dried herb, earth and pinpoint fruit now being seen here.
This is a young region; nearly three quarters of the fruit that will be harvested here this fall (2007) will come from vines that are eight years old or younger. Moreover, Lake does best with balanced wines; to push them for more weight and alcohol simply makes for bigness with no other benefit.
Not For-Export-Only Anymore
About 90 percent of Lake County grape production in the last few years has been sold to places like Napa and Sonoma, and has been used in that 15-percentage-point "fudge factor" that may be blended without losing the other region's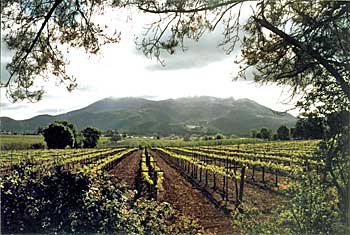 appellation. What's fascinating about Lake County is that the best wines seem to come from tonnages slightly larger than the average of other nearby regions.
Today, the majority of vineyards in the county are at the south end of the lake where there is more arable land. Some of the most interesting plantings are at the more remote northern end, where three large holdings are soon to reveal the true quality of the area.
One project,
Brassfield Estate
, is located at High Valley, a sub-appellation not far from a series of once-active volcanoes. Wine maker Kevin Robinson is crafting a range of very attractive wines. And owner Jerry Brassfield is committed to making his huge property a destination for visitors, with a linear mile of underground caves complete with an elevator to a hilltop observation deck. Other hospitality features are planned as well.
A nearby project is the striking 350-acre hillside ranch of grower Clay Shannon, whose
Shannon Ridge
wines have already showed well in major wine competitions. (His 2003 Barbera won the red wine sweepstakes award at the Riverside International Wine Competition.)
Also at the northern end of the lake is Jim Fetzer's impressive
Ceago Vinegarden
property, a dramatic series of Spanish-style buildings with a long pier that extends out into the lake to which visitors in boats can tie up to visit the tasting room. (Plans are afoot to bring in seaplane travelers from San Francisco!)
Fetzer, whose biodynamic vineyard is located just across the highway, has plans to include 50 private villas, a top-rate café and a lot more.
So important is this county that at the southern end, Napa grower Andy Beckstoffer has formed the Red Hills Vineyard Co. And then there's Snows Lake, by far the largest single development in the county. It is a handsome Red Hills property that now totals 800 acres (most of it planted since 1999), including nearly 600 acres of Cabernet!
One might wonder about all that land dedicated to a red wine grape like Cabernet, but it's already well known here that red wine is the future of this county. Proof, if it were needed, comes from meticulous Warren Winiarski of
Stag's Leap Wine Cellars
.