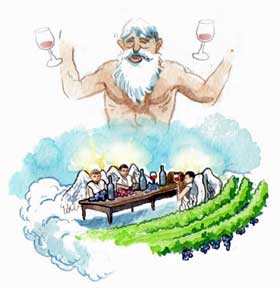 See You In Paradise!
PINOT PARADISE, That is…

Third Annual Pinot Paradise, a Celebration of Santa Cruz Mountains Pinot Noir Takes Place March 17 & 18, 2007
by Laura Ness
March 12, 2007
---
Now in its third year, Pinot Paradise was conceived by Dave Moulton, owner and winemaker at Burrell School Vineyards and Winery, to celebrate the complex and elegant
Pinot Noir
being produced in the
Santa Cruz Mountains
. Highly regarded Pinot Noirs were made in the area by Paul Masson in the days before Prohibition. His protégé, Martin Ray, carried on the torch and eventually passed it to Jeffrey Patterson of Mt. Eden, who continues the tradition of making Burgundian-style Pinots from the estate vineyard.
There is no doubt that the number of acres of Pinot planted in the area has skyrocketed since the beginning of this decade, with many vineyards grafting over from Chardonnay or Merlot and also a phenomenal number of new plantings. Wholesale changes in viticultural and winemaking practices, including new clones, improved canopy management, new trellising techniques, and sustainable agricultural practices, are consistently yielding higher quality Pinot throughout the appellation. One of the primary viticulture experts in the area, Prudy Foxx, has made it her personal quest to improve the practices of growing Pinot, with an emphasis on sustainability and organic methods.