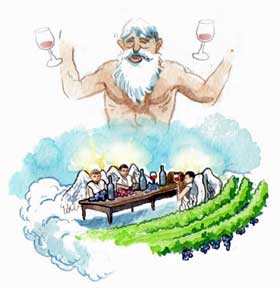 See You In Paradise!
PINOT PARADISE, That is…

Third Annual Pinot Paradise, a Celebration of Santa Cruz Mountains Pinot Noir Takes Place March 17 & 18, 2007
by Laura Ness
March 12, 2007
---
Now in its third year, Pinot Paradise was conceived by Dave Moulton, owner and winemaker at Burrell School Vineyards and Winery, to celebrate the complex and elegant
Pinot Noir
being produced in the
Santa Cruz Mountains
. Highly regarded Pinot Noirs were made in the area by Paul Masson in the days before Prohibition. His protégé, Martin Ray, carried on the torch and eventually passed it to Jeffrey Patterson of Mt. Eden, who continues the tradition of making Burgundian-style Pinots from the estate vineyard.
There is no doubt that the number of acres of Pinot planted in the area has skyrocketed since the beginning of this decade, with many vineyards grafting over from Chardonnay or Merlot and also a phenomenal number of new plantings. Wholesale changes in viticultural and winemaking practices, including new clones, improved canopy management, new trellising techniques, and sustainable agricultural practices, are consistently yielding higher quality Pinot throughout the appellation. One of the primary viticulture experts in the area, Prudy Foxx, has made it her personal quest to improve the practices of growing Pinot, with an emphasis on sustainability and organic methods.
Into the Nitty Gritty
One of the highlights of this year's event will be the Technical Sessions, which take place on Sunday morning, An excellent program is planned which will offer in-depth seminars on the growing and making of Pinot Noir in this challenging appellation with presentations by experts in the field. John Haeger, author of North American Pinot Noir, and a former columnist with Wine & Spirits magazine, will discuss the evolution of Pinot Noir in North America, specifically giving contextual and comparative information about Pinot Noir in Burgundy.
This will be followed by a discussion of SCM terroir with Prudy Foxx, Vineyard Consultant, and Jim Schultze, proprietor of Windy Oaks Estate Vineyards and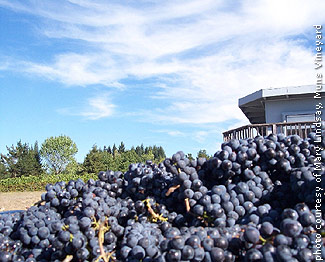 Winery. They will discuss soil types, clones, various trellising techniques, pruning practices and other vineyard activities.
The third topic will be "Barrels – From Forest to Furnace," presented by Jerome Aubin, representing Tonnellerie Rousseau, Burgundy, France. Jerome will describe the importance of barrels in the Pinot Noir aging process, e.g. the wood which is chosen for oak barrels, toasting levels, new French oak vs. used French oak, and so forth.
The sessions will conclude with Pinot Noir Regional Tastings, led by Jeff Bareilles, Sommelier, Manresa Restaurant, the only Michelin 2-Star restaurant in Los Gatos. Wines will include comparison examples from Santa Barbara, Santa Lucia, Santa Cruz Mountains, Russian River, and the Willamette Valley. The sessions will be held at Sonoma Chicken Coop next door to Villa Ragusa and will include lunch at the restaurant. Tickets for this tasting are $65. www.scmwa.com
Inside the Wines: What the Winemakers are Pouring and Saying
This year, there will be over 30 Pinot producers from the region, which is gaining an increasingly stellar reputation for its distinctive Pinots and Chardonnays. New this year to the event are
Hunter Hill
and
Vine Hill Winery
, the latter on the site formerly occupied by Santa Cruz Mountain Vineyard. Jeff Emery retained the name, so new owner Nick Guerrero chose to rename the location Vine Hill in deference to the area's long winegrowing history. In addition to current, award-winning releases, many wineries will be pouring barrel samples of 05's.
In talking with some of the winemakers from the region, it is clear that the demand for Pinot from this appellation is escalating. Although there are many styles, there is a consensus that Pinots from this region are earthy, intense, laden with minerality and possessed of a soul of bracing acidity, allowing them the structure to age and also making them spectacular food wines.
Jim Schultze, of
Windy Oaks Estate
, who along with his wife Judy, helped organize the Technical Sessions, is emphatic about his views of Pinot from this appellation. "Pinot from the Santa Cruz Mountains is earthy, intense, minerality and complex. We will be pouring our two newest releases at Pinot Paradise--our 2004 Proprietor's Reserve and our 2005 Diane's Block. Of course, both are estate grown and produced, and are unfiltered and unfined. Our vineyards have a very long, cool growing season, and this makes a very Burgundian style of Pinot Noir with great complexity and depth. We think Pinot Paradise is a great event because it showcases a lot of smaller vineyards and wineries which produce a wide variety of Pinot Noirs, reflecting the unique and varied terroirs of the Santa Cruz Mountains."
Dave Moulton, owner/winemaker of
Burrell School Winery
, who chairs Pinot Paradise, says this is event has a devoted following and is among the best opportunities the public has to explore the incredible variety of Pinots being produced here. "We are so pleased at the way this event is growing. We have two new wineries
HIGHLIGHTS OF PINOT PARADISE

Saturday, March 17: Pinot Pathways , a self-guided tour of participating wineries pouring barrel samples and library Pinots. 11 a.m. to 5 p.m. Tickets: $25

Sunday, March 18: Villa Ragusa in Campbell: Technical Sessions featuring local viticulture experts, barrel influences and terroir tastings, 10 a.m. to 1 p.m. at Villa Ragusa in Campbell, CA. Tickets, $65, includes lunch.

Grand Cruz Tasting, 2 p.m. to 5 p.m., featuring thirty local wineries pouring their finest Pinot Noirs paired with food from local gourmet restaurants; special auction magnums, raffle prizes and more. Tickets: $65

Paradise Pass: All three events on both days, $125/per person
Visit www.scmwa.com or call 831-685-8463 for more information, tickets and a printable map for Saturday's Pinot Pathways event.
this year, which is exciting. Hunter Hill will be pouring their estate Pinot Noir, for which they grafted over their Merlot: the ultimate sacrifice! And Vine Hill continues the great tradition of winegrowing that began in the Santa Cruz Mountains back in the 1850s." Burrell School Winery will be pouring the 2004 Estate Pinot Noir, which has yet to be released, as well as a barrel sample of the 2005 Estate vintage, both from vineyards which boast four different clones of Pinot, including 05, 115, 667 and 777.
Says Moulton, "Santa Cruz Mountains Pinot Noir is all about intensity, structure and depth. My estate fruit is so big and powerful, I have no qualms about throwing all the new French oak at it that I can. The dimensions from each of the clones combine to make an immense Pinot that really needs wood to round out the palate." Tastings of the 2005 reveal an incredibly complex, rich, sensual wine, oozing raspberry fruit which continues the Burrell School tradition of earthy, luxurious and mouth-filling estate Pinot.

READER FEEDBACK: To post your comments on this story, click here
Print this article  |  Email this article  |  More about Santa Cruz Mountains  |  More from Laura Ness