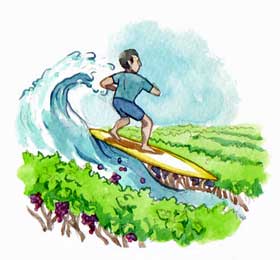 Santa Barbara County (County Appellation)
Jaffurs Wine Cellars: The vineyard is the ultimate appellation.
A talk with proprietor/winemaker and surfer dude Craig Jaffurs.
by Dennis Schaefer
April 12, 2007
---
Dennis Schaefer (DS):
Back in the days when you were apprenticing at Santa Barbara Winery, was there any concern about what the consequence of appellations (AVA's) were? Or were you (and winemaker Bruce McGuire) more focused on the actual vineyards you sourced from?
Craig Jaffurs (CJ):
My apprenticeship with Bruce at Santa Barbara Winery was very informal. I was more of a harvest slave with a few privileges because I didn't make any mistakes with the wine. One of the privileges was that I got to walk the vineyards with him and viticulturalist Jeff Newton, which was incredibly educational. Still, I don't think we were working on the appellation level. We were more varietal driven. Bruce was focusing on
Pinot Noir
and
Chardonnay
, and distancing himself from
Cabernet Sauvignon
. He had a lot of varietals in the ground and was figuring out what to do with them.
At his encouragement, I had started playing with
Syrah
in 1989 as something to plant in my tiny .25 acre square home vineyard. Ultimately,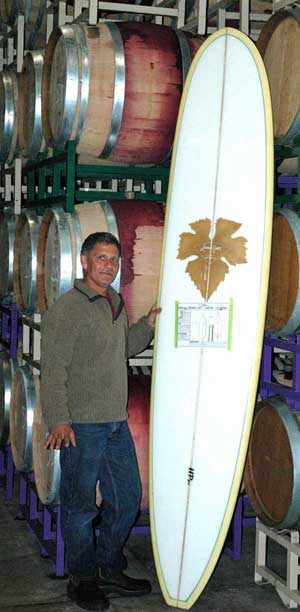 Syrah became my focus. After Bruce introduced me to Chris Whitcraft and he turned me on to the first magnificent Viognier of my life, the focus broadened to the Rhone, or to the wines of Cote Rotie. Because Syrah and
Viognier
were so rare back in the early 1990's, I had to get fruit where I could find it. I was lucky that the sites I started with worked out well for the varietal (Thompson 1994, Stolpman 1995, Bien Nacido 1996, Melville 2000, Verna's 2004, Ampelos 2004). I didn't get over the Cote Rotie obsession until after my first Syrah vintage in 1994 when I realized that there was just no way that Santa Barbara or its wines were at all like the northern Rhone's.
DS:
At Jaffurs, you source from all the appellations in the county; you make many different vineyard designated wines. Are the grapes from each of those individual vineyards (and thus those appellations) really that distinct? How do you explain that?
CJ:
Yes, the wines from the different sites are distinct. When we taste all the wines side-by-side, this is very clear. Why? It is mostly site, with some impact from clones and winemaking. The sites really set the tone for the wine – cold sites like
Ampelos Vineyard
and
Bien Nacido Vineyard
are the blackest wines we produce. Ampelos is fatter and more tannic due to its extremely low yields. Bien Nacido is more spicy and leaner in the mouth, but quite powerful - raspberry. I don't know why. The yields at Bien Nacido are about three tons per acre–pretty low–and the wind never stops there. There is a Bien Nacido "spice" there that I even taste in the Pinot. Both sites are Estrella clone grapes growing in gravel/sandy loam.
Thompson Vineyard is another Estrella clone site. It is a little warmer in the Los Alamos Valley and is harvested a few weeks before Bien Nacido. It is planted on its own rootstock which makes it express itself differently. It is not so black as other Syrahs, but is thick with glycerin that sticks to your lips. Sometimes it has tobacco notes, and sometimes it gets a little mint from the eucalyptus that grows nearby. Again, it only wants to set about three tons per acre, so the fruit is concentrated.
Verna's Vineyard in Cat Canyon is new for us and I am still getting a handle on what it is that I can call its character. My blocks are planted to four different clones – Clone 1 and Estrella on the steep hillsides, and 174 and 877 on the bench area. The hillside stuff struggles to produce one ton per acre and makes denser, fuller wines than the grapes on the bench that can give me up to four tons per acre. Interesting, I can't actually say that the low yield blocks produce radically better wine than the higher yielding blocks. The final cuvee from this vineyard tends to be driven by the hillsides, with a little of the other grapes blended in for balance. All the clones bring something different to the table. Maybe in a few years, I'll know exactly what that is.
The winemaking for all my Syrahs is identical – perfect de-stemming followed by 24 to 48 hour cold soaks, a day to warm up and then 14 days to ferment in 1.5 ton bins. We use different yeasts in the bins and create sub lots.
DS:
You attribute the distinctiveness of the wines mostly to the site itself, but you say there is also "some impact from clones and winemaking." Could you give your thoughts about how clones and winemaking have made a difference?
CJ:
Truly, site dominates this conversation, but the clones just taste different. For example, I use to think the Cote du Rhone wines had an herbal flavor that came from French soils and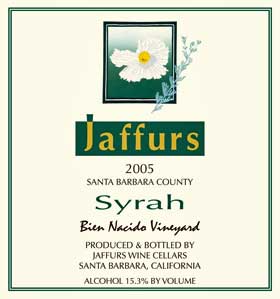 climate. When we got our first NTAV clone fruit, it clearly had more of these flavors than Estrella or Shiraz Clone 1. So, some of what I thought was terroir is really the clones. Shiraz Clone 1 has darker, fruit driven flavors and a coarser tannin profile. For us here in Santa Barbara County, Estrella is the benchmark since it comprised all the early Syrah plantings. It is still my favorite: deep, fruitful, tannic, clean.
Similarly in the winemaking, if you keep your stems in the fermenter, you can get herbal flavors, plus lower pH and a thicker, more liqueur-like mouth feel. You can extend your fermentations and soften the wines, but I think you lose color and roughness.
DS:
If each vineyard source is distinct, why make a Santa Barbara County appellation Syrah. Doesn't that mute the individuality of each of those vineyards when you put them into a blend?
CJ:
Our Santa Barbara County Syrah is a vehicle which allows us to make more focused vineyard designated Syrahs. The best barrels from each wine lot are selected for extra barrel aging, which lets the vineyard designated wines move upwards to a higher level or evolution. The remaining barrels are combined to make our Santa Barbara County Syrah. It is a great wine at a great price and serves to keep the Jaffurs and Santa Barbara County name out there in peoples' minds. Truly, it is the same exquisitely farmed, expensive grapes brought together with the same loving winemaking. As a cuvée, it shows the true overall flavor of Santa Barbara County, not just one site.
Similarly, our UPSLOPE Syrah, the best six barrels in the winery regardless of vineyard, are blended together to make a wine of distinction, and one that is better than any single vineyard wine. It may change in composition every year, but is alw