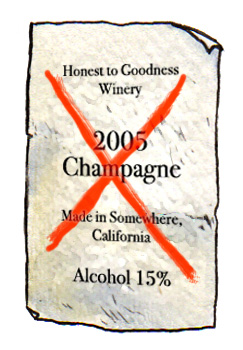 Truth in Wine Labeling Advances
The latest news is good about the accurate matching of labels on wine bottles and their contents.
by Eleanor & Ray Heald
March 26, 2007
---
Perennially, Spring exudes optimism. And it did on the first day of the new season this year as a group of wine industry representatives from the world's iconic winegrowing regions met in Washington D.C., to further efforts toward
truth in wine labeling
and to protect their appellations from misuse.
Representatives from 13 winegrowing regions in the U.S., Europe and Australia met with U.S. lawmakers and trade officials to underscore that, although the wine industry contributes over $162 billion annually to the U.S. economy and has a burgeoning base of worldwide consumers, it continues to be plagued by purposeful mislabeling and misuse of place names on the part of some wine producers.
Courts, legislatures and international trade officials are weighing in to curtail misleading practices and ensure that consumers are not misled and that place names are protected.
MAJOR DEVELOPMENTS
Over the last two years, major developments in this public debate have included the May 2005 California Court of Appeals denial of an appeal to overturn a California state law prohibiting misleading wine branding of the Napa Valley name.
Two months later, four American (Napa Valley, Oregon, Walla Walla Valley and Washington state) and three European (Champagne, Jerez and Porto) wine regions joined in a transatlantic agreement called the
Joint Declaration to Protect Wine Place & Origin
.
A wine accord trade agreement between the U.S. and European Union (EU) in September 2005 included provisions banning the future misuse of 16 place names in wine products that do not originate in those places.
In January 2006, the U.S. Supreme Court refused to hear an appeal of the May 2005 California Court of Appeals denial in the Napa Valley wine branding case.
A new law restricting use of the Sonoma County name on wines with less than 75 percent Sonoma County grapes was enacted in California in September 2006. At the end of that year, a second round of wine accord talks between the U.S. and EU again addressed place name protection. Then, most recently, six new signatories added their regions to the
Joint Declaration to Protect Wine Place & Origin
, raising the number from the original seven to 13.
REPRESENTATIVES SPEAK OUT
"The fact that we traveled from Western Australia to Washington D.C. for the declaration signing," said Steve Burns, USA Consultant for the Wine Industry Association of Western Australia, "proves its importance. We're phasing out generic wines such as champagne, port and sherry in Western Australia. In fact, Australia as a whole is well down the path of protecting place names. Consumers are comfortable with the phase out and are more interested in where wines originate. We have a full-fledged program citing the importance of appellations that educates 1,500 consumers annually."
Daniel Lorson, Director of Communications for Comité Interprofessionnel du Vin de Champagne (CIVC) contended that "efforts promoting origin of great wines are evolving in the correct direction." He noted the fact that since March 2006, no new sparkling wine can use the name Champagne on the label.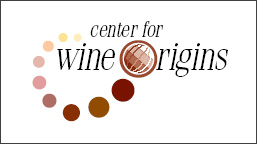 When challenged on the issue that Champagne is used on several U.S. wine labels because these producers consider that their labeling has been grandfathered, Lorson said, "grandfathering is not satisfactory but it was a first step." He further cited a November 2006 national poll sponsored by the Center for Wine Origins and the Office of Champagne USA indicating that 80 percent of polled wine consumers in the largest U.S. wine markets desire that policymakers correct the problem of misleading wine labels.
"This shows," Lorson continued, "that there is a growing consciousness among American consumers and proper wine labeling is important in their purchases."
Pete Downs, Kendall Jackson's Senior VP for External Affairs and spokesperson for the Sonoma County Vintners remarked, "We're hoping that agreements such as the Joint Declaration to Protect Wine Place & Origin will impact both the industry and consumers with respect to truth in wine labeling. The more we can expand this, the more impact we'll have."
On this issue, educational outreach is important. Terry Hall, Communications Director for the Napa Valley Vintners, encourages wine consumers to visit the website
ProtectPlace.com
to learn more about the truth in wine labeling issue. "This is a grass roots program," he noted. "On the website, consumers can sign up to receive news releases about the issue via email."
Education on Capitol Hill in Washington, D.C., is an ongoing mission of the Center for Wine Origins but protection of place names and truth in wine labeling going forward is the responsibility of every wine enthusiast. As the Declaration alludes, protection of the integrity of place names, fundamental tools for consumer identification of great winegrowing regions and the wines they produce, is fundamental to truth in wine labeling.