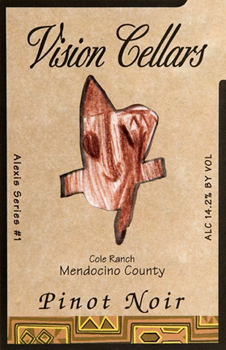 Sonoma County (County Appellation)
Seeing in Color:
Mac McDonald of Vision Cellars
How winemaker Mac McDonald came to produce visionary Pinot Noir from top North and Central Coast appellations.
by Laura Ness
May 2, 2007
---
Mac McDonald was 12 years old when he tasted his first bottle of French Burgundy: it was a life-changing experience. Growing up in the East Texas "sticks," (the area literally had no name of its own, but rather was simply "near Fairfield and Oakwood"), McDonald's father and grandfather both made moonshine, so he learned the trade early.
"Whether it's whiskey or wine, it's moonshine!" says Mac. One day, some rather well-heeled doctors and lawyers who came to hunt in the woods with his grandfather brought some fine French Burgundy with them on their getaway from the Texas suburbs.
"Back in that day, anybody who drove a good car and drank imported wine was considered a Communist!" notes Mac. "When the gentleman handed me a bottle of this fine French wine, I didn't have any idea how to open it!" But he eventually did, and the elixir inside captivated him body and soul. From that day, he always dreamed of making a fine wine like that. He had begun his spiritual journey to the fountain of Pinot Noir, one that would eventually lead to the tiniest appellation that grows the grape in America, Cole Ranch.
The journey took Mac and his wife Lil to California where he met a lot of folks and got a lot of jobs and learned a lot about making wine from people like Chuck Wagner and his father, at Caymus. In 1995, Mac and Lil founded their own winery, which was among the first wineries to be established by an African American in California. They struggled long and hard to settle on a name. One day, his wife, best friend and business partner said to him, "Mac, it has always been your vision to do this. Why not call it
Vision Cellars
?" Coming up with the label was easier: "Wine is art, and I've always loved African art, and thought it was a perfect combination," says Mac. The label is brilliant and distinctive, as are his wines, which are getting big scores and big awards.
The Geography of Pinot Noir
Mac first began making Pinot from the Chileno Valley Vineyard in Marin County in 1997. He admits it does not have typical
Pinot Noir
flavors. "It has a lot of berry flavors. The 05 has big cherry and blueberries, with a hint of chocolate on the finish; it's big in structure and very complex," says Mac.
He notes that the vineyard, which is 9 miles from Petaluma, has a "whole bunch of different clones, and we're not sure what is what. It's a melting pot of a vineyard, and there is no record of root stocks." Some of the vines are Martini and 667, and recently some were grafted to 777, so it's "coming together." The overriding influences are the fog, which causes intense mildew pressure (and challenges ripeness), and the terrain, which is a steep mountainside with a gully running through it. Picking is tricky, he says, as you need to achieve ripeness in the gully as well as on the hills.
Moving to the southern end of the
Santa Lucia Highlands
, we make a stop at a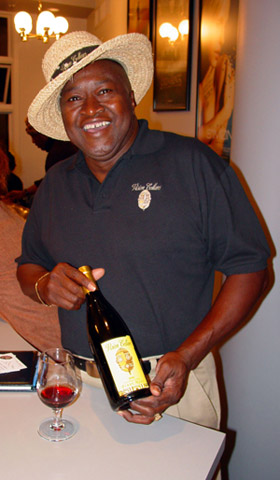 vineyard managed by Chuck Wagner, who owns
Caymus Vineyards
, where Mac crushes. "It's a nicely maintained vineyard, and I have a long history with Chuck and his father. They taught me a lot about making wine over the years!" Most important from a fruit sourcing perspective, Mac says, "They let me have the same section and same rows every year." He won't contract with a vineyard unless they let him specify the rows he wants and guarantee he will have access to the same vines year after year. The soil in this part of the appellation is heavy clay. Asked to describe flavors, Mac says, "There's a lot going on in this wine. Lots of wild cherry layers, very thick cherries. In fact, there is a distinctive Bing cherry flavor coming out now."
Next, we travel - vicariously of course - to Garys' Vineyard, one of the most sought after vineyards on the planet. Here Mac has 17 rows under contract, which amounts to just under an acre. Owners Gary Pisoni and Gary Franscioni asked him to make wine from their vineyard after tasting one of his stellar Pinots. He describes the wines from this vineyard as filled with blackberries, plums and cherries. There's a consistent finish of strawberries with hints of spice. He thinks it's Jamaican spice: one of his favorite flavors. "We tend to find and focus on what we really like in a wine, don't we?" Mac has made consistent Gold medal winners and 90+ point Pinots from this vineyard.
He has a few more rows under contract down the road at Rosella's Vineyard. This vineyard, owned by Gary and Rosella Franscioni, is also in the Santa Lucia Highlands appellation, and is named for Franscioni's wife. This is a younger vineyard, planted between 1998 and 2003 with clones 777, Pisoni and Pommard. Mac says the wines from this property have a distinctive nose of rose petals. They have an elegance from start to finish, and the flavors are wild cherry and berry. Vision Cellars Rosella's Vineyard Pinots have consistently scored 90+ in Spectator and Connoisseur's Guide. The 2005 won a double gold at the recent S.F. Chronicle Competition.
Closer to home, Mac also makes a Sonoma County Pinot Noir. He won't mention the name of one of the vineyards he sources from, saying, "I can't get enough of it as it is!" He generally buys fruit from the Sterling's (owners of
Esterlina Winery
in the Anderson Valley) Russian River vineyard to supplement. This vineyard, which is a mix of 667 and Pommard clones, is right next door to where the McDonalds live. He describes the Sonoma designate wine as a monster: bold and big and filled with dark berries, cinnamon and that classic Russian River cola flavor.
Perhaps the most impressive, and limited, of all the Pinots that Mac makes are those from
Cole Ranch
in Mendocino county. "One day, Craig, one of the Sterling sons, (Ed note: Craig is also the winemaker at Esterlina Vineyards), stopped by at a garage sale we were having. He told us about his family and invited us to their winery in the Anderson Valley. We just loved Mario and his wife and were intrigued by the idea of making a Pinot from their Cole Ranch appellation. The fruit is stellar!" Mac was rewarded with a 92 point score from Wine Spectator for his Vision Cellars 2004 Esterlina Vineyards Cole Ranch Pinot.
"The land is excellent for growing Pinot – I wish they had more planted! I did tell them they shouldn't blend this fruit any longer: they should make their own Cole Ranch vineyard designate." He says that both 2004 and 2005 vintages from Cole Ranch were fairly low Brix, between 23 and 24, which gave him great pause that first year. "I'll admit I didn't know if it would work, but that fruit is so rich, and has such great color, and the aromas are so unbelievable, that I knew it would be fabulous!" Mac was subsequently proven right, and an excellent wine it was. Was, as in the 04 sold out immediately, as did Mac's. The 05 Cole Ranch Pinot is going out the door like it's on fire.
Mac's Secret to Making Great Pinot Noir
I asked Mac what his Pinot secret is: he explained that he goes really eas