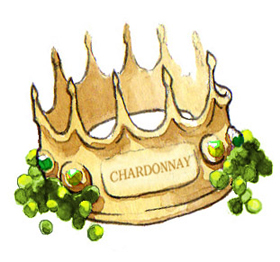 Monterey – Where Chardonnay is King
by Laurie Daniel
May 14, 2007
---
Pinot Noir is the up-and-coming player in
Monterey
, but the appellation long ago established a good reputation for
Chardonnay
. Perhaps that's one reason Monterey County has more Chardonnay planted than any other California county, with more than 16,000 acres.
"I can't say I've seen anything as consistent as Monterey Chardonnay," says Annette Hoff, winemaker at
Cima Collina
. "It's just beautiful naturally."
Other winemakers agreed that the primary factor is the cool climate. "It is climate first," says David Coventry, winemaker at De Tierra, expressing a view I heard over and over.
The cool air comes off Monterey Bay in the north, so the northern sections of Monterey are the coolest. Get too close to the bay and you can't get grapes ripe.
Farther south, the climate is warmer. There's still some influence from the bay, but temperatures cool down later in the day and warm up earlier. In addition to cool temperatures during the growing season, Monterey has moderate winters. Bud break is early, and the growing season is long.
"The grapes hang and hang and hang until you get some flavors," says Rick Boyer, director of winemaking at Constellation Wines U.S. in Gonzales and a winemaker in Monterey for more than 20 years. Then there's the wind that rushes down the Salinas Valley every afternoon. The wind decreases vine vigor and can cause the vines to shut down in the afternoon, which further delays grape maturity and increases hang time.
All these factors combine to produce flavorful, fully ripe Chardonnay that retains a firm core of acidity. That acidity "is one of the really beautiful things about Monterey County," says Gary Sitton, the new winemaker for Constellation's Blackstone brand.
Bernardus Vineyards
winemaker Dean De Korth -- who studied in Burgundy and has worked with Olivier Leflaive and Pierre Morey, among others -- goes so far as to say of Monterey: "There's a real similarity to Burgundy." That was particularly true, he says, in the cool 2005 vintage, the current vintage of most Monterey Chardonnays currently on the market.
There are, of course, big variations in growing conditions. The Monterey AVA is more than 90 miles long, which makes the consistency you find in Monterey Chardonnay even more remarkable.
I recently blind-tasted nearly 30 Chardonnays with a Monterey or
Monterey County
appellation. (Wines from smaller Monterey AVAs such as Santa Lucia Highlands and Arroyo Seco weren't included.) I was struck by the high quality of the wines at all price levels, particularly if winemakers resisted the urge to clutter up the wines with too much oak or a heavy-handed use of malolactic fermentation.
In the under-$15 tier, the best wines were fresh and crisp, with pure apple, pear and citrus flavors and just a light touch of wood. The best of the more expensive Chardonnays showed more complexity and weight, but still had fresh fruit and racy acidity. The less expensive wines are often a blend of fruit from the cool northern areas and warmer areas to the south. Some of those southern vineyards are very large operations that can be farmed more economically than a smaller vineyard. That helps keep prices down.
Although there were a few exceptions – wines that were too oaky, too alcoholic or noticeably sweet – most of the wines I tasted let the fruit do the talking. That led me to wonder whether there's a Monterey style to the winemaking.
"I call it more of a Monterey experience," Constellation's Boyer says. "You've done everything" – no oak, lots of oak, for example – "and you come back to the middle," which he describes as "a little of this and a little of that."
Cima Collina's Hoff also thinks there's a "Monterey mindset." She adds: "Part of it, to be quite honest, is a contrarian view" -- trying to do something different from, say, Napa. Before working at Cima Collina, she worked at
Estancia
, part of Constellation's Icon Estates portfolio. The recipe for Chardonnay when she arrived was generous oak, full malolactic fermentation. She lightened up the wine, using less ML and a lighter touch with the oak. "Sales went through the roof," she says.
"You don't really need to dress it all up to make it really nice," Boyer says.
---
Get a taste of Monterey Chardonnays. Check out all of Laurie Daniels' Monterey Chardonnay recommendations at

APPELLATION AMERICA

.

+ Bernardus Vineyards 2005
+ Jekel Vineyards 2005
+ Robert Talbott 2002
+ Cima Collina 2005
+ De-Tierra Vineyards 2005
+ Blackstone Winery 2005
---
Photography courtesy of Monterey County Vintners & Growers Association