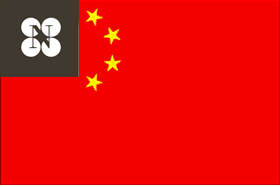 Napa Vintners Confront
The China Wine Syndrome
With international name protection, the Napa Valley goes after China's trademark infringement.
by Alan Goldfarb
May 29, 2007
---
W
ith their freshly minted Geographic Indication (GI) status firmly in hand and giving them some global clout, Napa Valley vintners are now preparing to go after those in China who they feel are infringing upon their hard-won terroir status.
According to Linda Reiff, executive director of the
Napa Valley Vintners
, the region's powerful marketing organization has already filed actions of trademark oppositions against brands in China.
Chinese wine producers, who have released products in that country under such brand names as "Napa Valley," "Napa," and "Valley Napa," have been targeted, Reiff told Appellation America. Those brands, Reiff insisted, do not have any grapes from the Napa Valley in their bottles.
"There are brands in Spain, Italy, Germany, the UK and around the world, and we're going after about 30, especially in China," said Reiff, before it was officially announced at the German Consulate in San Francisco that the Napa Valley had been sanctioned GI status by the European Union.
Napa Valley, which produces only about 4 percent of all California wine but generates about 25 percent of the state's wine revenues, is the first such wine area outside the EU to receive the indication. Many believe it is the most important wine appellation in the U.S.
Reiff said that before the Napa Valley was given GI status, "we were told by the Chinese that it would take eight or 10 years," for the trademark infringement to be resolved. "And that was not acceptable to us.
"We've already had internal meetings (in March) at the Chinese embassy in Washington, D.C., and they (the Chinese) were very helpful." The intimation is that now that the Napa Valley does have its indication, the process will be speeded up.
According to Peter McCrea, (current president of the NVV and owner of
Stony Hill Vineyard
in the Napa Valley) because of the GI, "we now have legal recourse as it pertains to trademark standings. It gives you standing to go file a lawsuit, which we didn't have before … and it will make our job easier in China."

The Vintners already have trademark protection inside the U.S. after a six-year legal battle against the Bronco Wine Co., which sold three Napa geographic labels without any grapes from the Napa Valley in any of its bottles. McCrea disclosed that his group has pending suits regarding trademark infringement against brands in Italy and Germany as well as the UK, in the latter of which there is a brand called "Clos du Napa."
But why go after China?
"It's going to be a huge market," weighed in Pat Stotesbery, who is on the Vintners' GI committee and is the owner of
Ladera Vineyards
in the Napa Valley. "It's so small now but it has great potential and exporting (wine into China) has grown."
Indeed, according to the 10th global research study conducted by Vinexpo, the world's largest wine and spirits fair that will take place in June in Bordeaux, China's wine consumption is expected to grow 15.4 percent in the next three years. Between 2001 and '05, Chinese wine consumption rose 44 percent. In Fujian


Check out our editors' favorite Napa wines. Read their recommendations and then...

... conveniently purchase these great wines and others at our Winery-Direct shopping portal.
Provence alone – the birthplace of oolong tea – 2 million bottles of wine were sold last year. Already in '07, 1.8 million bottles were sold in the first half of the year and it is estimated that 3 million bottles will be sold by the end of the year.
As of the end of 2005, there were 1 million cases exported to China, but only about 10 percent came from California. That is why McCrea affirms, "We'd rather start them out drinking 'genuine' Napa Valley wine," instead of a faux Napa wine with nary a grape from the region in it.
Therefore, acquiring GI status "is a culmination of a very long process. … As brands become more important, people infringe on brands," said McCrea. "It's been a mission of the Napa Valley Vintners to protect our name.
"We found if we didn't have GI status, we had very little recourse in European courts. This is a big day for us."
Concluded Stotesbery, "On a global scale, this gives us leverage."