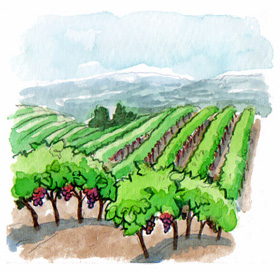 Sonoma Valley's Legendary
Monte Rosso Vineyard:
Acclaimed Winemaker Ed Sbragia Explains Its Allure
As much as a winemaker wants to say, "I made the wine," the winery made the wine; the vineyard made the wine.
~Ed Sbragia, Sbragia Family Vineyards
by Eleanor & Ray Heald
June 11, 2007
---
Eleanor & Ray Heald (ERH):
How were you able to source Monte Rosso Cabernet Sauvignon?
Ed Sbragia (ES):
For nearly 20 years, I have played rhythm guitar with Mike [Martini] in a band with a number of other wine industry professionals. We call the group Private Reserve and practice once a month. A three-hour practice session includes wine and food and many times the wine on the table has been Louis M. Martini Monte Rosso Cabernet Sauvignon. I fell in love with the wine.
ERH:
Can you explain why?
ES:
It's all about the vineyard. The wine has some of the elegance of Sonoma County Cabernets, yet at the same time, it has the structure of Napa Valley. I get to purchase from blocks that Mike's father [Louis P. Martini] planted in 1952.
So, I guess to really answer your first question, I talked to Mike about getting some Monte Rosso grapes for a vineyard-designated Cabernet Sauvignon and he said, "yes". I get two blocks totaling 10 to 15 tons. I target the end result at 60 cases per ton. I received word that I will again get Monte Rosso Cabernet Sauvignon in the 2007 harvest.
ERH:
How are the vines trained?
ES:
They're head pruned and produce a small crop. Like most mountain vineyard sites, Monte Rosso vines are under stress factors, ultimately shaping the wine's flavors.
ERH:
What's the soil composition?
ES:
It's primarily Red Hill loam and decomposed volcanic ash that's well drained and rich in iron and potassium. The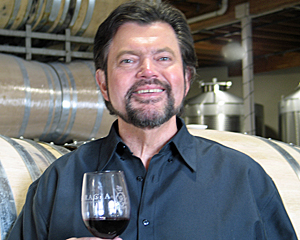 vineyard has a series of plateaus and hillsides with deeper, richer soils on the plateaus and thinner soils with fractured rock covering hillsides. These factors encourage the old vines to dig deep in search of water.
ERH:
Given Monte Rosso's high elevation, is it in or out of the fog layer?
ES:
Every time I've been up there, it has been above the fog.
ERH:
How do you describe the vineyard environment?
ES:
I guess that you'd call it sustainable farming. Measures are in place to preserve the natural habitat. A soil regeneration program uses turkey manure and various cover crops. It's not uncommon to spot wild turkeys, red tail hawks, wild boars and even coyotes on the property.
ERH:
What are Monte Rosso's best vineyard attributes?
ES:
The vineyard slopes so that it gets afternoon sun. The soils are exceptionally well drained and although red from iron content, it's not bright red; more dusty brown that indicates volcanic ash mixed in. From the lushness I perceive in the wine, I believe that there is clay mixed in also. In high iron content soils, I generally experience a harder, more angular wine and that's not what I get from Monte Rosso.
On the other hand, it's Sonoma County and closer to climatic influences of the Pacific Ocean, so that too offers the wine lush, supple characters. Overall, though, these are mountain soils that offer the wine great structure. It's the best of all worlds and it's my favorite Cabernet.
ERH:
If we look at the French model, it's the soils that influence the wine most. The California model has focused on climate. Which do you believe has the most influence on Monte Rosso?
ES:
For a long time, California producers believed that soil is just a container. My winemaking experience indicates to me that when the French say terroir, they really focus on both soil and climate. But it's way more than that. It's the human involvement -- how someone decided to plant the vines and in what row direction, then (to) nurture them by suckering and other practices. We're learning more and more about clonal-rootstock combinations to match soil types, which - within a vineyard from the top of the hill to the slope, to the bottom - can change dramatically. This also changes the characteristics of the wine made from specific blocks.
ERH:
Yet Monte Rosso has old plantings. Can you explain the vineyard blocks?
ES:
Monte Rosso is an uncommon collection of rootstocks, field and mass selections, clones and very old vines. The low-yielding vines are on St. George rootstock and head-trained. Certainly, the absence of heat-treated, virus-free clones and modern rootstocks create farming difficulties, but the results are exceptional wine characters and complexities that are uniquely Monte Rosso. Credit for the Cabernet excellence goes to Mike's father who chose the field selections that were planted over 50 years ago.
ERH:
Sometime in the future though, this old vineyard will need replanting. Will the characters change the wine dramatically when that happens?
ES:
Soils won't change much. We don't know about the climate in the future but to use a trite term, we are growing wine. The silver lining in phylloxera, which was a big hit when discovered, is that we did adapt rootstock-clonal combinations to particular vineyard microclimates or even sub-microclimates within a vineyard. I believe that this is what enables us to make really nice wines from valley floor sites all the way to the top of Mt. Veeder at 2,500 feet. It will be possible at Monte Rosso in the future.
In hindsight, phylloxera is one of the best things that ever happened to the California wine industry.
ERH:
Can we view different vineyards almost like different varieties?
ES:
Yes. Each vineyard has a certain character but then being able to layer in within a vineyard, a stand alone, vineyard-designated wine of excellence is possible. Such wines are true to place and each should express a diversity.
ERH:
Is the Sbragia Family Vineyards Monte Rosso Cabernet 100 percent varietal?
ES:
No, we've blended in some Howell Mountain
Cabernet Franc
. So that we can vineyard designate, it's no more than the allowed five percent; most times about three percent. I also use a lot of French oak from coopers whose barrels offer more supple and less aggressive oak characters. Such barrels allow me to age wines longer. Now, economically, it's getting to be tough but at the same time, Sbragia Family Vineyards needs to put its best foot forward.
ERH:
Do you have a winemaking philosophy?
ES:
Here's my philosophy: the winemaker should get out of the way and really great vineyards, such as Monte Rosso, should show their terroir and other dynamics. As much as a winemaker wants to say, "I made the wine," the winery made the win