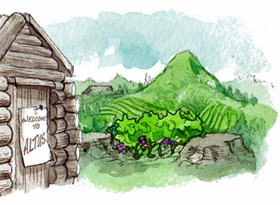 Post Familie Winery – Standard Bearer for Arkansas Wine
You drive up a windy, crooked mountain road to get to Post Familie Winery but as Regional Correspondent Tim Pingelton discovered it is well worth the trip.
by Tim Pingelton
June 4, 2007
---
A
ltus, Arkansas is a region of lush forests, rolling fields, and flat-topped sandstone mountains. An old pick-up or a cabin may be seen through the forest, cattle dot the fields, and vineyards cover Saint Mary's Mountain. Some of the vines up here date from the 1880's, when Post Familie Vineyards was established by Jacob Post, a German immigrant who began grape growing at the advice of a helpful priest. Before Prohibition, Arkansas had 43 wineries. That number has dropped to 5 now, but the state is well represented by high quality
Post Familie
wines.