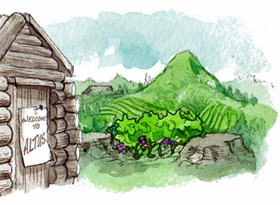 Post Familie Winery – Standard Bearer for Arkansas Wine
You drive up a windy, crooked mountain road to get to Post Familie Winery but as Regional Correspondent Tim Pingelton discovered it is well worth the trip.
by Tim Pingelton
June 4, 2007
---
A
ltus, Arkansas is a region of lush forests, rolling fields, and flat-topped sandstone mountains. An old pick-up or a cabin may be seen through the forest, cattle dot the fields, and vineyards cover Saint Mary's Mountain. Some of the vines up here date from the 1880's, when Post Familie Vineyards was established by Jacob Post, a German immigrant who began grape growing at the advice of a helpful priest. Before Prohibition, Arkansas had 43 wineries. That number has dropped to 5 now, but the state is well represented by high quality
Post Familie
wines.
Joseph Post, great-great grandson of founder Jacob Post, drove me around
Altus
and Post Familie's nearly 200 acres of planted vineyard. Joseph gave a solid handshake and did not hide his concern about a devastating frost throughout the Midwest that will drastically cut production for a few years to come.
Joseph runs the winery with the help of several of his relatives - Andrew the winemaker, Matthew the chemist, Thomas the vineyard manager, Paul the "cellar rat," and others. Joseph stated, "This is my 34th year on the payroll, but we all grew up (as) happy indentured servants." In Altus, there are more than four times as many Posts than there are Smiths. The St. Mary's cemetery, a ten-minute stroll from Joseph's house, is the resting place of numerous Posts and his "retirement place," he jokes.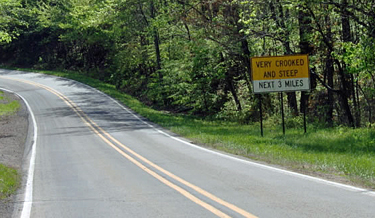 The road to the vineyards is very haphazard and vineyard rows appear to be equally arbitrary. Vineyard manager Thomas Post explains, "We don't have flat ground; we have rolling ground. Most rows are east/west because the hills run that way, but the
Zinfandel
runs north-east to south-west because that's how it runs there. We call it the Tornado Zin Vineyard because that is the direction tornadoes go."
Zinfandel and other
vinifera
grow well in Altus, in part because of its unique microclimate. The vineyards are on top of a foothill (about 900' elevation) of the Boston Mountains. Mount Magazine, the highest point in Arkansas, can be seen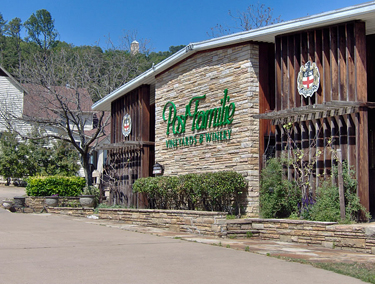 on the other side of the Arkansas River. Summer days get hot, and, at night, cool air sinks away from the vineyards to the lower elevations. This would stress most
vinifera
, but the falling cool air pushes up warm air from below, and beneficial vineyard temperature is naturally controlled.
A Mountain of Wine
Post Familie is a large winery that makes a diverse body of wines:
Vinifera
such as
Chardonnay
and
Syrah
, hybrids such as
Vignoles
and Munson, and
Rotundifolia
(Red and White
Muscadine
). They harvest their estate grapes at night to hold off phenolics (compounds that might otherwise impart bitterness of harshness), and clean, fresh berry flavor is evident in the finished product. The Post Familie 2004 Munson has a slight herbaceous quality and tartness, but its smooth tannins allow full berry expression.
When I asked Joseph which cultivars are the most troublesome, he adjusted his cap and said, "We've had struggles with them all."In time the dry summers called for drip irrigation to be installed over much of the vineyards. This was a relatively recent addition: "We installed that about 20 years ago, but we didn't need it the first 100 years of production."
Talk soon turned to the 2007 frost, which will not soon be forgotten in this area. The frost was so devastating because there were about 4 days of freezing temperatures which followed a few weeks of unseasonably warm temperature.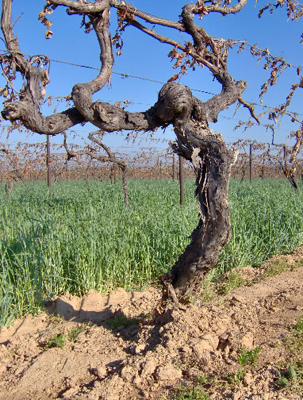 Vines throughout the Midwest had developed shoots, and most in Arkansas had blooming flowers when the freeze came. At Post, they lined up bales of hay along certain vineyards and burned them throughout the night in hopes of directing warm air toward the vines. It did manage to save some vines, but most will not produce this year and might have been killed.
Many vineyards in Altus use a berm system, where the orangey iron-oxide soil is pushed away from the vine trunk to collect precipitation in the hot months and pushed back to the trunk in the cold months to protect the vine. The Posts devised a tractor attachment that does the job perfectly.
Definitely a Post Family Affair
The Posts are physically involved in vineyard and cellar duties. Thomas Post, sitting on a tractor and wearing well-worn work gloves, discussed encouraging results with a root they are developing and the attributes of the vineyard's "Linker" soil, which is well-drained sandy loam. "You can see it's not rocky. Once in a while we lay down some lime for the pH, but that's about it." They used to have crimson clover (like regular clover but with a red flower instead of white) as ground cover in the vineyard rows. Rye is used now because the clover was suspected of harboring vine-destroying insects.
Your product needs an advantage if you want to sell nationally and internationally," Post simply stated. The Post Familie advantage is encouraging natural varietal expression. Thomas Post knows every row of vineyard. The tendency is more toward traditional winemaking than toward ultra modern, push button operations. The Posts get dirty. The result is a Munson wine that has all the qualities of a Munson rather than those of a Chambourcin or an Ives Noir, rather close varieties in organoleptic terms.
The Post Familie Winery sells slicks (unlabeled bottled wine) to other wineries and vines to other vineyards ("That's how we make our school money.") This is a winery's winery with generations of lessons learned and production that just keeps up with demand.
---
Photos by Tim Pingelton