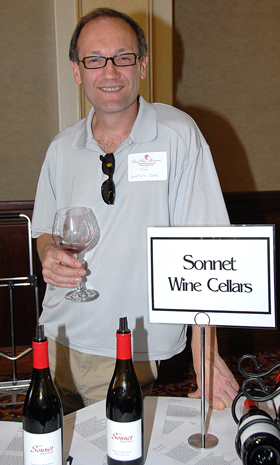 Shadowing the Master:
Uncovering Tony Craig's Cellar Secrets
Taste one of Tony Craig's Pinot Noirs and you may think he is a magician. No, he's just a damn good winemaker. And at more than one winery.
by Laura Ness
July 19, 2007
---
W
hen winemaker Tony Craig came to
Savannah-Chanelle Vineyards
in 2003, there was - as he put it - a sizeable inventory to move. And they did successfully move that backlog, after which, Tony's most excellent wines began to fill the shelves, and all was right with the world. Tony is a big fan of terroir: between his Savannah-Chanelle wines, the
Pinot Noir
s he makes for
Silver Mountain
and the ones he makes under his own label,
Sonnet Wine Cellars
, he has quite the collection of Pinot Noir, each one bearing a distinctive footprint of the earth from whence it came. Equally distinctive is the apparent influence of this winemaker's gentle, yet firm, hand, in every single wine he crafts.
The taste of terroir begins with Tony's Pinots from the
Russian River Valley
, distinctively perfumed and ripe with cola and cherry fruit. One gets that classic Russian River "Dr. Pepper" dollop, but it is not heightened by the vanilla creaminess that is brought out by other winemakers who use far more new oak. The Savannah-Chanelle Sonoma Coast Pinot from Armagh Vineyard comes from the Chileno Valley, a fairly cool climate, and the nose reflects such. You can almost detect the marine influence here. There is a great deal of elderberry and earth, with a hint of tarragon.
"Typical Sonoma Coast," declares Tony. Each wine expresses pure, unbridled fruit and is surprisingly spare of wood. Tony had a good deal of practice with Pinot from many different regions while at David Bruce, and had the opportunity to do many experiments that have helped him refine his studied approach. Generally, he goes for 15 months of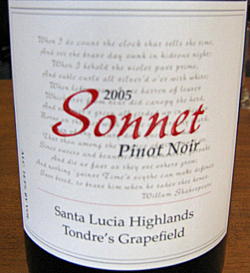 barrel age, with 1/3 new Hungarian and French oak. His philosophy is basically to "keep the oak off." He really likes Hungarian oak for the spice it adds without adding too much wood. He prefers Kadir, Trust and Radoux barrels, noting "The tighter grain oak from Hungary takes longer to infuse into the wine – perfect for longer barrel ageing, as is my preference. My wines tend to stay in barrel almost 6 months longer than most Pinot producers."
Savannah-Chanelle's estate vineyards are not that extensive, so Tony does a great deal of "grape shopping." He has access to some of the finest fruit, both from previous relationships with growers that stem from his days as winemaker at David Bruce, and from his large industry network. A number of his favorite vineyards are in
Monterey County
. He poured an example of an '04
Syrah
from the Coast View vineyard that looks down upon the Santa Lucia Highlands.
This is one of those scary vineyards, perched high on an east-facing hill above the fog. It gets early morning sun, but then, that's all she wrote for the day. It is not exactly easy to get to or to pick. This wine is gorgeous to look at and beautiful to drink. The color is intense, and so are the blueberry and cassis flavors that wrap themselves around the smoky, meaty core. Again, the oak influence is almost like a small bookmark in a large tome of fruit and meat.
A Master's Tricks: How does he retain such vivid color in all his wines?
One very obvious characteristic of every wine Tony makes, including the estate
Cabernet Franc
(a grape not known for its pigmentation), is the intense, voluptuous color. Remarkably, the '04 Monterey Syrah was especially intense, and dense, yet surprisingly devoid of tannins. Tony is adamant about his detest for outspoken tannins. He feels they get in the way of the velvety texture he aspires to in his style of winemaking. Instead of letting the wines go completely dry before pressing, as most winemakers do, he presses early to retain the color. In Syrah especially, he says, you don't want to lose the color, and color chains fall out fast as fermentation heats up. The other method he employs is to stir the lees to bring out the silky, velvety character that he seeks to impart to all his wines.
Tony's talents are not limited to Pinot Noir or Syrah, as you will quickly learn if you sample his lineup of estate wines. In particular, the '03 Estate
Zinfandel
, which I've reviewed before and loved, is simply an astoundingly rich, elegant and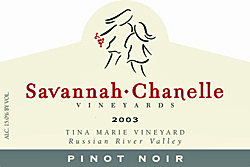 perfectly structured wine with that lovely core of anise that seems to show up in all the estate fruit from Savannah-Channelle. Zinfandel barely manages full ripeness in most parts of the
Santa Cruz Mountains
appellation, so to taste this wine is to be let in on a winemaking secret.
How does one make a Zin that manages to be all about dark, sweet fruit without ever being jammy heavy? Tony doesn't worry too much about Brix and alcohol when it comes to Zin. He wants to let it hang until the flavors are fully developed, and then he'll do his magic in the cellar by controlling fermentation temperatures, keeping tannins in check and coaxing out the velvety texture that makes this wine an elegant statement. The '04 Estate Cabernet Franc, lucky enough to be made in one of the few warm years in which the fruit got fully ripe, is truly one of the treasures from this winery. The vines were planted in 1910, and don't yield much, assuming they get fruit ripe at all. Having known the previous winemaker here, I've heard stories about trying to get Franc to the point of picking and then having to deal with color issues. This wine, aged in 1/3 new American and Hungarian oak, delivers classic taut raspberry fruit with a chewy texture and that unmistakable core of anise. Asked how he decides when to pick this fruit, Tony says he doesn't look at Brix. It's all about acid - just right and not a bit too much.
I asked Tony what it's like to work here in this lovely mountain winery, shoehorned into the east side of the Santa Cruz


Silver Mountain's wines are now conveniently available in the Appellation America online wine store.
Mountains. While he loves the amazing mountain fruit from the estate vineyards, the working conditions are quite challenging. The Estate Pinot is planted tiptoe style on the side of a hill so steep that it can't be tended with anything mechanical. It can't even be safely navigated by ATV. The hand-tending requirements are severe and definitely an unwitting screening process for the faint of heart. Pretty much anybody who is not afraid of heights will volunteer to net