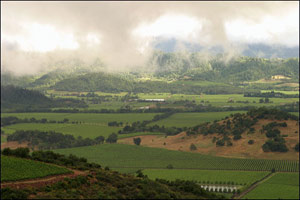 Napa Valley 2007 Vintage:
"The kind of year you'd wish for."
Cool, dry season thus far, portends balanced, long-lived wines.
by Alan Goldfarb
August 7, 2007
---
C
onsidering the capriciousness of the weather, it's always a treacherous game making early predictions about how a harvest will unfold: Will it be a great year, or will the vintage be a dud? But with the opening act for 2007 in the Napa Valley only a couple of weeks away, as
Chardonnay
and
Pinot Noir
grapes for sparkling wine come in, several of the region's grape growers have jumped feet first into the prognostication business.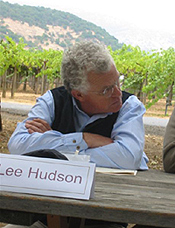 Setting the tone was Carneros grape grower Lee Hudson, who quipped, "This is the best vintage in the past 100 years." Well aware that industry types are prone to pronouncing every year as the best, the pen and pad set, sitting in chilly, foggy temperatures in an Oakville vineyard, were warmed by the proclamation.
Nonetheless, Hudson, who sells his 180 acres of grapes each year to some 32 clients, was serious when he said, "We're set up for as good a harvest as we've had in many years. It's been a beautiful, exquisite year. The kind of year you'd wish for."
Thus far, as of August 6, if one can put a bullet point on the 2007 vintage, the most significant signpost is that it's been a very dry, cool year. What that means is that the grapes, which are finishing the veraison (coloring) stage (which has been uniform), are maturing evenly and slowly. And if conditions hold, the wines will be high in tannins that foretells great fruit and long-lived wines.
No Signs of "Climate Change" in Napa Valley This Year
A look around the valley reveals fewer hot days (spikes in the 100-degree range) as well as not a lot of days in the '90s. But if you know the Napa Valley, you are aware that a preponderance of those days almost certainly will arrive in September. So, all one can do at this juncture is to hold one's breath.
John Ruel, the vineyard manager for
Trefethen Vineyards
in the Oak Knoll District, said the temperate season thus far is the coolest he's seen in the last five years.
In the mountain regions – Diamond Mountain, Spring Mountain, Howell, Mount Veeder, and Atlas Peak, where water is always an issue -- the growers up there haven't had to deal with rampant growth as is the case in a wet year. There have been some dry spots, which have been identified and dealt with accordingly. But in general – and this is the cogent point in this dry year when you would think irrigation has to be applied – in a cool, dry year the vines, apparently to compensate -- have a tendency to not lose water through evaporation.
What that means too then, is that the less water that is applied, the more the grapes will have the opportunity to mature naturally and slowly, which in turn, enables site specificity to emerge.
Is This Dry Year an Anomoly or a Harbinger?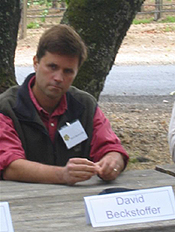 On the valley floor, in the heart of the area, in regions such as St. Helena, Rutherford, and Oakville, David Beckstoffer, the president of Beckstoffer Vineyards, said the relatively arid winter and spring is the driest he's seen in the last 10 years. However, he cautioned, that if the growing season of '08 results in another dry year, there is a threat; and that a crisis might develop.
"In June it looked like a big crop, but we (now) have small berries and what that means is that winemakers are dancing in the streets," Beckstoffer said. "That (the small berries, not the winemakers) will lead to better fruit and high tannins."
Mike Wolf, who heads his own vineyard management company, which farms a lot in Oakville and Yountville, said the season "started out feeling as if it was going to be early. But it seems to be slowing down because it's been a mild summer. It could portend to be a great harvest."
---
Top photo by Jason Tinacci, courtesy of Napa Vintners Association.