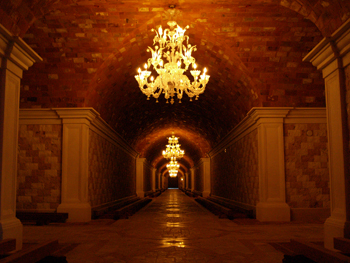 St. Helena ~ Napa Valley (AVA)
Gerard Zanzonico's Winemaking Adventures in Xanadu
At Del Dotto Vineyards and Winery, Gerard Zanzonico juggles many balls (and barrels and yeasts, and vineyards).
by Alan Goldfarb
September 6, 2007
---
ALAN GOLDFARB (AG):
So, what have you gotten yourself into now?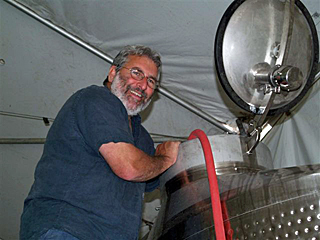 GERARD ZANZONICO (GZ):
The exciting part of Del Dotto is the amazing diversity of fruit from the vineyards to work with. He's a serious player in the valley. There's a real dedication and he's making a statement. It's important that you extract the personality of the individual vineyards.
AG:
We'll get to those vineyards later but first, I want to know why does Dave Del Dotto seem so focused on barrels?
GZ:
It's one of Dave's qualities. He feels it's a spice rack, and it impacts different flavor profiles, which I think is true. You can have a great vineyard site, but you need to enhance it with a cooperage selection to see what works best on what vineyards. Underneath the marketing concept, there's a production concept.
AG:
Do you like working with that palette of barrels?
GZ:
I enjoyed working with that at
Staglin
[from 2003-05]. I have learned so much more about different forests, thicknesses (of the wood). You don't always get an opportunity to taste that many different kinds of barrels in one facility.
AG:
How many different types of barrels?
GZ:
We have them from Missouri, Pennsylvania, France, from nine French forests.
AG:
Does all that make your job easier?
GZ:
It gives me a broader profile palette to work on and to work with. It's an interesting work environment to be involved in. It would probably be easy to work for a winery that had a formula. But this is a lot more interesting. Before we rack, we sit down and taste every barrel for tannins, structure, finish. It's eye opening.
AG:
And what's up with the clay amphora?
GZ:
> We ferment in them. It has interesting characteristics that you get from natural clay. There's an earthiness that you don't get from oak or stainless steel. It's a whole new ballgame with clay or concrete. Last year we had four lots - two
Zinfandel
s and two
Sangiovese
s with natural yeast - in those amphora, which will affect flavors. It's another component to what Del Dotto has to offer. It's very exciting.
AG:
And now come yeast-strain experiments.
GZ:
Different cultured yeasts. We'll take a vineyard that might be eight, nine tons (per acre) and subdivide into four, five different yeast programs and then take those and put them on different oaks. You can look at all the wines with the same characteristics and with different yeasts.
AG:
Now, tell me about the various vineyards from which you source fruit.
GZ:
First there's the Harrison Vineyards property we just bought on Pritchard Hill (in the tony eastern hills above St. Helena). It's planted to 40 acres of
Cabernet Sauvignon
with a 10 to15,000-case facility,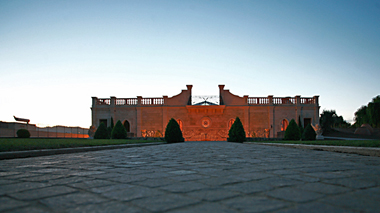 where we'll make about 1,200 cases. Some of the upper portion has over 20-year-old vines; while the lower was planted three and four years ago, which has flavors that are just great with plum, currant, dense, fleshy, tar characteristics that grip the palate with nice, tamed tannin. It has tremendous potential.
A mountain vineyard like that is not going to come about too often. The Harrisons always made good wines. I'm walking around and looking at tiny clusters and all of a sudden I find another niche. The vines are going over the slope and into the canyon. It's going to be challenging with all different exposures, drainage and soil types. Each (lot) will have to be kept separate.
It's an exiting piece of property which you don't see on the valley floor.
AG:
The next vineyard?
GZ:
There's the estate (14 acres on West Zinfandel Lane north of Rutherford). It has gravelly soils that have washed down from the Maycamas Range. There's Sangiovese and red Bordeaux varieties. The wines tend to be rich and extracted with that Rutherford dust quality, and deep purple color. It's different from the valley floor.
AG:
Everyone in Rutherford goes on and on about the dust, but few can actually define it. Can you?
GZ:
That's a difficult question. It's a certain kind of earthiness in the nose that conveys to the flavors. It's an earthy character, not berry character that you get from some Cabs.
AG:
St. Helena (9 acres south of St. Helena).
GZ:
We call it 887. It has sandy loam and some gravel. One of the things that is challenging is the scientific aspects; which is what it's all about. When I started tasting, I discovered the front part of the vineyard has currant and raisin-y flavors from soils that are heavier. The flavors are more forward, and the fruit is not as dense as from the northern part. Here, there's Santa Rosa plum, it's fleshy and denser. In the southern end there's black cherry, cassis, and it's not as dense as the north. So I split it up into three blocks. But it takes me two to three years to understand a vineyard.
AG:
Then there's St. Helena Mountain (10 acres).
GZ:
It's the Cowen Ranch. Its further northwest at the base of the Mayacamas, with alluvial soils and lots of crushed rock. It's also in three blocks. They never picked in separate blocks before. They do have consumers who like all three blocks of a
St. Helena
mountain Cab (but) we haven't decided yet what we want to do. But some will be blended to make a St. Helena Mountain wine.
AG:
Next is the Howell Mountain vineyard (7 acres).
GZ:
Here, there's Cab,
Merlot
and
Cabernet Franc
. It's a challenge to make mountain fruit that you don't have on the valley floor. Part if it is: how much water do you have? … We get a lot of small berries, bloom is later, harvest is much later – two, three