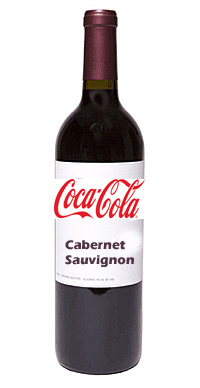 California (State Appellation)
It's the Unreal Thing – High-Alcohol Wines
for the Cola Generation
There's a reason that many Cabernet Sauvignons
are described as having a "cola flavor."
by Dan Berger
September 18, 2007
---
O
ne of the most difficult things a wine taster has to do when evaluating double-blind is to determine the regional characteristics of a wine, especially if the wine is high in alcohol. The higher the alcohol in the liquid, the less likely he or she is to be able to discern the subtle terroir elements in the glass.
This stands to reason. Alcohol (ethanol) has its own aroma, and the higher the concentration it is in a wine, the more likely it will be to mask components that are fruit-based. Moreover, higher alcohols (which are generated by higher sugar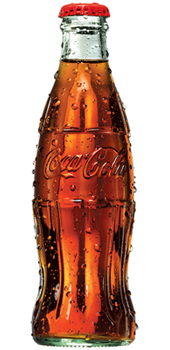 levels in the grapes) can also be related to flaws in wines. In high-alcohol environments, yeasts are under stressful conditions in which they don't operate as efficiently as they do when the sugars are more moderate.
It has been roughly a decade since this issue has taken on such importance for those who like more food-oriented, age-worthy red wines (and to a degree whites). In California, the excellent 1990 and 1991 vintages produced more classical wines; 1992 and 1993 were El Niño vintages and wine makers had a more difficult time making great wines. Then came 1994, and the ultra-ripe character of the red wines from the long, warm growing season without rain made for intensely ripe flavors.
Many wineries feared that higher alcohol levels could make the wines appear to some people as aberrations, but a number of reviewers liked the wines. There followed two excellent (but largely unrecognized as great) vintages, 1995 and 1996. In those years, we got a lot of superb red wines that displayed regional characteristics and varietal distinctiveness somewhat akin to the best vintages of the 1980s.
Then came the "blessed" vintage of 1997, with its warm, long, rainless growing season, and wines that exhibited even more excess ripeness than did 1994. Again the high-image reviewers went gaga for them, and that pretty much sealed the deal: ultra-ripe fruit was the way to go. Add to that some beneficial economic factors (long hang-time fruit costs less), and you have a formula for the destruction of regional character in wine.
High Alcohol, Low Expectations
For about the last decade, I have challenged the notion that one gets more flavor from high-alcohol wines. In fact, the additional flavors tend to be fruit of a sort that is anathema to wine aimed at the dinner table. Such "fruits" are actually raisins and over-ripe plums.
Many wine makers agree with this assessment, but very few have had the courage to state this publicly. That's because most of them are employed by wineries that have done focus-group research in which consumers are interviewed about their taste preferences. And these companies learn that many consumers appreciate over-ripe wines. My theory as to why this is may be reduced to a single reason: such wines are more like soda pop and less like wine. High alcohols make for a softer, sweeter taste, and thus are the wines anti-complex. They are simple.
And thus do the winery owners believe high-alcohol wines are the way to go. Such wines seem to get high scores from wine publications that do not care a whit about regional character or varietal integrity. What sells wine today is bigness. And big wines are not for drinking, they are for sipping and spitting out.
Winemaker Randy Dunn, whose Cabernets once were thought to have too much tannins to age, has proven us all wrong. I have tasted a number of older Dunn
Cabs in the last few years, and many of them are better for their time in the bottle, and most show the concentrated black fruit and dusty components that only a classic Napa Cabernet can show. Dunn set the style for Caymus Vineyards in the 1970s, and his own Dunn Vineyards
Cabernet Sauvignon
s from
Howell Mountain
have long been the mountain standard in Cabernet character.
And a key reason for this, I contend, is that Dunn has always tried to produce his inky style of wine with a moderate amount of alcohol. Until recently, all of Dunn's wines have had alcohol levels below 14.0 percent (The 2004 is an exception; see below.)
The issue of high alcohol in red wine has long been a burr in the saddle to Dunn, who finally had his fill of the trend and sent out an email to wine writers [see related feature with full text of
Dunn's email
at
APPELLATION AMERICA
in which he decried the high alcohol levels in many wines]. Dunn told me that the letter he sent out was "the watered-down version, compared with the original."
Dunn said his Cabernets have always been lower in alcohol, yet perfectly balanced because "we've always just picked by flavors, and I have purposely not had high-alcohol wines. But I have to admit that my 2004 is about 14.08 percent alcohol, so we did put 14.1 percent on the label. But in my defense, that was an accident.
"I don't make my final blend until a week before bottling and by that time, the best blend came out just over 14 percent ." Located on Howell Mountain, he said, the elevation allows him to fully ripen fruit without excessive sugar accumulation. "Being at this altitude, we bloom later than the valley floor, so we're behind the valley floor. But we're above the fog and we are a bit warmer than the valley floor, so we catch up. However, our days are cooler by as much as 10 to 15 degrees, so it's more difficult to get the fruit really ripe than it is on the valley floor."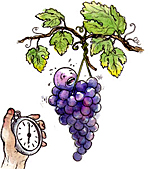 Are grapes hanging around too long? Vintner George Vierra thinks so.


Read more on the continuing high alcohol controversy in Alan Goldfarb's interview with George Vierra.
Dunn's wines show the distinctive black fruit character of the mountain, and because of his lower alcohol levels, he allows the pH of his Cabernets to rise to 3.7. (A higher alcohol would not work with a pH that high, he said.) "That's a bit higher than I'd like, but if you do the trials, and you see what tastes good at 13.5 percent alcohol; that's a good level. The lower the pH, the more aggressive the tannins get and the less appealing the wine is on release."
Dunn still makes just 4,500 cases of Cabernet and sells a high percentage of it direct to consumers.
I asked Dunn if he was planning another letter to illustrate his concern for another issue. He said he was, and that it related to the fact that Napa Valley was fast becoming a wine region with only one wine (Cabernet Sauvignon), which could do harm to the area's image.
"But worse than that," he said, "we're headed for not only one varietal, but one style."