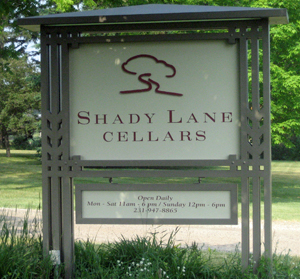 Unique Terroir Dynamics Define
Shady Lane Cellars Wine
"I believe that there's something in the soil/calcium compound combination that makes Shady Lane estate wines unique."
~Adam Satchwell, Shady Lane Cellars winemaker
by Eleanor & Ray Heald
September 13, 2007
---
Eleanor & Ray Heald (ERH):
What is the unique Leelanau Peninsula character of each of the grapes grown on the Shady Lane estate? Let's start with Riesling.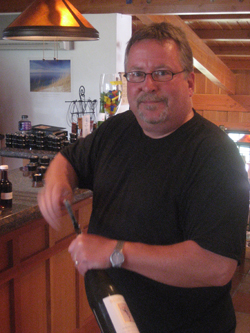 Adam Satchwell (AS):
Because of the influence of both Lake Michigan and Grand Traverse Bay, delayed bud break allows us to miss spring frosts. The length of the growing season (fruit set in late June) allows us to get good flavors and structure while retaining specific Leelanau Peninsula AVA (LP) characteristics. We pick Riesling at the end of October and sometimes not until early November.
ERH:
What typical LP Riesling characteristics are evident?
AS:
White peach aromas are typical and, depending on the exact block and exposure, there are citrus tending to grapefruit notes, with some lime and sometimes lemon oil. These are complemented by a honeysuckle floral aspect, which is unique to LP. When Riesling gets riper, like it does in California, this floral component is lost.
Flavors also express a lot of peach. In better years, tartaric acid tends to be dominant, yet there's always a noticeable malic acid quality that comes across as green apple. Again, because of the cooler climate, terpenes are not lost to ripeness and alcohols range 10.5 to 11.5 percent for the Shady Lane style. This level of alcohol volatilizes and carries the characteristics without over-powering them.
ERH:
What are the typical Brix levels at harvest?
AS:
For the semi-dry style, 20º Brix.
ERH:
Do clonal variations make a difference in the characteristics you described?
AS:
Clonal differences are less pronounced than those in a variety such as Pinot Noir, where it can be dramatic. As newer Riesling vineyard blocks come on, however, I am noticing more differences. Inherent aromas and flavors I discussed have more to do with LP's climate.
ERH:
What are typical Pinot Gris, which you bottle as Pinot Grigio, characteristics?
AS:
Currently, we're purchasing this fruit. It's planted on the estate but not yet bearing. We look forward to full production in 2009. I'm a big fan of Alsace
Pinot Gris
and that's what I wanted to make and did the first year to great disappointment. In the next vintage, I switched to the grigio style, stainless steel, some lees management to build body but aimed toward melon and herbal characteristics.
ERH:
What are typical LP Pinot Noir characteristics?
AS:
We have about seven acres of Pinot Noir. The original planting was Clone 2A. New plantings are split almost equally among Dijon clones 115, 114, 777 and Pommard 5. From these, there are two different bottlings, a regular and a reserve. Selections are made prior to blending and the two bottlings are not the same clonal mix.
ERH:
What differences do you notice among the clones?
AS:
Clone 2A has a pretty high-toned cherry note. That's the beauty and also the fault of this clone. It sings one note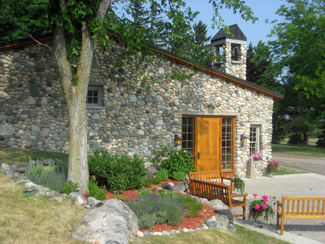 beautifully but the rest of the orchestra is left behind because the musicians never get off the bus. As a proportion of the blend, it's important.
Clone 115 has beautiful pure raspberry and cherry fruit where Clone 114 tends toward darker fruits such as plum. Clone 777, at least on this property, is not quite as easy to pigeonhole. It does offer better tannins for structure, however. All the Dijon clones have good color.
ERH:
What style are you projecting for Cabernet Franc from the estate when you get a sizeable crop in 2008?
AS:
Having worked with some purchased LP
Cabernet Franc
, there's a style that I've always considered my target. I picked clones and rootstocks to further the goal of imitating a Loire Valley, Chinon-style of Cabernet Franc. French studies and tasting trials indicate that 214 on 3309 is the combination that accentuates violet character. To me, that's Cab Franc! Clone 623 offers characteristic blueberry notes.
ERH:
One of the early plantings was Vignoles. Is it still one of the estate varieties? If yes, what wine is produced with it?
AS:
We've been using it in our house white called Serenity, which is typically a blend of 70 to 75 percent
Vignoles
and the balance
Chardonnay
. Lately, we've started to make Late Harvest Vignoles and that's a big shift in emphasis for us. I'm convinced that the reason Vignoles grows on this planet is for a late harvest wine. It's the variety's most beautiful expression and if it's managed well on LP, we get a good level of botrytis.
ERH:
How do you believe that the Shady Lane estate is different from other parcels in the LP AVA?
AS:
In talking to other vineyard owners and managers, what strikes me as the physical difference of the Shady Lane estate is the combination of light soils and mineral components, particularly the level of calcium compound content. No other LP vineyard has it. I believe that there's something in the soil/calcium compound combination that makes Shady Lane estate wines unique.
ERH:
How many more acres are plantable on the estate?
AS:
About five and then we're tapped out. That's about 1/3 of the full estate acreage and a good percentage for LP. Due to the lay of the land, it takes about 40 acres to get 10 plantable to wine grapes.
ERH:
Because of the strong and long hours of sunlight at the 45th parallel North, what are you doing to prevent sunburn?
AS:
I don't do a lot of leaf pulling. On Riesling - none. Minimal on Chardonnay and Pinot Noir and only on the east side of the trellis.
ERH:
In your early winemaking years, your uncle, winemaker Jed Steele, was a guiding influence. What did you learn from him that you applied to winemaking in the LP and more particularly at Shady Lane?
AS:
I started working with Jed when I was 20 years old and on and off until I was 25. I've always considered Jed a tremendous technician but where I believe he shines is in that slightly hard