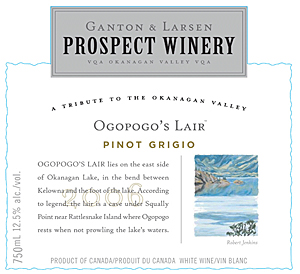 British Columbia (Provincial Appellation)
Mission Hill Has High Prospects
with New Brands
by John Schreiner
September 20, 2007
---
T
here are no links between Mission Hill's website and Prospect's website. There is no Mission Hill credit on Prospect's labels. While Mission Hill is near Westbank, the Prospect winery's address is a postal box in Oliver, care of Artisan Wine Company, a 90-minute drive south of Westbank.
Artisan is the umbrella company for marketing value brands of wine. These also include the whimsical brand, Rigamarole (see
review
), and Wild Horse Canyon, whose wines bear the mythical West Coast Appellation because the products are blends of California, Washington and British Columbia wine. All this sets up a unique challenge for wine writers. Prospect's wines are made from Mission Hill's grapes in Mission Hill's winery by Mission Hill's winemaking team. Until an actual Prospect tasting room and winery is built, it will be impossible to divorce one from the other.
But this paradox, as frustrating as it may be for wine writers, makes perfect sense in light of proprietor Anthony von Mandl's ambitious objective for Mission Hill. While completing a spectacular $40 million rebuild of the winery five years ago, he declared his intention that Mission Hill should one day be one of the world's 10 top wineries.
Top 10 wineries don't sell value-priced wines. But wines selling for $20 a bottle or less make up roughly half of Mission Hill's production of VQA wines (its total 2006 production of VQA wine topped 100,000 cases). The Prospect labels are taking over the volume now sold chiefly, and successfully, under the Mission Hill Five Vineyards labels. The object is to de-link Mission Hill's image from the $20 and under wines, but without giving up the business.
Going Up Market with Up Prices
In parallel with this marketing strategy, Mission Hill's premium wines are rising in price. The newest release of its flagship Bordeaux blend, Oculus, is $70,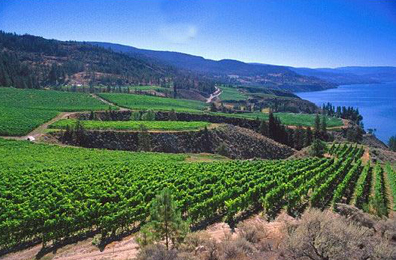 reflecting a doubling in price over three vintages. Currently, Oculus is British Columbia's most expensive red table wine. If markets accept a British Columbia wine priced like a Bordeaux, Mission Hill's peers are certain to follow the example. Already, an appreciable number of British Columbia's top reds command $45 to $65 a bottle. Thus, the impact of Mission Hill's strategy will ripple through the
British Columbia
wine industry.
And the strategy has to work if British Columbia wineries are to survive rapidly rising costs that rule out making cheap wine. The Okanagan's scarce vineyard land now costs $100,000 to $150,000 an acre. These are California land costs in a wine region not even as well known internationally as Slovenia.
Von Mandl has been single minded about raising the bar ever since buying Mission Hill in 1981. Then, the winery, splendidly set on a mountain top in 1966, still had some dirt floors. In the 1980s,
vinifera
grapes purchased from Washington enabled Mission Hill, which then owned no vineyards in British Columbia, to make better wines than its rivals.
In the 1990s, another company owned by von Mandl launched a high-margin alcoholic beverage called Mike's Hard Lemonade. The resulting tidal wave of profit paid to turn Mission Hill into a timeless Tuscan palace. It also gave von Mandl the funds to buy or lease about 900 acres of
Okanagan
Vineyard, all of it in prime locations. That's 13 percent of all the vineyard in British Columbia. Only one other company, Vincor Canada, has as much vineyard. (Mike's Hard Lemonade is another product that Mission Hill's image polishers prefer not to talk about.)
With that much land, Mission Hill can practise the fanatical viticulture evident in the quality (and price) of Oculus and the other top tier Mission Hill wines, with plenty of well-grown fruit left over for Prospect's under $20 wines.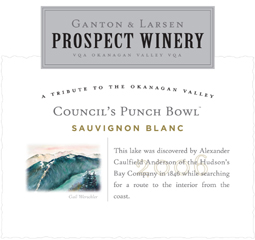 Mission Hill is being recast as a global luxury brand while Prospect's personality is pure Okanagan. Attaching Ganton and Larsen to the new winery's name is part of that personality. John and Doris Ganton and Cort and Renée Larsen own two of the first Okanagan vineyards that Mission Hill contracted in the 1990s.
The wine labels, created by local artists, mine Okanagan's rich folklore and history. For example, Ogopogo's Lair Pinot Grigio refers to the mythical lake-dwelling creature called Ogopogo, the Okanagan's version of the Loch Ness Monster.
To make sure that the Prospect wines catch on, half of the ten initial releases are reserved just for restaurants, where table cards and wine-by-the-glass programs should quickly gain a following for the brand. Since the price is right and the wines are good, consumers – unlike wine writers – won't spend a lot of time trying to connect the dots.
---
Get a taste of Ganton & Larsen Prospect Winery.
Read John's reviews of Prospect's current releases.