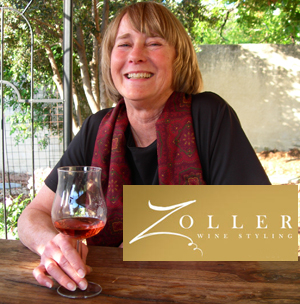 When small is beautiful: Let Paso Robles winemaker Signe Zoller explain
Paso Robles winemaker Signe Zoller thrives on the transition from Meridian Vineyards to start-up consultant.
by Laurie Daniel
September 25, 2007
---
Laurie Daniel (LD):
At Meridian, you made a lot of wines with broad appellations like California or Central Coast, although there were a few from better-defined areas, like Santa Barbara County or Paso Robles. The Paso Robles wines, in particular, were made in much smaller quantities than the Meridian "classic" wines. Were you trying to make wines that were a reflection of their appellation? Was appellation more of a consideration for the limited-release wines than for the larger-production items?
Signe Zoller (SZ):
Absolutely. Appellation was more of a consideration for the limited-release wines. (At Meridian's price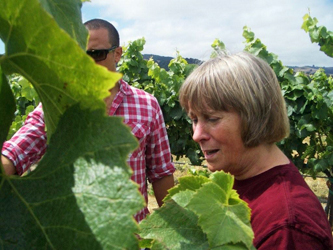 point, they couldn't afford to do a Paso Robles appellation for the line-priced wines.) The tannins in Paso Robles reds are very balanced, textured, food-friendly and "self-regulating" - i.e. they seldom go over the top. I think people are ready for wines like this.
LD:
When you're making wine on a large scale, is it possible to maintain a sense of place in the wines?
SZ:
A "sense of place" is confounded by several variables. If a grower is doing all the best things for his/her vines based on quality measurements such as color, the wine will reflect a sense of place. That is, the intense red and/or black fruit, medium body and soft, plush tannins characteristic of Paso Robles. There are, however, too many growers who are not being advised by a viticulturalist (or being advised badly), do not take advantage of the educational opportunities presented here, and are not necessarily following best practices in their vineyards.
These wines won't reflect a sense of any place but the poorest parts of the inland valley. Large wineries such as the ones for which I worked do a great job of finding responsible growers and bringing them along if they need advice. Therefore, a large facility, able to afford grower relations people, can achieve a sense of place - sometimes better than small ones.
LD:
Now that you're a consultant, making wines primarily from Paso Robles, how much are you trying to reflect the appellation in your wines?
SZ:
It is such a pleasure to work with these wines! I don't add tannins. I let the wines express themselves. I start with the vineyard. I may find a potential client with the leaves pulled on both sides of the vines and full sun exposure where temperatures typically peak in the high 90s or low 100s. In these cases, I warn the grower that he or she will be unlikely to achieve a wine that represents the Paso "sense of place." (In effect, I have to perform the job of a grower relations person at a large winery.)
Wine is made in the vineyard. The winemaking that occurs later on is "caretaking."
Where fruit exposure is the dappled sunlight we need for good wine quality, the wines are superb and almost make themselves. (Australian viticulture expert) Richard Smart, if you'll pardon the expression, "smarts" when he hears the winemaker getting most of the credit. He's right, though: Wine is made in the vineyard. The winemaking that occurs later on is "caretaking." Urging clients to get good viticultural advice is the primary means by which I can reflect the "best of Paso" in the wines.
As for the winemaking, I use tight-grained oak that meters in very slowly so that it doesn't overwhelm the fruit. I crush the berries since harsh tannins here are not an issue (unless your crusher is a meat-grinder). I choose a yeast that will best express the fruit, and I keep volatile acidity in check. This is easy compared to the viticultural preparation ahead of time that is so important to winemaking.
LD:
Even though you've been in Paso Robles for more than a dozen years, I imagine there are always new things to learn about growing grapes and making wine there. What are you taking a look at?
SZ:
I did a lot of work on color in the area while I was at Meridian. Notwithstanding the fact, as (UC-Davis Professor) Roger Boulton notes, that there is no data showing a relationship between color and quality, we always liked the wines with the most color. The color molecules seem to be fellow-travelers with the aromatics and structure giving these wines their character.
We found that the best color always came with hillsides, but it also occurred when vineyard practices resulted in the right amount of sun on the fruit. In the case of Cabernet, the divided canopy grapes were always best, but if you can't machine harvest them, you can't afford to grow them at the minimal prices this variety is fetching at the moment. There are divided canopies that can be machined, but the older styles aren't designed for it, and growers pay a huge premium if they need hand labor (that is, if they can get it).
Mike Walsh, who established Walsh Vineyard Management in the Napa area, is living down here now. He wants to help put Paso Robles on the map. We're going to get together after harvest and discuss viticultural practices and how to get that color without compromising the cost-effectiveness of vineyard management. We need to take advantage of the incredible diurnal swing in this area and make it work for us. We are both concerned that there is too much fruit exposure in some vineyards. We'll be working through the Paso Robles Wine Country Alliance "Quality Alliance" program to examine this issue, among others.
LD:
In some cases, are you attempting to showcase a particular vineyard?
SZ:
That is the goal of many of my clients. They want to demonstrate that Cabernet, Merlot, Petite Sirah, Petit Verdot, Zinfandel, Syrah (in areas where it isn't too stressed), Viognier and Sauvignon Blanc are all stellar varieties here.
LD:
Is it easier in your current role to make wines with a sense of place?
SZ:
Oh, yes! I'm all Paso Robles now. I found a wonderful
Zinfandel
- actually a
Primitivo
- at French Camp Vineyard. (One of my clients had it made at one of the custom-crush facilities.) It had that wonderful zesty, spicy Zin character, but very low color. I'm going to try it with a saignée and see if I can concentrate that character.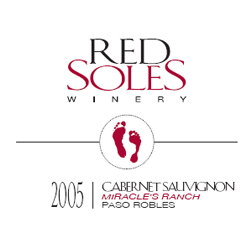 I have another client, Randy Phillips of Red Soles Winery, who has bucked the current trend and doesn't use vertical shoot positioning. He has a lot of cover on his fruit. When I looked at the color, it was better than most of the wines we got at Meridian (by lab analysis). His wines are getting rave reviews, not for their power but for their balance and enjoy-ability. He had three best-of-class wines at the California State Fair this year on his first vintage!
LD:
What grape varieties do you thin