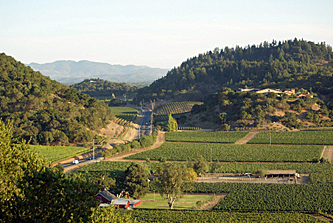 Stags Leap District ~ Napa Valley (AVA)
Stags Leap District's
Appellation in a Box
Consumers can buy into a rare opportunity to have their own exclusive, comparative tasting of small lots of reserve Cabernet Sauvignon from a single appellation whose worthy reputation is based on that grape.
by Michael Lasky
October 3, 2007
---
E
ach year for over a decade, the Stags Leap District Winegrowers have released what they call the Appellation Collection. The annual edition is limited to 300 cases comprised of reserve
Cabernet Sauvignon
bottles from member wineries in the district. You could call it
Appellation in a Box
, for this one case contains prized examples of what we call appellation distinctiveness.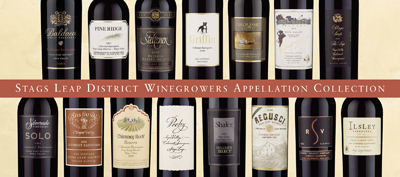 Just released, the 11th anniversary edition is a 15-bottle case of thirteen 2003 Cabernet Sauvignon and two 2004s. (Previously the Collection contained Bordeaux-based blends; this is the first one that it is 100 percent estate Cabernet bottles.)
While the Stags Leap District Winegrowers may view their Collection as a savvy marketing strategy to garner attention to the appellation's jewels, what it really does is put the SLD appellation ahead of winery individualism to create a stronger, more easily recognized appellation identity. With more than 300 appellations in North America, and 14 in Napa Valley alone, creating a clear identity for a wine's place of origin is a challenge. The SLD Appellation Collection is a unique vehicle to define what the Stags Leap District produces and what it is.
And according to Nancy Bialek, Executive Director of the
Stags Leap District Winegrowers Association
, "the case continues to be one of the most sought-after tasting opportunities among wine enthusiasts." Of course, such a rarity does not come cheap. The 2003 Appellation Collection costs $1200 plus shipping and is only available from the Association from October 1 to November 30, 2007. The SLD Association had to apply for a special license in order to sell their Appellation Collection and the permit's limitations are one reason for the short purchase window. Of course, the other is that, despite the price, the case sells out quickly each year. Previous buyers get first dibs at one of the 300 cases, further reducing the quantity available for general release.
Bialek explains that the main purpose of the Collection is to demonstrate the unique characteristics of the grape as grown in the Stags Leap District
What's in the Box
The 2003 Appellation Collection includes one bottle each of the following Stags Leap District designated wines:
Clos Du Val 2003 Cabernet Sauvignon Oak Vineyard
Malk Family Vineyards (labeled Griffin Vineyards) 2004 Cabernet Sauvignon
Shafer Vineyards 2003 Hillside Select Cabernet Sauvignon
Stags' Leap Winery 2003 The Leap Estate Reserve Cabernet Sauvignon
Steltzner Vineyards 2003 Reserve Barrel Select Cabernet Sauvignon
For further information on each winery click the winery's link above.
appellation of the southern Napa Valley. "Of course, almost all of these wines are limited editions at each participating winery so we are fortunate that they allocate 300 bottles to the Association."
Indeed, a search on each winery's website reveals that these reserve Cabernets are no longer available individually and to experience them, a purchase of the Collection is the only way. While each of the wines have their only unique qualities, a side-by-side, comparative tasting of each manifests what the appellation brings to Cabernet: lush fruit and soft tannins. Most are accessible now but all have great potential for years of cellaring.
APPELLATION AMERICA
was able to get an advance preview tasting of the Cabernets in this year's Appellation Collection. To give you an inkling of the treasures found in the collection, here are our tasting notes for six of the wines.
Here's a sample of a half-dozen wines in the 2003 SLD Collection
Chimney Rock Winery
2003 Cabernet Sauvignon Reserve – Fresh black cherry, baking spices, dried herbs and a hint of cola immediately spill out of the glass. The palate is pleasantly filled with bright red fruits and an acid backbone that nicely complement the vanilla and dark chocolate from the 100 percent new French oak. A beautifully crafted wine all wrapped up in a soft, silky texture with a lasting, spiced finish. The winery notes this wine will develop into the next decade.
Cliff Lede Vineyards
2003 Poetry - Picked from the steep terraces of Poetry Vineyard, the fruit was allowed to bask in the sunshine without suffering the heat. An enticing nose of purple plums, blueberry, sage and a hint of black olive. As if that isn't enough to please, the mid-palate brings perfectly ripe black cherry and well integrated spice of cedar and vanilla. A graceful, soft wine that will continue to please over the years. 10 percent Merlot and 5 percent Malbec were added to the 85 percent Stags Leap Cabernet fruit.
Clos Du Val
2003 Cabernet Sauvignon, Oak Vineyard - Black cherry, anise, dried sage and a hint of leather pleasantly remind your nose of classic Stags Leap fruit. The wine exudes a rustic, earthy characteristic that is found in the savory flavors of classic herbs, dark fruit and a hint of gaminess. A subtle, yet complex wine that showcases its terroir. Tannins are nicely balanced right now, but are certain to allow this wine to age for at least 10-15 years.
Regusci Winery
2004 Cabernet Sauvignon – One of the two 2004 in the otherwise exclusively 2003 vintage box, Regusci's Estate Cab has that luscious forward fruit typical of Stags Leap District. It opens with ripe blackberry aromas backed by chocolate and vanilla oak. The tongue is pleased by the dark ber