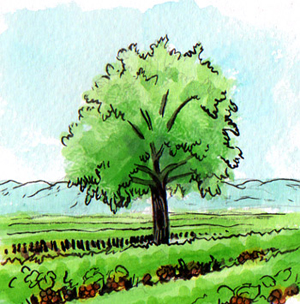 Oak Knoll District of Napa Valley (AVA)
Oak Knoll District:
Where Merlot Gets the Vote by Default
While Merlot comprises nearly a third of the growth in the newest Napa Valley sub-AVA, the terroir would suggest other varietals would be more appropriate. Ah, but appearances can be deceiving as Alan Goldfarb learned when he profiled the AVA in this sixth part of The Napa Valley Series.
by Alan Goldfarb
October 26, 2007
---

ell
, the folks who worked 10 arduous years getting an AVA (American Viticultural Area) approval for
Oak Knoll of the Napa Valley
, finally got their wish in April of 2004. But it was no joke that the timing couldn't have been less synchronistic.
At first, things were moving along swimmingly for the good burghers who lived and made wine in Oak Knoll. There was a lot of press and there were those who were looking forward to putting the name of valley's 14th and newest AVA on their labels. Recognition, at long last, was sweet.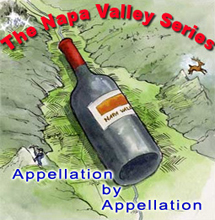 But six months later, some deeply depressed, wannabe writer by the name of Miles - with pretenses toward being a wine-savvy geek - declared that he hated Merlot.
The proclamation, in the movie
Sideways
, had wide-ranging implications. It threw a leaden cream pie directly into the path of Oak Knollers, which led the annoyed folks at
Trefethen Vineyards
– who had championed the district's virtues – to erect a sign declaring,
"Clearly, Miles had never tried our Napa Valley Merlot."
Not that Oak Knoll had staked its claim solely on Merlot. Goodness knows the growers there cultivate more than a dozen varietals on about 3,500 planted acres. But the outrageously popular film put a hurt on
Merlot
just about the time that Napa grape growers determined that Merlot did best in cooler climates of the region, such as the southern-most areas of Carneros, as well as Oak Knoll.
Nonetheless, today approximately 1,000 acres of Merlot are planted in the Oak Knoll District of the Napa Valley (the clumsy rubric the feds clamped on the AVA to differentiate it from Oregon's Oak Knoll Winery). That's nearly one third of the total planted acreage in the region, a crop that services its 20 or so wineries, as well as about 50 others that source fruit from there.
The area is bisected by Highway 29 – the main artery that runs north to south through the Valley – and is bordered on the west by Dry Creek Road where it meets the
Mount Veeder
AVA. To the north, the boundary is at Ragatz Lane. There's a line that heads southeast along Dry Creek to the Silverado Trail and then goes farther south to Monticello Road and then stretches east along its southern boundary to Trancas and then to Redwood roads in the city of Napa.
Oak Knoll has less annual rainfall than most of the Napa Valley, which allows for warmer soils. Summertime temperatures, augmented by a goodly dose of fog, are lower than most other regions, which manifests in the grapes as a bit lower alcohol and pH levels, and higher tannins. As one gets into the foothills on either side of the AVA, however, the temperatures tend to rise.

Some of the more familiar wineries that call the OKDNV home are the aforementioned Trefethen,
Monticello
, and
Robert Biale
.
Doug Hill has a 10-acre vineyard he calls Beau Terre, from which he produces around 2,000 cases of Oak Knoll wine, of which about half is Merlot. Additionally, he farms more than 450 acres in the region for clients such as Duckhorn, Franciscan, Biale, Chappellet, and Caymus. Of that portion, 350 acres is in Merlot.
It's no wonder then, that Hill's an OKDNV Merlot advocate. "Generally the entire district does well for Merlot," he says, but cautions that
Cabernet Sauvignon
("planted in the right areas"), Syrah,
Zinfandel
(see Biale Vineyards), Petite Sirah, Chardonnay, Gewürztraminer, and
Riesling
(refer to Trefethen) fare well, too.
"It's an interesting area. It's warm enough and cool enough to grow anything from Pinot to Petit Verdot," he believes. "… (But) it will stake out its true identity over time."
That true imprint might eventually be tied to Merlot. "It has the potential for that," Hill predicts. "Merlot consistently produces high quality wine year after year out of that area."
As evidence, he cites the fact that some fine Merlot emerged from the region in the 1970s and '80s (long before AVA status was even a thought) from the Jaeger vineyard south of Oak Knoll Avenue and east of Highway 29. Hill believes it was the largest planting of Merlot in the Napa Valley.
"It did very well there. It helped Rutherford Hill to stake a claim in Merlot," he recalls. It continued to be a place that made great Merlot. It holds its acidity well and has a reasonable pH so you can get good hang time out of it."
Even a glut of Merlot in the early '90s and then Miles' pronouncements from Hollywood have not delivered the coup de grâce to the variety, but it's certainly

A wide selection of Oak Knoll District of Napa Valley wines
are now conveniently available
Directly from the Wineries
in
APPELLATION AMERICA's
online store.
wounded Merlot's cachet. Inexplicably, this is in spite of the fact that Merlot is still the No. 1 selling red variety in the U.S. The consumer appeal in high-end Merlot, however, has taken a hit.
Hill believes the downturn in that segment of the marketplace is due to some Merlots "out of some of the warmer areas," explaining that some wines in the '90s "were a bit dull. They lacked finesse, especially on the finish."
That is why Oak Knoll has an opportunity to forge its stamp on finely made Merlot. But Hill cautions that throwing one's lot into one gondola may not be such a good thing – at least in the short run.
"You can grow any variety (there), and many do very well," he states diplomatically. "(But) I'm not sure anyone wants to hang their hat on Merlot as a star because public opinion is against it right now."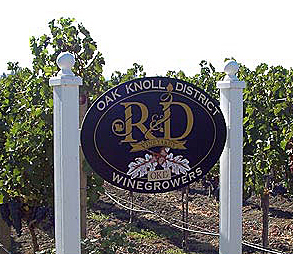 But he thinks that
vox populi
will eventually embrace Merlot in a bigger way, and Oak Knoll is poised to pounce. "It's too important of a varietal in the world for it not to," he procl