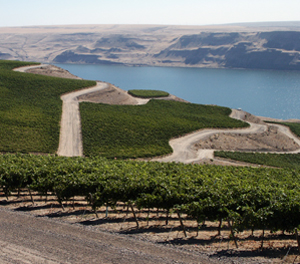 Long Shadows Vintners
Casts a Long Shadow
Personal wine ventures can be risky. This one's not - it's simply brilliant.
by Eleanor & Ray Heald
November 7, 2007
---
Eleanor & Ray Heald (ERH):
Who and what gave you hope that your Long Shadows idea could both attract some of the world's greatest winemakers and have wine consumer appeal?
Allen Shoup (AS):
Through the 1980s and into the new millennia, I was frustrated about the wine business in
Washington
State, from growing grapes to management. I knew Robert Mondavi well and I believed that I could establish a Mondavi-type joint venture with winemakers in other wine regions of the world. In addition to Bob [Mondavi], I took advice from Agustin Huneeus Sr. [founder of wineries in California and Chile] and Jim Bancroft [owner of Bancroft Ranch in California].
ERH:
What strategies did you use to convince renowned producers to join the Long Shadows venture?
AS:
I invited several vintners, among them Agustin Huneeus Sr., Michel Rolland and Armin Diel from Germany, to the sunny slopes of the Columbia River Gorge. They were enthusiastic, so I began to formulate plans to establish individual brands that would reflect the status and acclaim of each vintner.
ERH:
Why did you choose the name Long Shadows Vintners?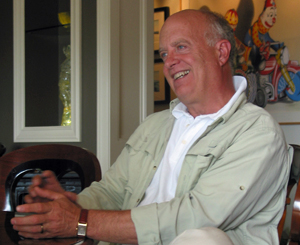 AS:
I named the venture as a tribute to a select group of individuals, who shape the industry with their benchmark wines and wineries, in addition to casting long shadows over the industry.
ERH:
Since the launch of Long Shadows five years ago, how has your vision unfolded?
AS:
Marketing research indicates that it takes 17 years to bring a new business model to ultimate success. I'm too old and I knew I had to shorten that time. We're now in the fifth year of Long Shadows Vintners and for each vintage that has been released, the wines have received 90 or more points from one or more of the major international wine critics who rate wines by numbers. Long Shadows has also been named Winery of the Year for 2007 by
Food & Wine
magazine.
ERH:
Is there an intention that the Long Shadows winemaker-partners would craft a wine that in some way reflects their native wine regions?
AS:
No. Each winemaker is part of an evolving process to discover Columbia Valley AVA vineyards that are suitable to an envisioned wine style.
ERH:
How did the Long Shadows winemaker-partners choose the vineyard sites from which they make their individual wines?
AS:
They devoted hundreds of hours to sampling the many wines originating from the most important vineyards in the Columbia Valley AVA, and chose specific vineyards that fit the desired style and type of wines each hoped to make. Grapes from every sub-appellation of the Columbia Valley were selected to take advantage of the region's individual microclimates and terroirs.
ERH:
Do these winemakers produce wine from the same vineyard source each vintage?
AS:
This, too, is an evolving process to discover vineyards that best suit the partner-winemaker's winemaking style.
ERH:
What makes the Columbia Valley AVA so suitable to a wide array of wine grapes?
AS:
All variables can be managed, from the inert sandy soils of a high desert to low rainfall, so irrigation regimes can be optimized. The Columbia Valley AVA and its sub-AVAs can have hot days but nights are cold, in the 60s or lower, and we do not have heat spikes. There's no phylloxera, so vines are own-rooted and we don't need to consider clone-rootstock compatibility.
ERH:
How many wines are now under the Long Shadows Vintners signature?
AS:
There are seven, including Poet's Leap
Riesling
by Armin Diel of Schlossgut Diel, Nahe River Valley, Germany; Feather
Cabernet Sauvignon
, made by Randy Dunn of Dunn Vineyards, Napa Valley; Michel Rolland's Pedestal
Merlot
; the Chester-Kidder red blend made by me and winemaker Gilles Nicault; Pirouette, another red blend by Agustin Huneeus, proprietor of
Quintessa
, Napa Valley and Philippe Melka, Melka Wines, Napa Valley; Sequel
Syrah
by John Duval, formerly with Penfolds and now John Duval Wines; and Saggi by Ambrogio and Giovanni Folonari of Tenute A. & G. Folonari in Tuscany.
ERH:
Can you detail how this coterie functions and where the individual wines are made?
AS:
The limited production wines are made in a $4.2 million state-of-the-art winery, three miles northwest of the
Walla Walla
city limits. The resident winemaker is Gilles Nicault who works with each of the Long Shadows winemakers to sort, crush and ferment their wines in accordance with their preferred methods.
ERH:
After fermentation completes, how often do each of the partner winemakers come to the winery to discuss wine development and the ultimate blend with Nicault?
AS:
After malolactic fermentation completes, which can be anywhere between the end of January and the end of June, the partner-winemakers come to the winery in Walla Walla to taste the current vintage, the blend for the previous vintage, and to make assessments and future plans.
ERH:
How does the partnership work?
AS:
The arrangement is unique in that each brand is individually owned and managed as a separate partnership. Long Shadows Vintners, LLC forms the nucleus of the group. Producers own 25 percent of their brand.
A board of directors assumes responsibilities for strategic direction. Along with me as managing partner and chairman, board members who are also investors, include Don Petersen (former president and COO of Ford Motor Co.), Admiral Joseph Prueher (consulting professor and Senior Advisor of Stanford University's Center for International Security and Cooperation), Anthony von Mandl (proprietor of Mission Hill Family Estate, Okanagan Valley), Arnie Prentice (co-founder of Kibble & Prentice, one of the largest independent financial services firms in Northwest U.S.) and