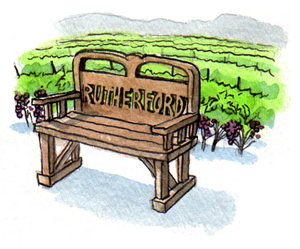 Rutherford ~ Napa Valley (AVA)
A Tale of Four Vineyards Gets Under the "Dust" in Rutherford
by Alan Goldfarb
November 23, 2007
---

ed
Edwards pauses for a very long while before he comes up with an answer to the query: How and why is the
Rutherford
AVA different from others in the Napa Valley?
"I don't know," he begins hesitantly, "I can't put my arms around why it would be different, other than our predecessors drew lines and promoted themselves."
But after about a 45-minute discussion about the six-square-mile region that sits just about dead-center of the Napa Valley, he comes up with this: "It's world-class.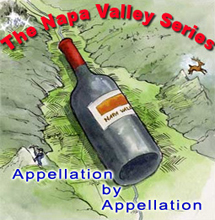 It's been a fun area for me to make wines from because the Cabernet colors up early in the fermenter, and while you're making decisions about fermentation, you get these wonderful aromas. It's almost like it's easy."
Well, it hasn't exactly been a piece of cake for Edwards, who as the winemaker for
Freemark Abbey
for the last 20 years or so, has seen several changes of ownership. Jackson Family Farms, with Kendall-Jackson's Jess Jackson at the helm, is the latest group to claim FM has its own.
But through it all, there is Ted Edwards, who shepherds the grapes from four Rutherford vineyards to the north St. Helena winery. He arrived at Freemark in 1980 when the property was one of the first to make single-vineyard
Cabernet Sauvignon
; and it chose Rutherford to be its single source of fruit.
With the famous Bosché (21 acres) and Sycamore (22 acres) vineyards, and the Carpy (115) and Red Barn (106) properties, Edwards has access to a great deal of Rutherford's diverse fruit.
He knows the area better than most, although there are some mighty impressive vineyards (in addition to Bosché and Sycamore) and wineries in the AVA. Vineyards such as Beaulieu's No. 3 (now George III owned by Andy Beckstoffer), Cohn, Morisoli and Hewitt; and wineries such as Staglin, BV, Cakebread, Caymus, Franciscan, Coppola, Frog's Leap, Honig, and Quintessa.
There are about 80 vineyards spread out over Rutherford's 6,800 acres, while some 40 wineries reside in the area that stretches north to the St. Helena line and south to Oakville. Cabernet holds sway here, of course, comprising 70 percent of the 3,300 planted acres.
As in much of the Napa Valley, Cab is king with Rutherford and Oakville being ground zero. In particular, why does Cab flourish in Rutherford?
Listen for a few minutes to Ted Edwards and you get a good understanding, although the folks in Oakville, in St. Helena, Calistoga, Stags Leap and those on the mountain ranges will tell you their Cab is best.
"Rutherford, being in the center of the Napa Valley, is lucky to have an ideal climate regarding rain and heat summation (days of sunshine)," he begins. "In a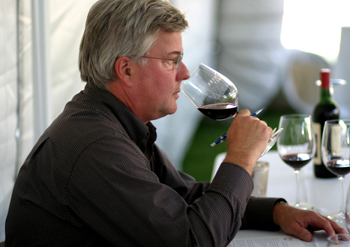 hotter area, Cabernet is going to have less density of color and flavor, and in colder regions, it's going to be more herbal. If you get just that right balance where you have that long, moderate growing season - not too hot - you're able to develop the colors and get the richness, with more black cherry and black currant intensities."
The four vineyards from which Edwards sources his fruit for Freemark Abbey, are emblematic of what goes on, on the ground in Rutherford. Sycamore, on the southwestern flank of the AVA for instance, is up against the Mayacamas Range, where it's relatively cool, certainly cooler than Bosché, Red Barn or Carpy. Sycamore, up against the so-called Rutherford Bench, is comprised of gravelly loam and hard-pan clay; a lot more clay content than Bosché. Clay is water retentive, and if one is "not careful, it could create vegetative wines," warns Edwards. For that reason, Sycamore is dry farmed.
What results are wines that exhibit black currant and are briary, with lots of deep color. For that reason, admits Edwards, in comparison to his other vineyards, "I'm partial to Sycamore." But make no mistake, Bosché, in the west-central part of Rutherford, is and has been capable of turning out some great wines over the years. They're just different than those from Sycamore, and therein is the tale of site-specific terroir. Bosché is the more famous of the two, having been one of the earliest single-vineyard designates in California – and placed in such a hallowed position by Freemark as early as 1970. (Sycamore was vineyard-designated in '84.) Inglenook's home ranch, the de Pins Vineyard is just to the north. The BV No. 2, the current source of
Beaulieu's
Georges de Latour reserve, is just south, while Bella Oaks is a few dozen yards to the northeast.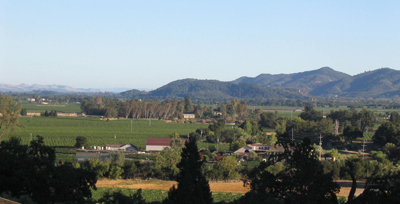 The wines from here typically display dark cherry, some green olive, and a little more depth of flavor than Sycamore. Says Edwards of the two prizes in his quiver, "We'd love to have all our vineyards be as good as Bosché and Sycamore."
Edwards still gets some fruit from the Carpy Vineyard, which is owned by the family that founded Freemark. The Cabernet from here goes to Nickel & Nickel winery, but Edwards gets Chardonnay and Viognier from this east-central parcel. The
Chardonnay
, he says "is lovely. It's rich, full-blown and ripe with banana, pineapple, apple flavors. You can make a damned fine Chardonnay from Rutherford and we have for years."
As for the
Viognier
, it comes off a small block that sits next to the Napa River. "It doesn't produce much of a crop, but it has a lot of grapefruit, citrus, and little bit of peach," he gushes. "We approach it as a fruit salad and don't give it ML (a secondary fermentation of malolactic acid)."
Additionally, there's Red Barn Ranch, just across from Carpy. It's from here that Freemark uses the fruit for its third and less expensive Cabernet. Edwards calls the vineyard, a "real mosaic (of soil types) … You have to know your farming and climate physiology and know what to plant where. The Conn Creek river has come through it and left creek beds."
The vineyard, which was replanted over the last half-dozen years, gets drip irrigation but "judiciously", in order to develop the flavors. "It's not an easy place to farm," Edwards acknowledges. "You have to pay more attention to the different paths of the ancient creek beds and within one field you can see where the creek bed used to go. If you really water it, you'd have a jungle and low color."
Red Barn's Cabernet differs from Syrcamore and Bosché in that the fruit shows rhubarb and herbal character.