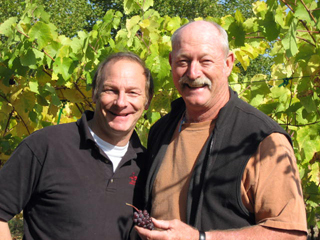 It's The Envy of Napa Valley
Envy's Venge, and partner Carter set down roots in Calistoga's 'pet' zone. And we don't mean dogs or cats.
by Alan Goldfarb
March 26, 2008
---

ils Venge's presence
has loomed large around the
Napa Valley
since the early 1970s when he began his career at the then-independently owned
Sterling Vineyards
. Known for his free-flowing, jovial countenance, Venge seemed to be catapulted to cult status when his 1985 Cabernet Reserve from
Groth Vineyards
was anointed with the highest accolade a winemaker can receive, from the nation's highest arbiter of wine criticism.
Did the 100-points go to Venge's head? Hardly. But it didn't hurt, either. The recognition boosted his little Oakville garage-like winery,
Saddleback Cellars
, and propelled him to open
Venge Vineyards
with his son Kirk, on a property that sits just below Howell Mountain. The new-found reputation from the sudden cred, caused many vintners to woo him into consulting for them.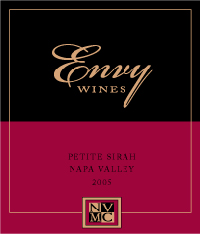 But through it all, Venge, a big man with a big appetite and a huge laugh, never got out of his pick-up, and never took off his boots or his jeans. Curiously, Venge has never achieved the rock-star status that a half-dozen or so other California winemakers have been afforded. It's probably because he's so grounded in his own skin, not to mention being planted firmly in Napa Valley's volcanic loam.
In addition to his own enterprises, Venge - who also consults for about six other properties scattered throughout the Napa Valley - has forayed up to Calistoga for his next (ad)venture. Partnering with Eureka (Calif.) hotelier Mark Carter, who himself has consistently received high marks for his
Carter Cellars
wines, the pair have started
Envy Wines
.
Envy is located on the 17-acre site that used to be the home of the beleaguered Calistoga Cellars (that's right, the winery that is knee-deep in the
Calistoga AVA-status imbroglio
). Venge told
APPELLATION AMERICA
that he wants to make his mark there with
Petite Sirah
.
Although only two of Envy's acres are planted to "Pet" as the locals call it, the Venge/Carter partnership thinks that the varietal - not too acidic when grown properly and opulent when made properly - is perfect for their sensibilities.
"Everyone needs a niche," Venge said from the tasting room of the ochre-washed winery building that sits just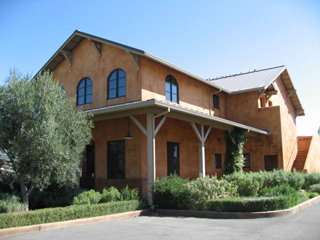 across from Summers Estate and the geothermal geysers that originally made Calistoga famous. "The blackberry-blueberry mix is delightful. The ones I grew up with in the Napa Valley - from York Creek, Markham, Freemark Abbey - every year were just superior. They were all so supple and they would age slowly. I think there is a little more interest (in Petite Sirah) that is coming out of the Napa Valley (now)."
Apparently, he's come to the right site. Calistoga, which is one of the warmest spots in the valley, is rife with Petite Sirah plantings. Its gnarly-vined, head-trained festooned vineyards - many planted to red grapes by Italian immigrants in the early 1900s - seem best-suited to Calistoga's temperatures. Additionally, the soils around the region are heavy, which makes them conducive to dry-farming, and they also produce small berries, whose fruit is resistant to dehydration.
Welcome to the "Pet" Zone – That's Petite Sirah Country
Venge calls the area "a Pet zone," referring to grower Vincent Arroyo, whom he calls "our dream godfather," the old Frediani and Luvisi vineyards, and his neighbors, the Tofanelli and Barberis vineyards, the latter two from which Envy buys its grapes. Also, Calistoga producers Summers, T-Vine, Arroyo, Paoletti, Madrigal, Vigil, and August Briggs, have Petite Sirah fully in play.
Carter and Venge are also getting Petite Sirah from Moss Creek (one of Venge's clients) in Capel Valley in the hills east of Oakville, and the Nord Vineyard in Pope Valley. But Carter, who said the pair bought the Calistoga Cellars' property after a 1 ½-year search because they "wanted a piece of earth," prefers not to be "at the mercy of the growers."
He's enamored with the first vineyard he's owned. "We really like (it). I'm partial just because I have earth. You can't just be running around willy-nilly looking for grapes," he gushed from behind Envy's bar. "It's cool in the morning because of the mountains. It may get hotter than any part of the valley, but it's only for a short time."
The partners, however, seem in it for the long haul. Envy (which is a triple entendre play on Nils Venge's initials and Napa Valley), is permitted for 8,000 cases, but currently produces only 900, which will soon increase to 2,500. The vineyard, in addition to Petite Sirah, has five acres of
Cabernet Sauvignon
, less than four of
Merlot
and will be planted to five more of
Sauvignon Blanc
.
Carter seems ecstatic to finally have nailed Venge after trying to cajole him since '94 into making his wines; and most assuredly, he's thrilled to have a vineyard of his own. "I like the growing conditions, I like the neighbors, and I like the soil."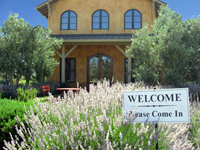 As for Venge, he acknowledged that Carl Doumani, once the owner of Stags' Leap Winery and now owner of
Quixote
, the latter of which produces two wines from the varietal, "got me into Petite Sirah. We used to sit around on his porch on the old property (at Stags' Leap) and we'd talk and talk - in the days when you could sit and talk - drink Pet and smoke cigars."
Making Petite Sirah, he contends, "is just good, old winemaking," which suits Nils Venge perfectly.
---
Photos courtesy of Envy Wines