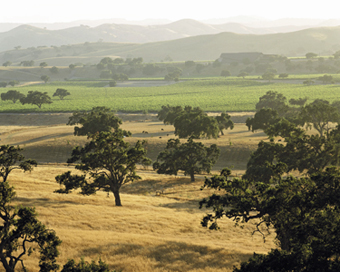 How Firestone's Winemaker
Kevin Willenborg Tamed
Its Wild Frontier
Intrigued by the recent change of ownership at Firestone Vineyard, Appellation America's Dennis Schaefer checked in with the winery's winemaker, Kevin Willenborg, to see not only how the transition has gone but what he has done to keep improving the wines.
by Dennis Schaefer
March 31, 2008
---
Dennis Schaefer (DS):
You came to Santa Ynez Valley from British Columbia. Could you compare and contrast the two regions, in terms of terroir?
Kevin Willenborg (KW):
I believe the most pronounced differences between the regions relate to latitude and climate. First off, the
Okanagan Valley
of British Columbia, being much further north in latitude, has a shorter, yet more accelerated, growing season compared to Santa Ynez Valley. In British Columbia, if you're faced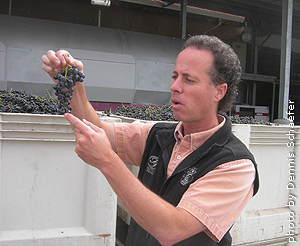 with a few cooler weeks during the growing season, there are fewer warmer days to make up for maturing the vines and the resulting fruit - this makes for greater vintage variations than what we see here.
Here in
Santa Ynez Valley
, we get ample duration of warm weather and have the luxury to hang the fruit on the vine even into November. In British Columbia, the temperatures start to cool noticeably in later September and it could be snowing in October/November. Also, here we get a moderate coastal influence that keeps the peak high temperatures to a short duration, along with the cooling effects of the coastal fog. Being somewhat inland and east of the Cascades, the Okanagan Valley has more of a continental climate with some warm, dry days during the summer (100F+ some days) that maintain a longer duration of heat, with some intense solar radiation. The Santa Ynez Valley has a longer, more moderate growing season due to latitude and our coastal climate.
Yet there are some similarities. Average annual rainfall in both areas is somewhat similar and indicative of a dry region - about 15 inches in Santa Ynez Valley and 12 inches or less in the Okanagan Valley - so supplemental irrigation is a necessity but allows for good vine vigor control and balance. Although the geology is somewhat different, the end result is that soils in both areas can range from sandy to clay/loam depending on location in each region. There are warmer and cooler areas in both regions that favor diverse climate varieties from Cabernet to Pinot Noir.
DS:
Upon seeing the Firestone vineyards for the first time, what stood out? What impressed you?
KW:
The elevated uniformly exposed mesas. Firestone Vineyard gets even sun exposure from morning to afternoon. Sun exposure is crucial to flavor (as well as tannin) development in the fruit. Elevated vineyards naturally, by gravity, drain soil moisture in the root zone of the plant. This allows for better balance and better physiological fruit development as opposed to a continued vegetative growth cycle of the plant.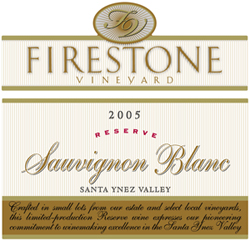 Upon further investigation, I learned that the soils were unusually consistent, with a gravelly clay/loam topsoil and rocky subsoil - well drained and uniform. Most vineyards have soil variation within just a few feet, affecting variation in vine ripening. Here it is remarkably consistent, which allows for even ripening throughout the vineyard blocks. As a winemaker walking the vineyard, I sometimes feel like a kid in candy store.
DS:
In what condition did you find the Firestone Estate vineyards, when you arrived?
KW:
When the vineyard was initially planted in the early 70's, it was set-up as most vineyards of its time: 12 foot row spacing, sprawl and overhead sprinkler irrigation, with the varietal clones in use at the time. Some of the blocks were performing quite well and needed just some fine tuning while others were underperforming for one reason or another. The blocks that were performing fine were growing almost too well – green and healthy for the vine but perhaps not as good for the fruit development. The Firestone family was becoming quite aware of this at the time and knew some changes needed to be affected at the time I came on board.
DS:
Did you have some immediate ideas about changing some of the things in the estate vineyards, or did you take a more "wait and see after your first harvest" attitude about any changes or modifications?
KW:
I often tell people I arrived here at about the right time - I saw the changes that needed to happen and the Firestone family was open to making those changes. Right away, we began to open up the vineyard canopies (trellising, shoot-thinning, and leafing) to allow for sun exposure into the fruiting zone. I knew I needed help as well. We hired and brought down Eric Davidian from Napa Valley, who was working for a boutique vineyard management firm there. I didn't need to explain much to Eric as he could see what we needed to do as well. We went further into crop reduction and tighter irrigation controls to better balance the plants.
I remember walking the vineyard incessantly that year, trying to get a feel for the performance of each block and making picking decisions based on fruit taste and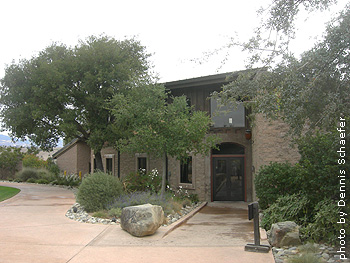 development. I wanted to have a good picture of each block during the growing season for when I would later taste the wine grown from it. From the 2001 harvest wines, we evaluated the wines from each block to make an initial determination about site suitability of variety and overall block performance. We found that
Cabernet Sauvignon
, with good vineyard management, showed good fruit flavor and depth with no noticeable vegetative characters. (This was important because there was much controversy at the time on whether Santa Ynez Valley was suitable for Cab.)
While many other varieties also did well,
Sauvignon Blanc
and
Syrah
showed to be clear standouts. We made the decision to subsequently cull some blocks that were either underperforming or where the variety wasn't suitable to that location. The next year we started a replanting program to focus on the most suitable varieties with better trellising, clones, and rootstock. That process has continued for the last 6 years. We continued to open up the canopies and focus on better irrigation practices to balance the vine with an emphasis on achieving better physiologically ripe (not overripe) fruit. We continually work to refine this every year.
DS:
In the beginning, Firestone planted a lot of Chardonnay on the Estate. I'm betting that there's not much planted there now and that you get the bulk of your Chardonnay from the cooler Santa Maria Valley. Can you comment on why the conditions are not right for Chardonnay at your location.
KW:
We have pared back

READER FEEDBACK: To post your comments on this story, click here
Print this article  |  Email this article  |  More about Santa Ynez Valley  |  More from Dennis Schaefer