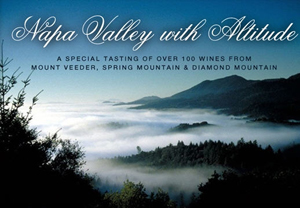 Napa Valley High:
Mountains of Difference
A recent comparative tasting of wines from the three Napa sub-appellations that comprise the Mayacamas Mountain range proved when it comes to Napa wines there are mountains of differences.
by Roger Dial
April 30, 2008
---

here is a suspicion
- no, call it an anxiety - that
Napa is Napa
, and that the wines of the 14 sub-appellations of the
Napa Valley
AVA are generally indistinguishable. At the same time, many think it was a mistake to sub-divide a good thing. That's not just in the Napa Valley; it's a common sentiment everywhere across the continent that "separatism" within the AVA system has allegedly diluted the marketing image - and often challenged the regional organization authority - of the parent appellation.