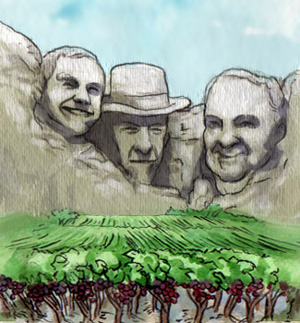 The End of an Era:
America's Most Important
Wineries Changing
by Alan Goldfarb
July 9, 2008
---
They're all gone:
The iconic wineries that ushered in the Visionary Age of American wine are now in the hands of others, who may or may not possess that specter of illumination.
First, it was the
Robert Mondavi Winery
that fell, wrested away from the most famous wine family in the modern age, and swallowed by the oversized maw of another kind of culture. Then
Stag's Leap Wine Cellars
, whose steward is one of the classicists of American wine, was sold.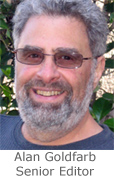 Now comes word that yet another illustrious property,
Chateau Montelena
, has probably gone on the trading block.
The Robert Mondavi Winery, Stag's Leap, and Montelena – a troika of legendary wineries that were most responsible for putting America, California, and the Napa Valley on the world wine map - are going to be run by others.
At first blush, those developments don't portend good things. All three will not have passed on their legacies to their scions.
And all – depending upon which suitor nabs Chateau Montelena – will most likely have fallen into the hands of corporate entities.
In this era of wine in America that might be called the Golden Age, more wine than ever is being consumed here, and more money from it is being made. I'm sure many of you who read this are shouting back "That's progress" at the words on the page. Perhaps so, if making more money is your criterion.
After all, it was
Robert Mondavi
himself who constantly and consistently preached that America
could
become a wine culture. One can only hope that

despite his seeming insentience during the last few years of his life, before he passed away at nearly 95 in May, Robert Mondavi knew that his mission had been achieved.
But who now will be the voice of an industry – and a culture – that for all intents in the modern era is less than a half-century old? While some of us don't need a God-like figure to tell us what to do, we still look to someone to guide us through a forthcoming period that could be fraught with mine fields; a treacherous landscape that will no doubt have economic, technological, and environmental hazards.
It was a year ago, on the last day of July, that Stag's Leap was sold – for a princely sum.

Warren Winiarski
, a ballroom dancer, and a Renaissance man, who taught the classics to college students, instructed us how to make and appreciate wine that came out of his soil, which was a true expression of that particular spot of earth.
And now Jim Barrett and his son Bo seem as though they're ready to relinquish their hold on the Calistoga property they made famous with Montelena.
Robert Mondavi showed us the way and Warren Winiarski and the Barretts elevated the message. Their wines, beginning with the end of the 1960s through the middle of the '70s, catapulted the Napa Valley into the pantheon of some of the world's greatest wines. It signaled a period that continues to this day.
And now they're gone. Mondavi has departed this coil. His winery is left behind for others to try to maintain its stature. His family is forging ahead, trying to make their way with their own wine projects. Winiarski is in semi-retirement, still trying to keep his fertile mind active and prescient. Someday soon, he has hinted, he might make wine from the Chardonnay vineyard he owns in Coombsville, an area that will soon prove to be an incredible place to grow grapes.
I don't know what the Barretts' plans are.
Jim Barrett
will most likely retire, while Bo will most assuredly go onto another project, perhaps with his wife Heidi Peterson Barrett, the winemaker to the stars, who has a brand of her own called La Sirena.
Mike Ggrich, who not incidentally made the 1973 Chardonnay for Montelena that took top honors against a group of French Burgundies, has his own winery – Ggrich Hills. But he's well into his 80s now, and fortunately for him, has given the property over to his daughter.

At Montelena, Bo Barrett said he couldn't talk to me about the possible sale of his family's winery. All he would say in his sardonic style was, "I've heard those rumors, too. Besides, I have only 5 percent, so I don't know much."
Montelena's managing director Greg Ralston left me a voice message saying he had nothing to tell me at this time, but that he'd have something to say perhaps at a later date. Neither man confirmed, nor denied that the winery was up for sale.
Still, more than 30 years after the signal Paris Tasting of '76, Montelena and Stag's Leap have unequivocally proved that California indeed can produce some of the greatest wine in the world. That notion – and fact – will, of course, continue, perhaps in perpetuity.