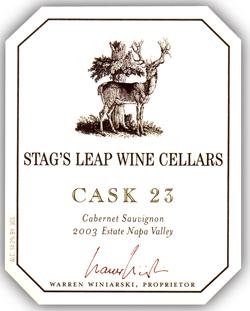 Stags Leap District ~ Napa Valley (AVA)
Why Warren Winiarski sold Stag's Leap:
"I wasn't going to live forever."
His children didn't want to inherit iconic winery.
by Alan Goldfarb
August 14, 2007
---
F
aced with his own mortality and the fact that none of his three children wanted to take over the winery, Warren Winiarski, who will be 79 in October, had little qualms about selling his iconic winery,
Stag's Leap Wine Cellars
.
The idea of selling the renowned winery that helped to catapult California and Napa Valley wines onto the world wine stage began several years ago. Serious talks between the family and several unidentified possible pursuers began at the end of last year. It culminated July 31 when Winiarski sold to the joint partnership of
Ste. Michelle Estates
and Marchese Piero Antinori for a whopping $185 million.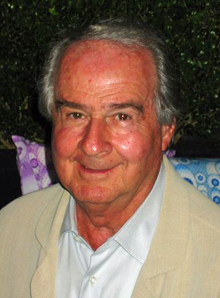 "I gave up the idea that I was going to live forever," Winiarski told
APPELLATION AMERICA
recently, a few days after he visited Piero Antinori in Tuscany. "A winery is a complex thing. It needs continued guidance. I can handle the Arcadia Vineyard and continue to grow grapes, but I want to start retiring from day-to-day operations."
Winiarski's 1973
Cabernet Sauvignon
won the red wine category at the by-now well-chronicled Paris Tasting of 1976 that set the wine world on its ear. He said that his 80-acre Arcadia Vineyard in the St. George area southeast of the city of Napa, will furnish
Chardonnay
and Cabernet grapes to Stag's Leap's new regime well into the 2020s. He will stay on for at least three more years at the winery but because of a non-compete clause in the agreement there is no chance that he will ever start another winery.
Winiarski, who is also involved in some capacity in the production of a feature movie about the Paris Tasting, and has been known as an accomplished ballroom dancer in addition to his passionate study of the terroir on his 200-acre Silverado Trail vineyard, insists that he's in good health.
"I still dance, people tell me I walk around like a 50-year-old, but I can't possibly do things like I did. We (he and his wife) want to travel. I want to start tuning down the level of activities."
Doing It for the Family
The sale was one of a trio of
Napa Valley
deals within a two-day period at the start of August (Gallo purchased the
William Hill Winery
and a private equity firm took a controlling interest in
Duckhorn Vineyards
); of the three, Winiarski's sale had the most shock value. That's because of how famous Stag's Leap had become and what an important figure Winiarski himself had become. Additionally, it's yet another indication of how tenuous and diminishing family-held wineries are becoming.
Winiarski said he put off the decision to sell "as long as I could." But in the end, he had no choice but to divest because his children – all of whom had been working at the winery – were not interested in inheriting it.
"We went through the dynamics of that and spent a lot of time with that, but the efforts that we made to live a family life were complete. I wanted them (his children) to ensure their lives would go on, and do what they wanted to do with their own families. They wanted to live with their families in a similar way that we lived with them. …"
So, Winiarski, who paid $2,000 an acre when he started the winery in 1973 (amazingly, his first wine from that vintage won the Paris Tasting) sought a suitable party to entrust with his winery. Ste. Michelle and Antinori, with their business and wine sensibilities, not to mention their considerable-sized wallets, fit the bill.
"I thought it was best to find another family who had this kind of life," explained Winiarski. "We found in the Antinoris and Ste. Michelle, people we work with very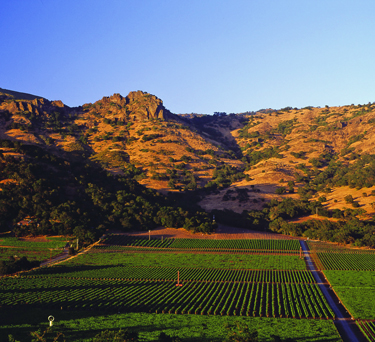 well; and who had a strategic method to keep the quality and preserve the uniqueness of the vineyards."
Those sites are the historic SLV and Fay Vineyards, which comprise about 200 acres. The latter parcel contains the direct descendant of the grapes which made the wine that inspired Winiarski, then a 36-year-old, to throw his lot in with the Napa Valley. Almost 40 years later, Winiarski is recognized as a major force in helping Napa reach the prominence it enjoys today.
Ste. Michelle, which is a subsidiary of U.S. Tobacco Co. and which is the largest winery in Washington State and the 10th largest winery corporation in the country, also owns the
Conn Creek Winery
just up the road from Stag's Leap, and the Villa Mt. Eden brand, which is produced in the same facility.
Conn Creek's winemaker Jeff McBride, who took it upon himself to start an appellation program, producing a wine from all 14 sub-AVAs of the Napa Valley, said he has gotten total support for the project from Ste. Michelle. Winiarski, perhaps more than any other vintner has painstakingly over the years literally taken apart his vineyard to find the best and most distinctive growing blocks. He said he took a look at Conn Creek's appellation series and intimated it helped him make the decision to sell to Ste. Michelle.
Still a Family Affair – Sort of
Antinori, one of the most important wine families in Italy, owns vineyard property in nearby Foss Valley and not-so-coincidentally will take over the vineyards of
Atlas Peak Winery
(which it helped start) next year.
"Ste Michelle is a large winery but the projects they've gotten involved with; they're not run like large wineries," Winiarski said. "Their uniqueness is preserved."
But he said his relationship with Antinori is what forged the deal.
"My approach was mainly through Antinori and Antinori had a working relationship with Ste. Michelle," he explained. "Finding the right partner was as important as when we started out a long time ago."
When told that the sale took many by surprise and that some have voiced concern that he sold in part to a corporation, Winiarski responded, "(St. Michelle) are devoted and serious people about quality; and you know Antinori is going to
The Judgment of Paris
Read the story behind the famous
Paris tasting
of 1976 when Stag's Leap's first vintage took top honors.
take back his Atlas Peak endeavor. (And) he says he's going to be very involved getting more familiar with this beautiful terroir that we have here."
Winiarski told
APPELLATION AMERICA
that he had "contacted a number of people that we thought would be suitable," to take over the property. He would not disclose who or how