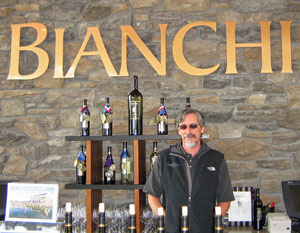 Doing the Paso Robles Paso Doble
at Bianchi Winery
Is Petite Sirah or Cabernet Sauvignon the signature grape in Paso Robles? Is it Zinfandel or Syrah? There's always a two-step dance to selecting the best varietal in Paso Robles and, that being the case, Tom Lane, winemaker at Bianchi Winery, is a great 'dancer.'
by Laura Ness
July 9, 2008
---

aso Robles
has so far been very, very good to Tom Lane. He left Livermore behind, but he didn't have to give up
Petite Sirah
, the signature wine of Concannon that put him on the map back in the 1990s. Petite and Paso are pretty simpatico. In fact, in the early days, Concannon sourced quite a bit of its Petite from this region, so Tom already had roots here even before he became winemaker at
Bianchi Winery
four years ago.
After The Wine Group gobbled up
Concannon
like a mid-afternoon snack, Tom departed, and for a short time he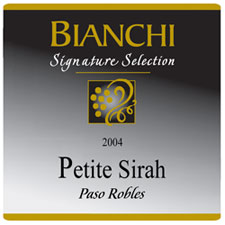 helped make wine for several Livermore operations, including Crooked Vine and Stony Ridge. Then Bianchi Winery owner Glenn Bianchi made him an offer he could not refuse. Move to Paso Robles and take over a rapidly growing operation that included both a significantly large bulk wine label and an exclusive premium label in its infancy.
He'd get full reign over the well-equipped modern winery with its state of the art equipment. He'd get to set up his own lab, he'd be involved in selecting and purchasing fruit from pretty much any vineyard source he desired, and he'd get to make estate wines from the recently planted vineyard on the east side of Paso. Few winemakers would turn this down, unless they were allergic to hard work, heat and prolific dust. Winemaking here is akin to herding cows: hence the common sight of cowboy hats and dusty boots both in the vineyards and in the tasting rooms. This, after all, is cattle and horse country, with huge hills of barley and alfalfa right alongside Barbera and Viognier.
Asked what the major differences are between Cabernet Sauvignon and Petite Sirah, the two signature varietals that grow really well in Livermore and that also do respectably in Paso Robles, Tom is quick to point out that Livermore, although large, is a far more homogenous appellation than is Paso. "Paso has lots of distinctive microclimates," says Tom. "However, if I were to compare the Clone 7 Cab that is on our estate here and the Clone 7 that is at the Concannon estate in Livermore, I'd have to say the clonal character holds pretty well. The temperature extremes are very similar. The diurnal swings are typically 50 degrees between nighttime lows and daytime highs. The wines are pretty similar in structure, actually."
He does buy some Cabernet from some of the cooler areas of Paso, especially the Westside hills where newer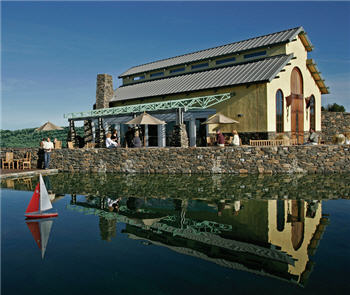 clones like 337 are planted. He finds that these have more color and more tannin than either clone 7 or 8, which helps add character to the wine.
On the topic of Petite, Tom has been working with Paso fruit for years. In the warmer areas, the pigmentation is very deep and the tannins are plentiful. "In Livermore, there was a bit more bright fruit. Here in Paso, we also have pH issues with Petite, but that is common to both appellations."
To deal with reductive varieties like Syrah and Pet, Tom calls in the filtration cavalry: He's got pad filters, pneumonic filters, membrane filters, tank filters and even a micro-oxygenation unit which he occasionally uses to clean up those reductive varieties like Syrah and Petite Sirah. "It's better than beating up the wines!" he says emphatically. Tom even has state of the art stainless steel fermentation tanks that he can monitor from home on his laptop. Sweet. No more yeast going astray. This is akin to monitoring high school seniors at the prom.
The Italian Connection: Refosco and Barbera
Two new wines that Tom makes here in
Paso Robles
are Italian varietals, owing mainly to the nature of the winery ownership. Glenn Bianchi is most definitely Italian. Every winery with a tasting room is driven by its client preferences to some extent, and somewhat according to the owner's preference. Pray that they intersect. And then, you have to factor in the winemaker to achieve that range of pan-ego-pleasing products. Which is why Tom makes Petite Sirah, Sauvignon Blanc and Pinot Grigio, along with Zin, Cab and Merlot.
Plus, he also made a multiple award winning Pinot Noir that took top honors at this year's Pinot Shootout. And no, it didn't come from Paso: Tom got the fruit from Santa Maria Valley. These are the staples of the tasting room with a crowd mainly from the Central Valley. They love the usual suspects, but are they ready for something truly esoteric, like Refosco?
"It's my favorite wine right now", Tom enthuses about Refosco. "These are really interesting grapes. The berries are quite large, the fruit is very high in acidity and ripens later, giving it great concentration and lots of fruity character. It reminds me of an old rustic red, with its medium-to-medium plus body. It's fun, and it's good! This is a wine that strikes a chord with the more adventurous tasters." For those who prefer something a little "safer," he makes Barbera, another grape that loves the east side of Paso. For this wine, he gets the grapes from the Shandon Hills area: one of the unique growing areas of Paso that could be sanctioned for its AVA, were the TTB to pick up the scimitar anytime soon.
Is There a Paso Signature Varietal?
Perhaps this is a silly question, but what, if any, are the varietals that really bring out the character of the appellation? Despite its size, Tom says that Zinfandel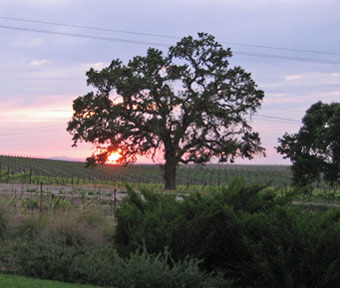 and Syrah probably do the best all across the enormity that is Paso. "A lot of people are planting Rhones, and really promoting this area as a Rhone hot-bed," he notes. Some Syrah vineyards have been taken out due to decline, but the acreage has gone steadily up. And things like Grenache and Mourvedre are increasingly gaining acreage as well. However, the most widely planted varietal in the region is – guess what? Cabernet Sauvignon, at 7,063.44 acres, takes top honors with a whopping 37 percent of the nearly 20K total acreage planted by Winegrowers Alliance members.
For Tom, the question is more like what varieties do best in each of the smaller appellations that have been proposed to the TTB. He sits on the AVA committee that drafted the proposal. "I am very much in favor of smaller appellations," says Tom. "The Paso Robles AVA is so large it becomes non-informational to consumers. It's almost as bad as 'Central Coast,' which covers everything from Monterey to Livermore. Large AVA's don't serve the public very effectively."
If the TTB acts on the carving up proposal, Tom would be able to put "Paso Robles, Geneseo District" on his labels. What would "Geneseo" mean, then? "Our east side microclimate here is warmer than most of the