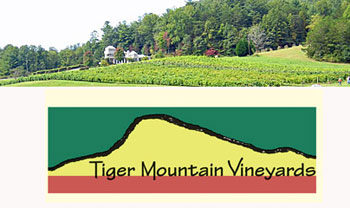 Wine is a Celebration at
Tiger Mountain Vineyards
by Barbara Ensrud
July 14, 2008
---

gorgeous afternoon
in north Georgia's Blue Ridge Mountains, warm but not hot yet. Aboard John Ezzard's bright green Gator, we putt-putted toward the hillside vines at Tiger Mountain Vineyards as the late-May sun did its quiet work on tiny clusters of hard green berries. Flowering had been good this year - unlike the devastating frost that wreaked havoc throughout the mid-Atlantic on Easter weekend of 2007, destroying almost all of the white wine grapes and reducing yields of early-ripening red varieties as well.
"Late frosts are a risk," said John, "but that '07 Easter freeze is the only one I've experienced in 15 years here. This year we've had an excellent fruit set." He stopped the utility vehicle briefly and got off to tie up a young Viognier shoot flapping in the afternoon breeze. Ezzard, a semi-retired physician, is the fifth generation on this farm, where he spent boyhood summers with his grandfather.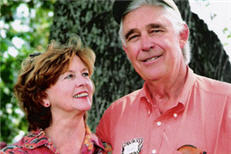 He and his wife Martha began planting the first Cabernet Franc and Norton here in 1995. In the years since they have added Malbec, Mourvedre, Viognier, Touriga Nacional, Tannat and Petit Manseng - many of them unusual varieties for these parts. They have done much of the vineyard work themselves - planting, pruning, shoot and cluster-thinning, even harvesting (with the help of partners, friends and neighbors) when something suddenly ripened before a picking crew could get there.
Meantime, Atlanta lawyer Bill Stack and his wife Leckie had bought an old stone farmhouse and apple orchard on the outskirts of Tiger, a beautiful setting with apple trees and rows of vines flanking a picture-perfect pond. Discovering mutual interests in wine and winegrowing, the couples formed a partnership in 1999 and opened
Tiger Mountain Vineyards
. The Ezzards' eight acres, combined with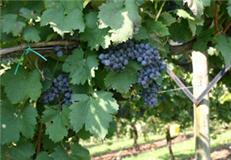 seven at the Stack estate, provide Tiger Mountain with most of the grapes they need for the eight to ten wines they proudly produce - about 2500 to 3000 cases.
As we bumped along between vine rows, I noticed the rocky alluvial soil - not the red clay typical of Georgia. "Our soil is degenerated granite," John remarked when I asked. "These mountains (the Appalachian chain) are some of the oldest in the world. The granite soil gives us wonderful drainage and sends the vines deep seeking water. We get plenty of rainfall here but not too much." He pointed to a cluster of small but well-formed grapes. "That's Tannat," he said. "It does really well for us here - those clusters will get so big they'll weigh half a pound. We do some shoot-thinning and drop clusters if we need to, so we can get as much flavor into those grapes as we can." The trellis system is open lyre "so the shoots grow upward for better exposure and air drainage."
Ezzard and Stack maintain immaculate vineyards, growing cover crops between rows, planting closely but not so densely that they can't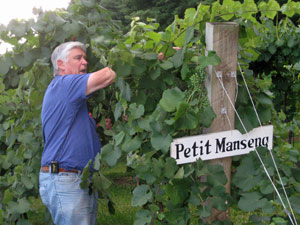 get a tractor through. Powdery mildew is a fact of life in this humid climate; downy mildew, too, in prolonged wet weather, but fungicides keep them in check. Early on, they got advice from Virginia winegrowers. "Cheryl Horton (Horton Vineyards in Orange, VA) taught me everything I know about the vineyard," said John. The Hortons influenced the planting of varieties like Touriga Nacional, Tannat, Viognier, and Norton - grapes that seem to do well in parts of the mid-Atlantic (Virginia, North Carolina, Georgia).
Georgia
has some fifteen wineries now, most of them situated at cooler elevations north of Atlanta. Several are clustered around the town of Dahlonega, west of here. Tiger Mountain, Habersham and Persimmon Creek are closer to the borders of South and North Carolina. "We're only about 40 minutes form Highlands, NC," said Martha Ezzard, "and several of the resorts there carry our wines."
I asked Martha if the more unusual varieties were a hard sell. "It was a little tricky at first," she said. "But once you get your foot in the door at some of the better places, it becomes easier to get others to try the wines. Restaurant Eugene (one of Atlanta's top restaurants) has just taken our 2007 Petit Manseng. The Buckhead Ritz-Carlton, Fleming's Prime and Woodfire Grill also stock our wines."
Most of the wine, however, is sold at the winery. Both couples see wine as a beverage of celebration and host several events during the year that draw visitors up from Atlanta, Athens and neighboring states. One of the most colorful is the annual Awakening the Vines, a spring festival held on the meadow above the winery, featuring music, a ritual fanfare up at the vineyard, followed by food and flowing wine.
The small winery, with its colorful accents of purple and vivid yellow, backs into a hill that sweeps broadly across a grassy field below the vineyard. Inside the winery, a long L-shaped counter forms the tasting bar and sales area. Directly behind are stacks of French and American oak barrels, creating an attractive Old World cellar ambience. It was here that I tasted through the current offerings, as well as '07 wines in barrel.
Tiger Mountain Vineyards produces eight varietals and a couple of blends, depending on the vintage. Because of the drought, 2007 wines (those that survived the April freeze, mostly reds) will be riper, richer and fuller-bodied throughout the mid-Atlantic wine regions.
Tasting Notes:

Petit Manseng 2007, $35.
Intense lemon curd and minerally aromas. Tart and steely, high-toned fruit. Quite full-bodied at 13.5 alcohol. [For full review go to
Tiger Mountain reviews
]
Viognier 2006, $20.
Almost dry, with very good acidity. Appealing floral aromas - orange blossom and peach blossom carry through subtly in the flavor.
Cabernet Franc 2005, $23.
Lighter in body than the '07 will be, but very attractive, with red currant and red plum fruit. Tiger Mountain's 2001 Cab Franc was the first Georgia wine I got excited about.
Malbec 2005, $16.50.
This variety, too, has great potential for north Georgia. It produces a leaner wine than the lush Argentine versions - more French in style, though not as dark as the "black wine of Cahors," but it's much smoother. We decanted one to have with dinner, which made it very supple and appealing with our meal.
Tannat 2006, $17.25.
Rich garnet in color, this wine spent a year and a half in oak, 25 % new barrels. Quite a 'grip' of tannin and fairly high acidity so i