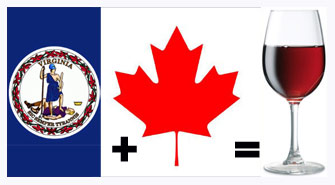 Canada and Virginia: Quietly Achieving Greatness
by Dan Berger
July 25, 2008
---

all it the tyranny of the glossies
or simple failure on the part of wine lovers to be vocal enough, but a number of emerging wine regions in North America are being ignored, and unless they are recognized before the housing recession ends, thus making condo-demands on what is now vineyard land, we may be looking at a transitory story that will be told only in retrospect.
Are we looking at entire regions that show the same potential as
Umpqua Valley
, or
Anderson Valley
, or
Walla Walla
? Not really, but a story comes to mind that relates here. Some years ago, when Serge Hochar was named the 'Wine Man of the Year' by
Decanter
Magazine, which displayed bullet holes splayed across its cover, there was a subtle, unspoken implication that his winery, Chateau Musar, was the precursor to the development of a great new wine region.
Chateau Musar is located in war-torn Lebanon. And the story spoke of the greatness of the property's wines despite a daily diet of bombs, artillery shells, and assorted other armaments. The clear implication (even if the writer and editors of the magazine didn't think of it during production of the article) was that "if Serge could do this in the Bekaa Valley, then the Bekaa Valley is potentially a great spot to grow wine of excellence."

Let's leave aside the fact that Hochar's wines are and have always been rather erratic (a few of them are downright poor). The article's implication, that the region might produce excellent wines, leads to the correct generalization that there are probably dozens of places on the earth where great wine could be made. Hochar's persistence and dedication to his art should be recognized and rewarded, to be sure. Those of his wines that do display greatness prove more than just his own perseverance. They prove that the general beneficence of his terroir allows a visionary to succeed.
That few others have followed in the Bekaa Valley is not a fault of the terroir but a function of the fact that there are few Lebanese who are as committed to wine as is Hochar.
So are there other places in the world where great wine could be produced? Certainly. Are there places in Africa that could grow superb Sauvignon Blanc? Certainly. Is there at least one place in Russia or even Holland in which Pinot Noir can be grown that would rival those of Burgundy? Of course it's possible. The fact that it hasn't (yet) been done is due to the economic factors that suggest that even a successful wine from such a region might not sell.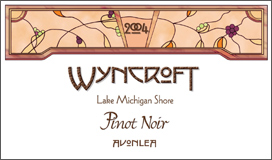 Yet when I tasted a Pinot Noir from central Michigan a few years ago, I was stunned. I could have figured that such singular sites and visionaries do exist, and the mere fact that the wine was made in infinitesimal amounts has nothing to do with the fact that it was superb. I learned that the amount of Pinot Noir in this particular locale was limited to what the gentleman had planted: a few hundred vines.
Visionary Jim Lester made the wine in southwestern Michigan, in Berrien County, at his Wyncroft Winery.
This Pinot Noir
, with a retail price of $45, is one of the more startling wines you will find in this unlikely location.
Best Kept Secrets: World Class Wines from Yonder
You'd think that a wine of such stellar character and distinctive terroir aroma and taste would be perfect fodder for one of the glossies. But the fact that Lester has very little of the wine year to year, that he sells it to in-the-know wine lovers, and has virtually nothing to sell to glossy readers may have influenced the editors to bypass Berrien County.
Either that or they are simply ignorant of
Wyncroft
. And other similar one-off success stories that portend greatness for a region once the followers realize what's what.
It is true that few other Michigan Pinot Noirs I have tasted offer much excitement, not even to the standard I would recommend if nothing else were available. Is Pinot Noir potentially an exciting grape in Michigan? Perhaps, though not very soon. Yet even so, if such a wine can be made in Michigan, isn't that some sort of news?
Thus far in our narrative, such stories like those of Serge Hochar and Jim Lester don't lead us, yet, to places we can generalize about that imminently will deliver great wines of strong terroir character at the hands of more than singular heroes.
Yes, Virginia, There are Great Wines in Virginia…and Canada
So when I tasted the wines of Jim Law at
Linden Vineyards
on a trip to
Virginia
a couple of years ago, I was so pleasantly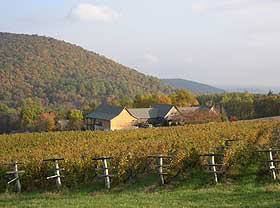 shocked about their greatness that I was ready to write another one-off story about them. Not only were the wines sensational, but among the best were whites and reds from Bordeaux varieties! And yet there was an echo of an episode of about four years earlier, when I tasted the wines of Bob Ferguson at
Kettle Valley Winery
in
British Columbia
, where I expected Riesling to be great and found a magnificent Syrah! And then not long ago there was
a Riesling
from wine maker Gina Haverstock at Gaspereau Vineyards in the
Nova Scotia
region of Atlantic Canada that has a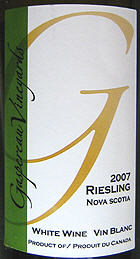 personality you can't get from winery tricks. The soil clearly is perfect for this grape and Haverstock has the skill to get out of the way and allow nature's gift to creep into the bottle.
It reminded me of a moment in the early 1990s when I was in Vancouver and tasted some of the white wines of the
Gehringer Brothers
that clearly were precursors of some of the greatness later to be seen from other producers in the
Okanagan Valley
.
There are a