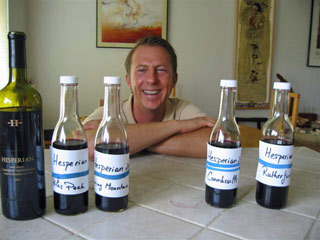 Philippe Langner's Napa Valley 'Project Terroir'
by Alan Goldfarb
August 5, 2008
---

hilippe Langner
, the winemaker and vineyard manager for the last seven years at Napa Valley's
Sullivan Vineyards
, has started his own brand - as is the wont of a lot of winemakers. But unlike a lot of people who produce wines that they insist are driven by the site from where their grapes originate, Langner is trying awfully hard to do just that.
That's why he calls his single-vineyard
Hesperian
Cabernet Sauvignons – all sourced from four different sub-regions of the
Napa Valley
– Project Terroir. "It's more constraining to have a good, balanced wine" made from one vineyard, Langner explains one late June morning from his tidy little apartment in the city of Napa. Nonetheless, he says he's single-minded about the task he's set for himself, "so that you can see differences clearly between the appellations."
"I want to show the effect terroir has on a wine and I want to keep it as clear as possible."
But he offers, "With this (modus operandi) I have one shot. So, I have to work in the vineyard to have a more balanced wine."
Why work so hard? And why make four wines when one might suffice? "Because I want to show the effect terroir has on a wine and I want to keep it as clear as possible," he says. "I have to pay very, very close attention."
Without question, the 100-percent Cabernets all from the 2007 vintage from Spring Mountain, Rutherford, Atlas Peak, and the as-yet-to-be-designated AVA Coombsville area, are as distinct as can be. The
Spring Mountain District
, for instance, from the 1,650-foot, simply named Tony's Vineyard, is a bit green with big tannins and needs a lot of time. The
Rutherford
is tight and dusky, with fine-grained tannins and deep flavors of red fruit. The
Atlas Peak
is very dark in color and a little more closed than the other three. But, on the palate, there's lush, alluring black fruit that is round and soft with big tannins for long-term aging.
Finally, the wine from Coombsville, from the 500-foot Harry's Vineyard, has aromas of anise and dried herbs and, at this point, is very young and awkward with red fruit and good acidity. Ranging in price from $59 to $80, with a tiny production ranging from 50 to 150 cases, the wines, which won't be released until 2010, share the similarity of being terrifically balanced with longevity in mind.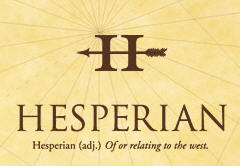 Ageability. It is a notion that is often diminished in many California wines made over the last 10 years, but for Langner, it's a built-in criterion. He says so right there on his
Web site
: "Often these wines may require aging to reveal their complexity and subtlety. Great wines are only great with time."
Langner should know great wines. Born in El Salvador to a French mother and a German father, the latter of whom worked for a multi-national corporation, Langner was brought up in the then Zaire (now Congo) and also lived in Bangladesh, Colombia, and Switzerland. He trained at UC Davis before heading to Bordeaux, where he worked with winemakers Jacques Boissenot and Michel Rolland at the Rothschild property, Chateau Clarke in Listrac. His sister is married to Benjamin Rothschild, the owner of Chateau Clarke. He came to Sullivan in '01 and was named to his current post the following year.
The Delayed Pleasures of Terroir-Driven, Cellared Wines
While not many in the Napa Valley have set out to deliberately produce definitive terroir-driven wines, Langner forges ahead. He sites Nickel & Nickel, O'Shaughnessy and Conn Creek as Napa wineries that are on the same path. But he singles out
Stony Hill Vineyard
as a "perfect example" of what he's attempting to achieve. "Their wines, in their youth, are backward," he says as a compliment to the winery that has been making long-lived wines on top of Spring Mountain since 1950. "Here (in the U.S.) you have to make wines that are immediately pleasing. (But) you can make terroir wines if you don't have that pressure to please.
"That's what Warren Winiarski (
Stag's Leap Wine Cellars
) was doing. He was making classical wines. There are some really beautiful wines here. The Paris Tasting (in 1976) was all about (California) properties that make wines in the classical way. They don't have to rely on winemaking tricks. That's why they were accepted."
Interestingly, Langner believes his Hesperian wines don't necessarily have a Bordeaux sensibility. "This is more of a Burgundian take on terroir than Bordeaux," he offers. "Bordeaux vineyards tend to be different (from each other),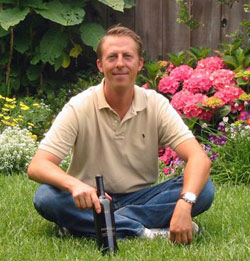 where Burgundy tends to show more cru (as a more specific expression of a vineyard). This (what he's doing) is really micro, micro terroir."
The oak regimen may be different in the four wines but the styles are relatively similar and what he calls "the defaults" or numbers "get tweaked".
For example, the Atlas Peak from the Muscatine family, is on a 10-15 degree slope using clone 7 and 337. The Spring Mountain goes from a 5-30 percent slope and is formed from Rhyolite and volcanic rock rich in silica. It's planted predominantly to clone 7.
The Coombsville vineyard is on a 20 percent slope and the soil belongs to the Aiken series and is a red-brown color. It's planted to clones 337 with a little bit of 191 and 341. Langner points out that "The terroir of this vineyard is a very strong marker of wines to the extent that it almost overwhelms the varietal." That's because unlike other of the Napa Valley's sub-appellations - with the exception of the Carneros and Wild Horse Valley, which Coombsville most resembles - it has the coolest temperatures because of its proximity to San Pablo Bay.
Lastly, the Rutherford vineyard is the only one he uses on the valley floor, although it's almost at 200-foot elevation and has a slope of 2 percent. It's planted to clone 7, with well-drained Yolo soils. The surface layer is dark grayish, brown and silt-y loam.
It's interesting to note that the alcohol levels of the four wines ranged from 13.71 (Coombsville) to 15.15 (Atlas Peak) with an average of 14.48.
How does Langner select his vineyards? "I just look at the vines," he says. For Harry's Vineyard in Coombsville, for instance, he saw small, struggling plants. "I just loved it."
He also looks for lack of vigor but the plants, naturally, have to be healthy. "If a plant doesn't grow laterals (shoots), it means it's in balance with its environment. If you have small berries, you'll have interesting wines."
Thus, is what Philippe Langner doing, going