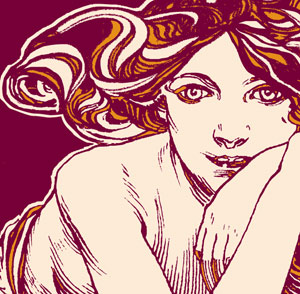 Willamette Valley: It's Not Just
for Pinot Noir Anymore
By not making Pinot Noir, and in the face of climate change, winemaker Remy Drabkin may become the new face of Oregon.
by Alan Goldfarb
August 4, 2008
---

f Oregon was in Burgundy
, 27-year-old Remy Drabkin might either be exiled to Valpolicello as Dante Aleghieri had been, or at least be ostracized for her contrarian behavior. Ensconced in a world of Pinot Noir in the
Willamette Valley
, where the variety is grown, produced, nurtured, and lionized for giving the region its raison d'être, the young winemaker will soon be making about 12,000 bottles – and conspicuously and consciously - none of it is Pinot Noir.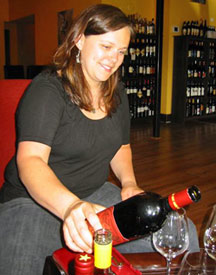 In an area that by its very nature has been made to produce, quite successfully, cool climate wines, Drabkin is drawn to producing wines made from warm climate Italian grapes such as Sangiovese, Cannonau, Barbera, and Lagrien. Her reasons, she admits, are pragmatic – "I recognize it's a market that's not saturated", and futuristic – climate change. The latter, she strongly believes, "is inevitable".
Thus, as a hedge against an Oregon market in which more than 400 wineries and twice as many vineyards grow about four times more Pinot Noir than the next varietal, and make more than three times as much Pinot than the next nearest variety, Drabkin is trying to carve out a niche for her tiny
Remy Wines
.
The odds of breaking into that marketplace with a mere 1,000 cases – especially with wines that are all things non-Pinot Noir - are long indeed. But it is the change in Oregon's climate, to which she says she's already been witness, that provides her with a more compelling rationale for pursuing the passion she's harbored since she was 8 years old.
Is Remy Drabkin an Iconoclast or Just Prescient
Whether or not Remy Drabkin is a prescient being, it is her journey that could very well manifest in her being considered to be the new face of Oregon wine. She is stopped in her thoughts – of which there are a considerable number – for only a moment when that lofty notion is presented to her. But she quickly rebounds.
"I would be very flattered, but I don't know if it would an accurate statement," she declares from
McMinnville
in the very heart of Pinot Noir country. "I'm proud to be making wines in Oregon and proud to be a lifelong Oregonian. (But with) the response I'm getting, I don't think it would be a misstatement, but perhaps premature."
Premature because, for goodness sakes, she's only been making her own wine for a few years, even though she's been hanging around the likes of Oregon pioneer properties such as Ponzi, Erath, and Argyle, since she was 14. Her best friends are Lizzie Adelsheim, the daughter of David Adelsheim, who founded Adelsheim Vineyard; and Luisa Ponzi, of Ponzi Vineyards, whose parents happen to be Drabkin's parents' best friends.
Is it no wonder then, that this young woman has had a jones for the wine business ever since she could remember? "My heart's in wine production and making wine," she says. "I always looked up to the children and friends of my parents when I was a young girl."
But it wasn't until she lived in Pittsburgh, in a small Italian community there, that she knew it was Italian wines that she wanted to make. "We'd buy grapes from California – Nebbiolo, Sangiovese, all Italian grapes. It was mostly old Italian men and we had a 100-year-old wine press in the basement. There'd be a wood-fired brick oven where we'd have some kind of animal roasting. And I fell in love with Italian wines, Italian culture. I love making them. I think they're exciting and fun. There's so much to learn about. There was no question I wanted to make Sangiovese. I didn't have a strong desire to try and make the new, best Pinot Noir. I wanted to try and make something else really well."
She acknowledges there isn't a huge market for Sangiovese or Lagrien in Oregon, not now at least. But someday, she conjectures, when or if the cool Oregon weather warms up, where will that leave the rest of her colleagues? "I don't see (Italian varietals) that will represent Oregon, but with climate change, Oregon will have to shift to warmer varietals," she surmises.
Climate Change May Be on Remy Drabkin's Side
"This growing season and last are strong indicators. Oregon used to have four very distinct seasons. It's definitely shifting. I don't have any numbers in front of me, but the weather is so unusual. I have some friends who farm wheat and they've been telling me they've been having weird cycles with their crop. "I had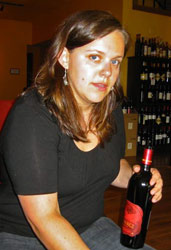 fruit that came in, in late November last year," she continues. "It took that long to get it ripe. I can only expect that things will continue to change. It's going to be a huge challenge for our growers. We have to pay attention … Climate change is inevitable."
She says that these changes are "symptomatic of a young industry" such as Oregon's, "because people are not paying attention. She cites as an example, one man whom she claims is not paying attention, although he's been farming in the Willamette since 1986. "He's not giving it any heed," she says incredulously. "But those who are, and I've been studying it for five years, are at the forefront, including some of the pioneers."
Her information then tells her apparently, that she'd do well to make wines from grapes grown in warmer climes such as the
Rogue Valley
near the California line from where she makes a rosé from Cannonau (Grenache) ($17) and a Syrah ($26). The Sangiovese ($18) comes from a vineyard in Washington's
Red Mountain
in the southeast corner of the state situated among the Columbia, Snake and Yakima rivers. The Barbera comes from Washington's Upper
Yakima Valley
.
Finally, the Lagrein, which she'll release at the beginning of next year for $45, comes from a vineyard that is a little more than a half-acre that sits between McMinnville and Corvallis and is in the Willamette. "The vineyard owner told me he wanted to tear it out. I said, 'please don't do that.' I tasted him on it and he didn't agree to put more in, but he agreed not to take it out. "I'm going to keep it traditional. It amazes me. It's beautiful and so dark with great structure, good acid and tannins. (And) when your Pinots are weak, you can blend it in."
The same goes for Syrah, which some in the Willamette are beginning to plant. However, everyone I spoke with on a recent visit there said they were loath to blend Syrah, or anything else for that matter, with their Pinot.
When I ask Drabkin if she knows of any other winemaker who's eschewed Pinot in Oregon, the only one she could come up with is someone who wants to make Riesling; and Rob Folin, who she says, "is intentionally not making Pinot Noir." Folin, who used to be the cellarmaster at Domaine Serene, has a vineyard in the Rogue Valley, from where she sources her Syrah and Grenache. From there,
Folin Cellars
i